BMW R 1200 GS Adventure (K255) in review
(Baujahr 2006)
The mountain is calling.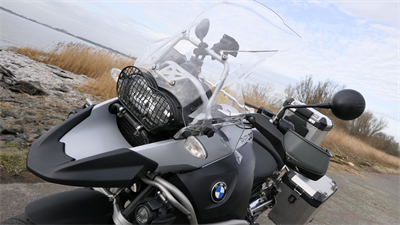 Photos: motorradtest.de
Is it still worth buying an "old" BMW R 1200 GS Adventure from 2006? We take a look at a GSA K255 with over 80,000 km and say as a conclusion: Yes, of course, it is always worth it.
A mountain from a motorcycle
It now stands in front of us, the BMW R 1200 GS Adventure, factory code K255. If a "normal GS" is an impressive phenomenon, then the adventure packs another one on it. Especially from the front, it's really scary. Our test bike from 2006 already has over 80k on the hump, but it is still in a good position. Hardly rust, no scratches, no patina. Only when you look at the cockpit you realize: This is an old machine. Young people may think "where is the mobile phone coupled here", older bikers like us breathe lightly and think: "A luck, no frills". And then these wonderful analog instruments - gorgeous.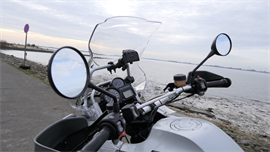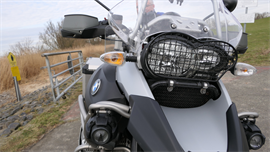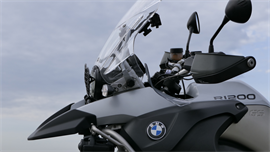 Sitting up
Then up on the vehicle. With a standard GSA, it's not that easy, at least for small people. The seat height is usually between 890 and 910mm. Our test machine, on the other hand, has an extra-deep bench, so that we swing into the saddle without any problems. And that's where we feel poodle-like.
We can't say exactly how BMW does it, but it's really like coming home. Everything is in the right place and the operation succeeds practically by itself - except for the BMW's own turn signal control with separate blinker rear-set, but BMW newcomers get used to it in no time.
Manoeuvring is more of a problem with the GSA. Especially when it's fully refueled! The tank with 33 liters of content offers a bombastic range of about 600 km, but the already heavy machine becomes even heavier. For strong guys this may not matter, but smaller not so strong people have to do with the GSA already. But we don't really want to rank, we want to drive - and that's what we're doing now.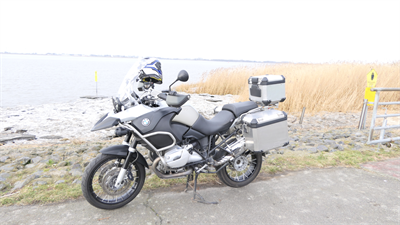 This is how she drives herself
The first impression after the ride is with most pilots: It is manoeuvrable! This is partly due to the fact that it can actually be sent around curves in an astonishingly handy way, on the other hand, one expects a rather sluggish driving behavior at first. But pustekuchen: The BMW R1200 GS Adventure gets off to a good start with 98 hp and has already sprinted from 0 to 100 km/h after 3.6 seconds. And now you automatically remember all the big adventures that have been wondered about so many times in the Alps. However, frenzy and cornering is not really the terrain of the GSA. It calms down rather than what excites her, and so the driver can enjoy the ride and the beautiful view extensively.
It also drives very comfortably. Telelever at the front and Paralever at the back iron everything that may be in the way. The long spring travels (20 mm more than the standard GS) and the high weight do the rest: you can hardly travel much more comfortably than with a GSA. Thanks to the extremely comfortable bench, this applies not only to the driver, but also to the passenger. Our test model has the aluminium cases from BMW with 79 liters (!) Capacity. The top case brings another 33 liters, so you don't normally need any more travel utensils. Class: Even with these suitcases, you can still tile over the motorway with 180 things with the GSA without it wobbling or getting restless or the machine rocking up.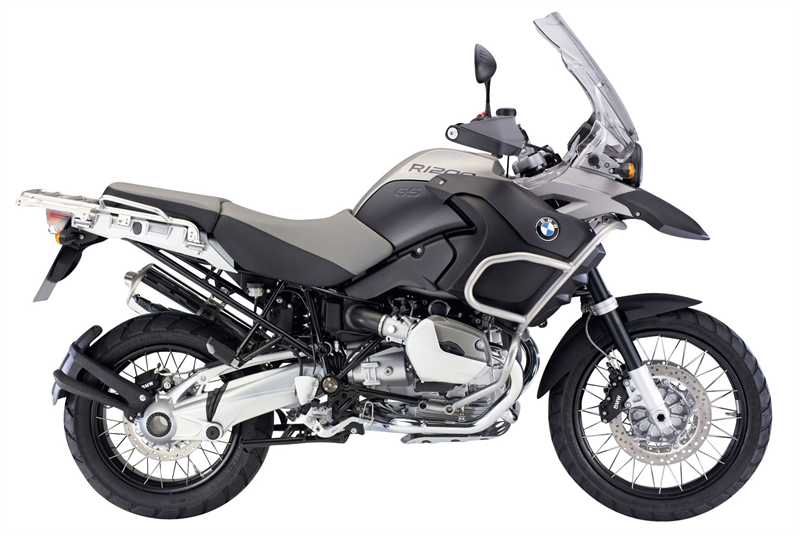 Photo: BMW (Factory)
The BMW R 1200 GS Adventure has a wide handlebar and thanks to the surprisingly narrow tank on the legs also a good knee closure. The semi-integral and servo-assisted braking system brings the vehicle to a standstill abruptly and without great hand power on request. However, the ABS is vulnerable. Many GS and GSA drivers know this and therefore brake hard again and again to make use of the ABS. This allegedly prevents a defect in the complex ABS system.


Conclusion - what gets stuck
"Excellent off-road capability with even increased road characteristics" was the press release for BMW's new adventure. By offroad, the scribes probably didn't mean the cross-piste with jumps and deep sand at that time - the GS 1200 Adventure is simply too heavy for that. Nevertheless, this motorcycle is the ideal bike for the gaaaanz long journey. Charly Boorman and Ewan McGregor provided the proof in 2007 on their "Long Way Down" journey, in which they covered 23,500 kilometers through Africa precisely on these machines.
 
Unfortunately, even used and older GS Adventure bikes are not quite cheap. Depending on age, mileage, condition and equipment, up to 13,000 euros are required. However, it is doubtful that such prices are actually paid, but for a good GSA K255 one has to reckon with 8,000 euros. Back to the initial question: Is it worth it? Clear "YES!" on our part, because these machines last forever and still bring a lot of joy after 15 years.
Price/Availability/Colours/Years of Construction
New price: 13.500 € (naked)
Used: 6,000 to 13,000 € (depending on age and condition)
Years built: 2006-2013
Colours: various