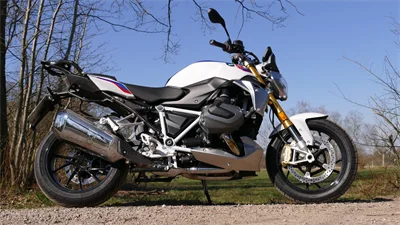 Photos: Motorradtest.de
The BMW R 1250 R is something like the ideal image of all Naked bikes. Together with the Ducati Monster 1200 and others, it embodies the sheer power and is always faster than you want to ride with a bike of this type. So it is sufficiently unreasonable what else it can do, the test clarifies.
Full equipment is expensive
First of all, the author of these lines is not an outspoken BMW fan, but rather unemotional towards the Bavarians. And I think boxer engines are especially great when they are installed in the butt of a Porsche 911.
In any case, this was the case until I was part of the test team of the then new GS 1250. But I don't want to pre-empt my mission, let's look at the standing bike first. BMW's GS series has been the king of registration statistics for years. The simple R, on the other hand, is not even in the top 20, 13 times more GS than R are sold. The R is a Naked Bike as from the picture book, it was not to be expected otherwise. Without a single extra, the fast-paced car costs 13,850 euros, but you can forget this info right away. The BMW driver loves it with all his drums, and BMW shareholders love him for that. If the customer gives in to his urge to fully equip - and very, very many do - 18,095 euros are on the bill.
Of course you don't need to do the whole thing, the wonderful TFT display as well as the connection to the smartphone are series. However, the whole driving modes, the cornering light as well as the different mappings are quite nice in practice.