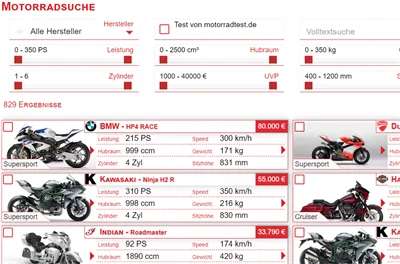 Motorradtest.de is the first german-language meta-search engine for motorcycles and bike tests. With us you will find all tests, pictures, videos, data and news about current and older bikes. Our five-strong team tests a bike once a week and reports from the beautiful, colorful world of motorcycles. If you are interested in motorcycles, you are right here.
With our extensive motorcycle database, finding tests, pictures, videos and news for the motorcycle you are looking for is super easy. With the motorcycle search you can filter all bikes that meet your wishes. So you will also find motorcycles that you haven't noticed yet. With us you can also compare several  motorcyclesby juxtaposed all data, pros and cons as well as competitors of the bikes you have selected.
Torque-heavy greetings from the team

The Motorradtest.de team consists of five experienced and active motorcycle riders who have been involved with motorcycles for many years. We regularly test bikes and show you the strengths and weaknesses of the tested motorcycle without taking a leaf out of your mouth. We do not receive money from manufacturers or dealers and are therefore independent in our test judgment.
Our test team also likes to scrutinize used and older machines. Of course, the camera is always there and so once a week a moody motorcycle test video is created, which we post here and on our YouTube channel. And if you need such a chic T-shirt, a hoody or a coffee mug in Motoradtest.de style, then visit our new online shop.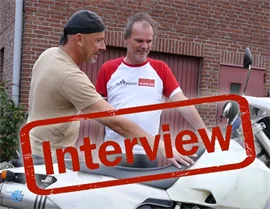 Interviews from Biker to Biker
The interviews with you about your bikes bring us a lot of fun. If you are interested in such a motorcycle interview,please contact us – we look forward to your feedback.
Blog, News & Statistics
Our editors also keep a close eye on the motorcycle scene and regularly blog for you news and tips from the wonderful world of motorcycles. We write about manufacturers, distributors, accessories and events. In addition, motorradtest.de has a wide range of statistics on new motorcycle registrations with all data from 2002 to the present day. There you will find all registration numbers by performance, types, manufacturers etc. and of course also a static of the best-selling bikes.