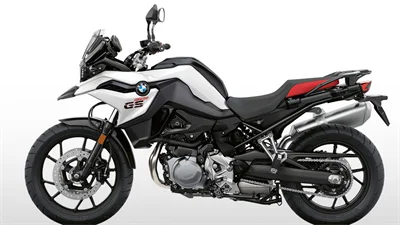 The BMW F 750 is something like the little sister of the F 850 GS. It is less powerful, but 2,500 euros cheaper. Is it worth giving up? This test finds out.
Really a lot of motorcycle
The view of the 750s is reverent, and there is much to see. The 850s are not noticeable, the 750 s are also a big motorcycle. Very large and high, which could lead to problems with seat height for smaller people. More on that later.
The "F" in the model designation stands for Funduro. This term invented by BMW leaves you somewhat perplexed: what is this supposed to be? An enduro with which you can exceptionally have fun, because all other enduros don't make one? Hm. Finally, we agree that BMW probably wanted to put a travel enduro on the chic rims. The ground clearance is only sufficient for smaller trips on gravel or into botany. Road tyres are opposed to more serious ambitions to reach the North Cape as the crow flies.
At the end of each test is the question whether the motorcycle is a purchase recommendation. This question must be preferred here, because the BMW F 750 GS is about whether it can be afforded at all. Of the big 1250 GS you are used to a lot in terms of price list, the 750s are in no way inferior to it. At 9,350 euros, it is actually 2,500 euros cheaper than the 850s, but that is far from the end of the flagpole. Our test bike contains a whopping 5,000 euros in extras, which pushes the price to 14,340 euros. Full equipment? Of its part: Although a whopping 50% of the purchase price was additionally invested in extra packages, there is only a messy windshield and no main stand. Aua.
Then let's see what you get for the prize at all – and off.