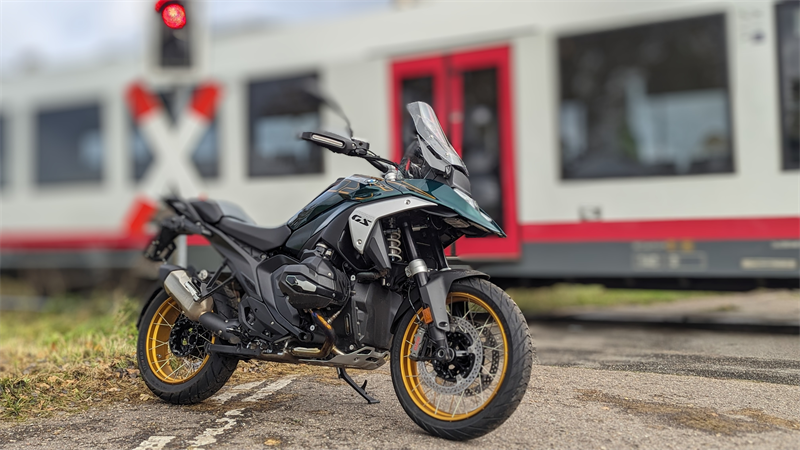 Photos: Motorradtest.de
After five years, BMW is launching a successor to the successful R 1250 GS model. According to the spec sheet, the new R 1300 GS doesn't do much differently, but in reality it is an almost completely redesigned machine. Volker and Dietmar grabbed a fully equipped "Option 719 Tramuntana" - and were thrilled.


The best motorcycle in the world?
It's one of those things with the GS. For many years, she has been winning test after test. It's something like the FC Bayern Munich of the motorcycle world. However, in the last two years, the 1250 GS has not been able to claim a victory, at least at the Alpen-Master of MOTORRAD magazine. It was defeated by the Ducati Multistrada V4 and most recently by the Suzuki V-Strom 800 DE - how could that happen?!

 

So it was time for an update of the best-selling motorcycle for many years. The result is the new BMW R 1300 GS, which indeed has a lot of updates: new frame concept, new engine, new technology, new design - all new? Yes and no, because fortunately the new GS still feels like a GS, but de facto it has become quite a bit better.

 

The R1300 GS is available in four colours or trim levels. The "Pure" starts for just over 19,000 euros. For the test by

Bergmann & Söhne

in Neumünster, we were provided with the finest model - the "Option 719 Tramuntana" - with golden spoked wheels for at least 21,840 euros. Our test bike was almost fully equipped and thus comes with a retail price of 26,000 euros.

 

"Much too expensive" you might think, but that's nonsense. The

competitors from Ducati, Triumph, Harley and KTM

are also not cheaper in terms of equipment. Nevertheless, >20K for a motorcycle is undeniably a lot of money, but if you want to get to the end of the food chain, you unfortunately have to dig deep into your pockets. On the other hand, there is a very high-quality bike that can actually do almost everything, as our test will show. 

Dimensions and seat ergonomics
The driver and front passenger have plenty of space on the R1300 GS. There are several seats in different heights from 820 to 890 mm. Our test bike had a seat height of 850 mm and offered a relaxed knee angle. The seat is adjustable in inclination. Seat heating for the driver and front passenger (separately adjustable) is available for 150 euros. The trapezoid between the seat, handlebars and footrests is almost ideally solved to our taste.
The GS is a real travel machine and the whole thing feels accordingly. In terms of weight, a total of 13 kilograms have been saved compared to the 1250. This is also noticeable when manoeuvring, which is much easier here. Passengers in particular are full of praise for the seating comfort and the solid grab handles - but this was also the case with the predecessor, and apart from the weight, the dimensions of both models are almost identical.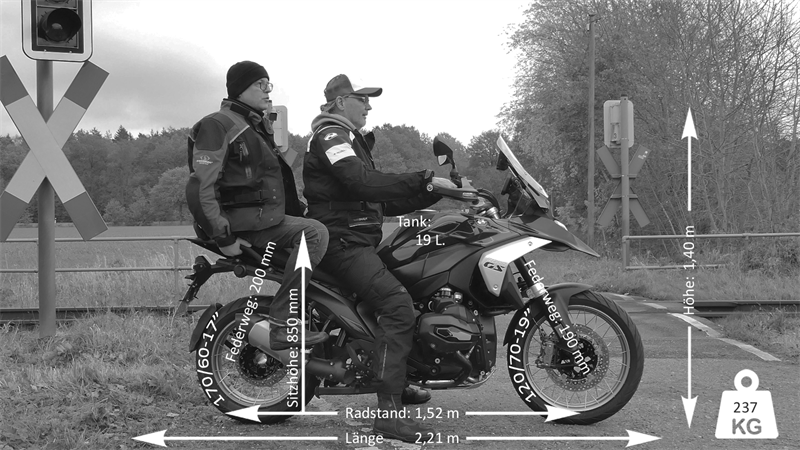 This is how comfortably the driver and front passenger sit on the GS 1300.
A 360-degree tour of the new BMW R 1300 GS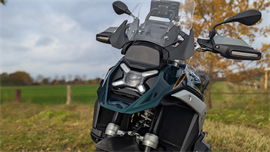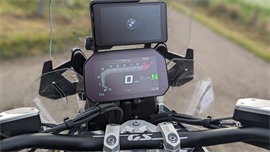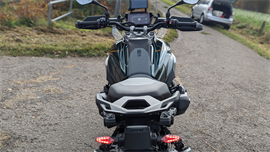 Technology of the BMW R 1300 GS
To describe the technology of the 1300cc GS in detail would go beyond the scope of this article. Therefore, at this point only a few keywords. As standard, it offers a very easy-to-read 6.5" TFT colour display with smartphone connectivity, lean angle sensors with dynamic traction control and cornering ABS (fully integral!), 4 riding modes, engine drag control, tyre pressure monitoring, keyless ride, heated grips and much more. There is also a matrix LED headlight, daytime running lights and self-resetting LED turn signals, which are now very nicely housed in the front hand guards - therefore now also standard.
However, we don't like the fact that the turn signals are integrated into the rear lights so much, because you can hardly recognize the turn signal as such when braking. We also think it's a shame that neither Apple CarPlay nor Android Auto are usable. Although you can place arrow navigation on the display via the "BMW Connected App" as before, full-map navigation would have been more up-to-date. Guaranteed to come with the next update!
Of course, you can spice up the R1300 GS with many additional options. As always with BMW, there are packages with different options. It doesn't make sense to list this here, so a look at the BMW website is indispensable. Here are just a few highlights: DSA suspension (formerly ESA), adaptive altitude control, radar including blind spot and drive change assist and, of course, a newly designed Vario pannier system.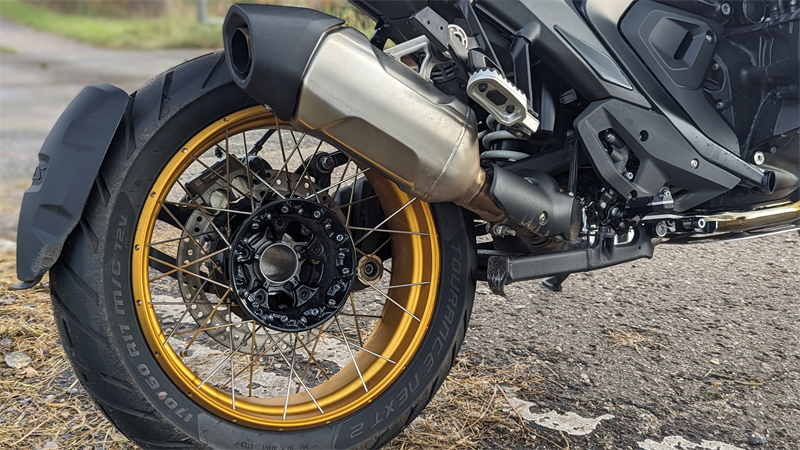 That's what it sounds like
The sound of the new boxer engine has changed a little. To our ears, it now sounds a little more like the classic boxers from BMW, i.e. a little more "potty" than the 1250. At low revs, the sound is rather restrained, at higher revs a lot comes out of the bag. The best thing to do is to listen to it yourself: Soundcheck as always in the upper right corner.
This is how it drives itself
The first few metres on the BMW R 1300 GS are actually the most beautiful! You immediately feel at home, somehow safe and secure. We don't know exactly how BMW manages to do this, but many drivers say exactly that after the first test drive: It feels as cozy as at home fireplace ...
The comfortable and upright riding position is probably just as responsible for this as the enormously accessible riding style of this actually not so light motorcycle. However, 237 kg of ready-to-ride weight is not that much compared to the competition, and that's how it rides: super manoeuvrable, easy to handle, extremely accessible. If it didn't have so much power, I'd even say: It's suitable for novice drivers. It circles through curves as if by itself and with ultra-precision and stoically stays on track even during harder manoeuvres, e.g. emergency braking. That's great and actually a bit more confident than the competition.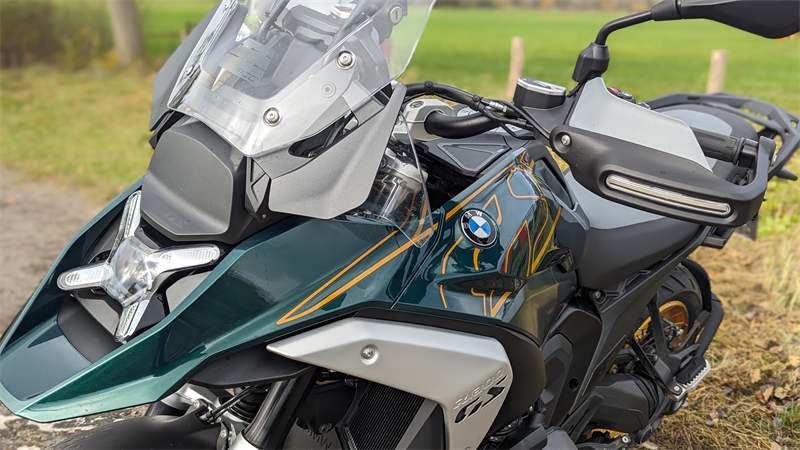 In addition to the strong brakes, we would also like to highlight the excellent wind protection. Our machine had the electronically adjustable windscreen, which also did a great job on the highway at high speeds. This can be seen and heard in our test video (see below), in which Volker still breathes easily into his helmet at a speed of 230 km/h and you can actually still hear him well. Truly remarkable.
BMW has also updated the chassis properly: Instead of a tubular trellis frame, a sheet metal main frame made of steel is now used along with bolted die-cast aluminium rear frames. This change brings a few kilos of "relief" and doesn't feel any less stable than its predecessor - quite the opposite. The Telelever and Paralever have also been redesigned, resulting in a more binding connection between motorcycles, especially at the front. You can feel a bit better than with the 1250 what the road is doing.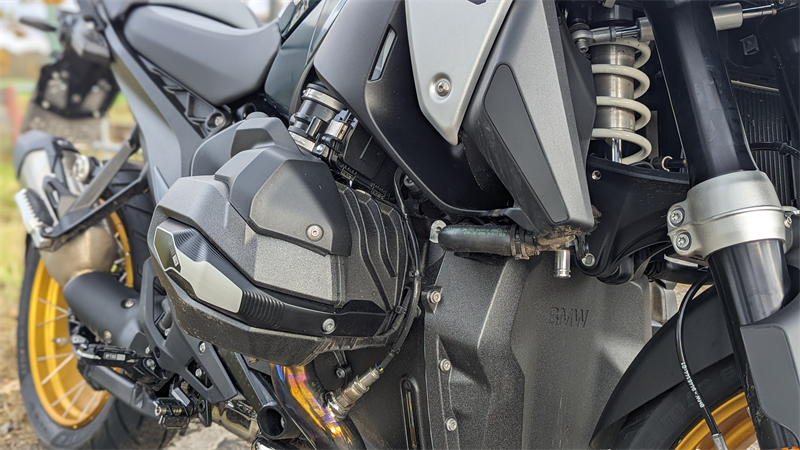 A new feature of the R 1300 GS is the distance radar, which is linked to the cruise control. Simply activate the cruise control at 150 km/h and the "Riding Assistant" will do the rest. When the car in front slows down, we slow down, and when he accelerates again, we automatically get faster again. The whole thing is complemented by Blind Spot Assist, which uses flashing triangles in the mirrors to indicate when someone is scurrying around behind you. We were able to try out this system extensively in Malaga, and it actually worked quite wonderfully. The nasty thing about it is: Once you've tried it, you won't want to miss it from then on. Incidentally, this applies to 90 percent of the technical helpers on the new GS, which you "don't actually need at all". Yes, but only really...
For those who didn't know, the boxer with the insane torque of 149 Nm at 6,500 rpm takes off like Schmidt's cat. However, we didn't notice any significant difference between the 1300 and the 1250. But it doesn't matter, because the predecessor already had punch without end.
Nevertheless, we actually had the expectation that the new GS would stretch the rider's arms even more due to the extra power (plus 9 hp and plus 6 Nm of torque!) and, above all, the lower weight. It certainly does, but no more than before. Presumably, this is due to the fact that the gearbox, which is now installed under the engine, has been geared a little longer. A small downside: The QuickShifter and the new gearbox are a bit too hard for me (Dietmar), but I'm pretty much alone with this opinion. Volker and all the testers in Malaga apparently had nothing to complain about.
Beautiful: Gold anodized spoked wheels on the Tramuntana as standard
BMW offers a three-year warranty on the new R 1300 GS. The service is due every 10,000 km or once a year. This is just as acceptable as the unchanged low consumption of only 4.8 liters per 100 kilometers. If you drive a lot, you should actually be happy about it. And now back to the initial question: Is the BMW R 1300 GS the best motorcycle in the world? No, because of course there can be no such thing as the best motorcycle! But the new GS is already pretty close to the Swiss Army knife: it can do a lot of things very well and some things it even makes outstanding. No one will regret buying this machine - so we think it's worth every euro. We already know which bike will win the next Alpine Masters... any bet!