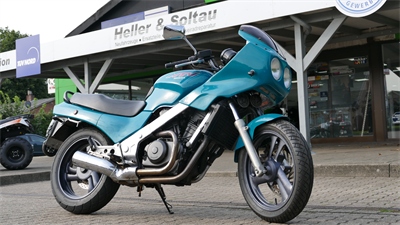 Photos: Motorradtest.de
One of the biggest advantages of the Motorradtest.de team, besides our modesty, is that we are not too bad to test cheap used motorcycles. This time, an unusual 1994 Honda NTV 650 Revere went to check. The data: Only 24,000 kilometers run, stands for 1,700 at the dealership – and has the cardan drive, which is rare in this class. Get on and off!
Real sales hit
Let's face it: motorcycles have to be loved simply because they have almost no practical utility value. If you still want to have one, but don't want to make yourself poor (or can), look for the reasonable in the unreasonable, then tester Markus comes into play. Markus doesn't care how it comes, the main thing is it has two wheels and an engine. If it's the 158 hp Ducati Multistrada, it's driven across the runway at full throttle – and if it's a weaker test object, then it's not, but it's still fun. It comes as it comes.
Markus likes to ride old mopeds, as they remind him of his time, which in hindsight is gladly provided with the transfiguring addition the "good old one". Stories about stories I could ... but I digress. In a nutshell: The test object of this used motorcycle check is the ("good old") Honda NTV Revere. Their basic data are quickly told: The V2 motorcycle was a real market success between 1988 and 1997, with around 15,000 machines bringing Honda to the man (plus f/d). A nearly 650 cubic metre V2 initially provided 60 hp, later less than 50 hp.
The performance reduction over the years is not all unusual, because the NTV has a gimbal drive. Short detour into technology: A shaft running in the oil bath, the cardan shaft, transfers the power of the motor to the rear wheel instead of a chain with gears. Advantage: There is no need for maintenance work such as chain clamping, grease, cleaning and replacement after approximately 20,000 kilometers. Except for an occasional oil change, the cardan is very easy to care for, which makes it extremely popular with touring drivers. However, such a cardan is heavier, and if something breaks, it becomes expensive. This is not to be expected with our test object, because it has only run 24,000 kilometers. It is said to cost a slender 1,700 euros, while it cost around 10,575 ("good old") German marks a new one. Our NTV is available from a dealer, which is why handover inspection and fresh TÜV are included in the package price.