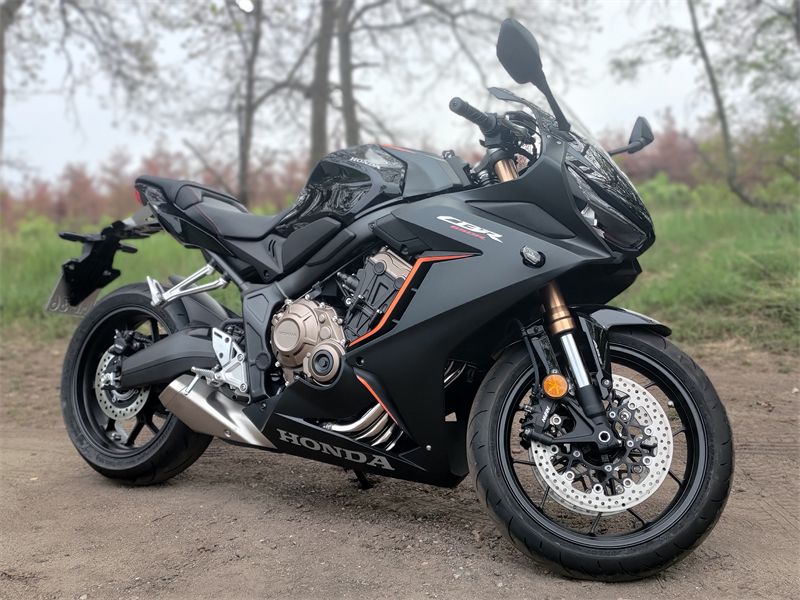 Photos: motorradtest.de
The Honda CBR 650 R is currently the best-selling SuperSport bike in Germany. Why is that? Maybe it's because the machine is not so radically sporty and is therefore also suitable for country roads and city use. Volker and Dietmar took a close look at the everyday folk athlete and had a lot of fun.
Super sport for everyone
Normally, you get neck pain after half an hour on a super athlete and then have to be levered by the bike. Not so with the CBR650R: The position of the stub handlebar is so comfortable that you almost sit upright. Of course only almost, but still: You can actually shoo this bike around with over 50 without any problems, without getting back pain. Terrific!
The CBR650R looks like Fireblade, but is an everyday talent that cuts a fine figure not only on the racetrack. It weighs 208 kg and can be manoeuvred decently. The seat height of 810 mm should not be a problem for anyone, but you still have enough space as a larger pilot. Of course, the co-driver sees it a little differently, but anything else would be a surprise on a bike of this category.
Visually, the CBR pleases with a very slim silhouette. The full fairing has a recess in exactly the right place, so that the magnificent manifolds of the 4-in-1 system come into their own. However, this is solved even more beautifully with the sister model
CB 650 R
. From a technical point of view, there is a tie in terms of engine, chassis and brakes on these two bikes.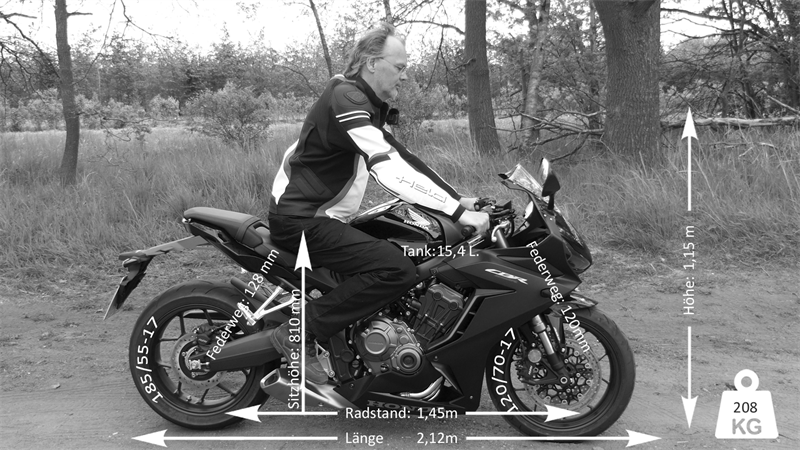 That's how relaxed you can sit on a super athlete!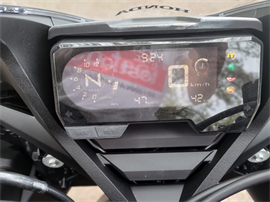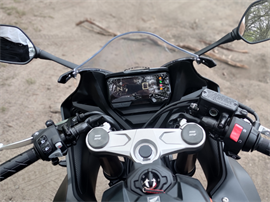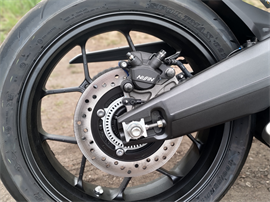 What she should be able to do
Technically, the CBR650R is surprisingly down-to-earth. There is ABS and a switchable traction control, everything else is searched in vain: No ride-by-wire and no driving modes, not to mention lean angle sensors or wheelie control, etc. A QuickShifter is not included in series either, but for 208 € the surcharge is really okay. By the way, we would definitely recommend it for this machine.
When it comes to light, the Honda is not naked: Full LED all around, beautifully designed front and rear lights as well as hazard lights can be found on this bike. The cockpit comes with inverse LCD technology and, in our opinion, is easier to read than the unprotected, free-standing display of the CB 650 R due to the cockpit fairing. Nevertheless, nowadays there are of course more modern cockpits with TFT color display, mobile phone connectivity and navigation integrations, which the CBR cannot offer.
Good for the fast motorway lap: When braking abruptly, the hazard warning lights are automatically activated, so that the person behind knows: The one in front is braking hard, I'd better brake sometimes...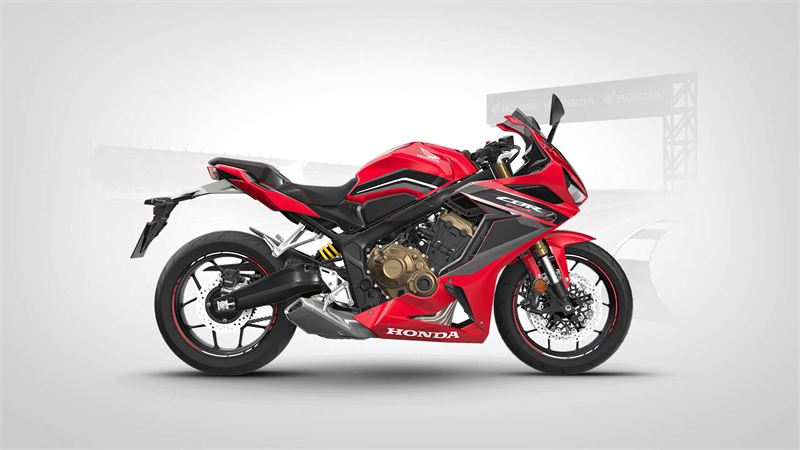 Photo: Honda (factory)
This is how it drives itself
The sound of the bike is really wonderful (soundcheck top right). This is reminiscent of blissful times when air-cooled 600cc racers were still among the most popular machines. Especially at higher speeds, the CBR becomes an acoustic poison snake - we think it's great. The ultra-short exhaust allows the two-arm swingarm and the rear wheel to glide optically unhindered to the eye of the beholder, that's how it should be. Take a look at the picture above, what does that remind you of? Exactly, to a big cat just before the jump. You don't have to drive the CBR, you could just put it in the living room, that would already justify the price.
Then we drive off and feel right at home. Comfortable riding position, nice sound, great engine and easy operation - we have the bike under control immediately. Unlike super athletes with 1000 cc and more, the power output here is much more humane. The machine is up to 100 km/h in 3.5 seconds, but you are not afraid to accelerate. You should have respect for any motorcycle, but the CBR 650 R is a very accessible motorcycle. The machine does not know load change reactions or constant jerking. On the contrary, you can also go through the village with the 4-cylinder in 5th gear, it does not itch. Of course, it only gets really fun in higher speed ranges. There the engine develops its full power, it cheers easily up to 12,500 rpm and then rewards its rider with plenty of steam and above all - sound!
Everything else works great on this bike: gearbox, clutch, gearshift - everything perfectly coordinated. In our test video, Volker even lets himself be carried away to the statement that he has never been allowed to drive such a perfect gearbox. This bike is a real Honda: super quality and sophisticated technology. This machine was guaranteed to be tested and developed for a long time before it was unleashed on the buyers.
If you really wanted to criticize something, then maybe the somewhat spartan equipment. In addition to the missing technical helpers, the Showa spring elements are not adjustable - except for the spring base on the central spring strut at the rear, but only by wrench. But does that bother us? Not in the least! My motto in this case: What I can't set , I can't adjust and above all, I don't need to worry about it. Instead, the Honda lives the motto: Sit on it, drive off and have fun.
Admittedly, Aprilia RS 660 riders, for example, could now interject that they also have a lot of driving fun, but can also pair their smartphone and adjust the suspension to their needs. And that the technical driving aids do not distract them, but ensure safety and performance. Okay, okay, that's good. But with the Honda you can concentrate entirely on driving. 
Suum cuique
- to each his own.
Conclusion - what sticks
Above all, it sticks that the CBR is a bike suitable for everyday use, but this does not reduce the driving pleasure in the least - on the contrary:
Just because
the CBR is so sociable, it is a lot of fun to athletes with it through the area. Apart from that, we also find them really beautiful, like almost all athletes. Now we also understand why our YouTube users have been in our ears for years, we finally want to test the Honda CBR 650 R. Check, ham' we did, was actually worth it, thanks for the tip. 
By the way, the test bike was provided to us by
motofun
, a large Honda dealer from Kaltenkirchen near Hamburg. There, the CBR stands as a demonstrator in black and waits for test drivers. Go ahead, Nico and his team are looking forward to your visit!
Price/availability/colours/years of construction
Price: 9.500€
Used (3 years old): 8.000€
Years of construction: since 2019
Colours: red, black