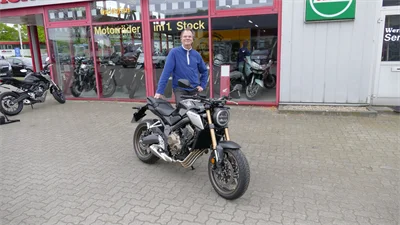 At first glance, everything seems to be normal with the Honda CB 650 R Neo Sports Café, but that changes on closer inspection. Compared to the competition, the retro bike with the new in the name is more expensive, but also more powerful.
Beautifully done, honest
The first lap around the retro bike is very satisfying: it looks really great. The colour combination in black with the coffee-brown elements is already good, but the howler (also in the figurative sense? We test afterwards) is the simply ingenious four-in-one exhaust system. This is what people used to wear, and the enthusiasm has not substbonstited to this day. The experienced workmanship and expensive details such as the Metzeler Roadtec tyres delight the biker anyway.
But what kind of bike is that? The Kawasaki Z 650, Husqvarna Vitpilen 701 or the Yamaha MT-07 immediately come into your head as competitors, the latter being the orderer of the brand. But somehow the whole thing doesn't fit. Compared to the competition, the Honda is about 1,000 euros more expensive than the competition at 7,675, which is an announcement. For this you get twice 20 packed, namely 20 extra hp (super), but also 20 kilos plus (not quite so great).
The rest is rather standard with Naked Bikes: By nature no wind protection, so rather not suitable for long distances. What I have noticed in many test machines lately: Obviously Naked Bikes are considered ideal single motorcycles, because both the seat and the knee angle of the rear seats are suboptimal, to put it mildly. It is 95 hp from a four-cylinder engine with 650 cubic centimeters. This is obvious, as it is suspected of having to deal with a rotary organ, especially since the maximum power is at a sporty 12,000 revolutions.
Let's go now, enough of the theory.