Versys 1000 SE and Versys 1000 S
A RELATED ELECTRONIC SUSPENSION AND A THIRD MODEL VERSION MAKE THE VERSYS 1000 NOCH VERSATILE AS EVER
The Versys 1000 from Kawasaki is designed to provide maximum driving pleasure in many different driving situations. Whether solo or as a couple, whether just around the corner or around the world: the combination of the revolving, flexibility-matched in-line four-cylinder and the agile chassis with dynamic suspension of this road sports motorcycle ensures driving pleasure and delights every rider. The relaxed, upright driving position offers a good mastery of the machine, which is rounded off by a very comfortable seat and a good wind protection – so the highest comfort is offered for long journeys.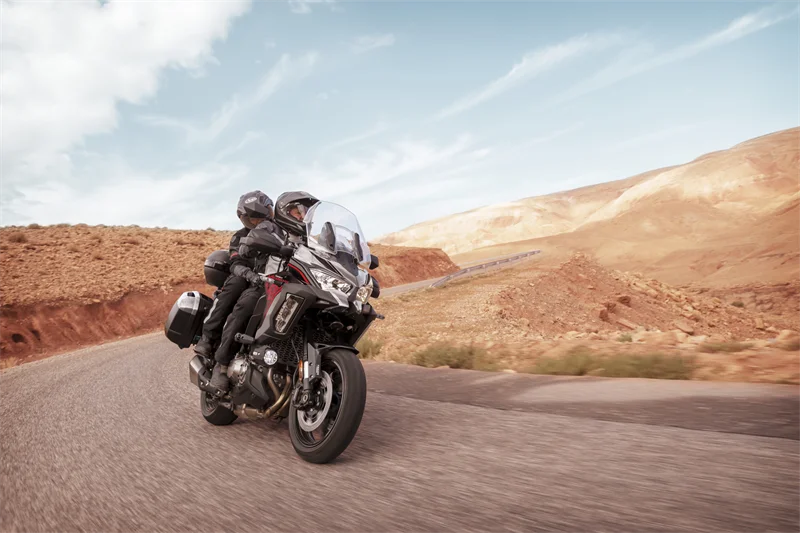 Photos: KAWASAKI
For the 2021 model year, the Versys 1000 SE has been equipped with a revised KECS (Kawasaki Electronic Control Suspension). Thanks to the first use of Showa's Skyhook technology at Kawasaki, the new suspension offers a more comfortable driving experience and even more driving pleasure for the driver and passenger. The new Versys 1000 S, which replaces the standard model in Germany in the 2021 model year, has all the great features of the Versys 1000 SE, with the exception of KECS. The Versys 1000 now better meets the different needs of a variety of drivers – whenever the adventure calls for these two model variants.
THE FIRST USE OF SKYHOOK TECHNOLOGY AT KAWASAKI
 KECS with Skyhook technology from Showa (SE)
The updated software for the Versys 1000 SE's semi-active KECS system includes Skyhook Electronic Ride Adjustment (EERA) technology for even more stable handling (the components and responsiveness of the suspension remain unchanged from the standard KECS). The Skyhook concept can be imagined as a hook that carries the spring-loaded masses of the motorcycle and adjusts the damping force of the suspension so that the wheels react optimally to ground waves and maintainthe upright position of the motorcycle in minimizing the interference.
* The Kawasaki engineers carefully tuned Showa Skyhook software to preserve the sporty driving characteristics of the Versys 1000 provides more comfortable driving characteristics through continuous real-time adaptation to the road surface. The road position is excellent, the inclination behavior (especially when driving for two) is improved, on the highway the steering remains easy and the bike feels calmer during rain rides.
* While the standard KECS already used data from multiple sources (real-time data on lifting speed and position (from built-in lifting sensors), vehicle acceleration and deceleration (from the IMU), front/rear wheel speed (from the FI-ECU) and front wheel braking pressure (from the ABS-ECU), KECS with Skyhook also takes vertical acceleration into account to determine the damping force.
* The base damping level is determined as usual according to the selected driving mode and the spring preload on the rear wheel is still adjustable.
COLOR(N)
 Versys 1000 SE:
* Emerald Blazed Green (Green)/Metallic Diablo Black (Black)/
Metallic Flat Spark Black (Black)
* Emerald Storm Gray (grey)/Metallic Diablo Black (black)/
Metallic Flat Spark Black (Black)
 Versys 1000 S:
* Emerald Blazed Green (Green)/Metallic Diablo Black (Black)/
Metallic Flat Spark Black (Black)
* Emerald Storm Gray (grey)/Metallic Diablo Black (black)/
Metallic Flat Spark Black (Black)
MODEL VARIANTS
Drivers can choose between the new Versys 1000 S, which has other modern features and electronic assistance systems compared to the standard model offered to date, and the revised Versys 1000 SE with KECS and Skyhook technology. ("Connected" refers to functions connected by the built-in driving modes. "A" means parts that are available as accessories.)
Part

Versys
1000 MJ2020

Versys
1000 S

Versys
1000 SE

Electronic throttle control

✓

✓

✓

Electronic speed control

✓

✓

✓

KCMF (IMU-supported electronic package)

✓

✓

✓

KTRC

✓

• Connected

• Connected

Power mode

✓

• Connected

• Connected

Assist and slip clutch

✓

✓

✓

KQS (Power ingessing and shutting down)

A

✓

✓

KIBS

✓

✓

✓

KECS

-

-

✓ Connected
(Skyhook)

Integrated driving modes
(connects KTRC, Power, KECS)

-

✓

✓

LED curve lights

-

✓

✓

TFT color instruments with
Smartphone connectivity

-

✓

✓

Large windshield

A

✓

✓

Heating handles

A

*

*

Guard

A

✓

✓

Extremely durable (matte) paintwork

-

✓

✓
(New for MJ 2021)
*Heating handles as standard equipment or accessories depending on the market
TECHNICAL DATA
DIMENSIONS AND WEIGHTS

 

 

Length

Width

Total height (in the highest/lowest position of the windshield)

Wheelbase

Ground clearance

Seat

 

Weight

 

Versys 1000 SE

Versys 1000 S

 

Tank contents

 

 

2,270 mm

950 mm

 

1,530 mm/1,490 mm

1,520 mm

150 mm

840 mm

 

 

 

257 kg

255 kg

 

21 litres

 

Performance

 

 

Max Performance

 

 

Max Torque

 

 

 

88.2 kW (120 hp) at 9,000 rpm

 

 

102.0 Nm (10.4 mkp) at 7,500 rpm

 

Engine

 

 

Type

Valve system

Bore x Stroke

Displacement

Compression ratio

Fuel supply

Qz

Starter

Ignition

 

 

Liquid-cooled four-stroke in-line four-cylinder

DOHC, 16 valves

77.0 x 56.0 mm

1,043 cm3

10,3:1

Fuel injection: 38 mm x 4

Pressure circulation lubrication, wet sump

Electric

Digital

 



Drive

 

 

Drive

Transmissions

Gear ratio: 1st gear

2nd gear

3rd gear

4th gear

5th gear

6th gear

Primary translation

Final translation

Clutch

 

Chain

Six-speed gearbox

2,692 (35/13)

1,950 (39/20)

1,529 (26/17)

1,304 (30/23)

1,136 (25/22)

0,958 (23/24)

1,627 (83/51)

2,867 (43/15)

Multi-disc coupling in the oil bath

 

Chassis

 

 

Frame

 

Suspension: Front

Versys 1000 SE

 

 

Versys 1000 S

 

 

Rear

Versys 1000 SE

 

 

 

Versys 1000 S

 

 

Spring travel: Front

Rear

 

Follow-up angle

Caster

Steering angle (left/right)

 

Tyres: Front

Rear

 

Aluminum double profile frame

 

43 mm upside-down fork with KECS-controlled pressure and pull-stage damping as well as manually adjustable spring preload and top-out springs


43 mm upside-down telescopic fork with adjustable pull-stage damping (right) and spring preload

 

Horizontally arranged back-link gas pressure central spring leg, BFRC Lite gas pressure damper with Piggyback reservoir, KECS-controlled pressure and tensile damping and electronic spring preload


Horizontal back-link gas pressure suspension with adjustable pull stage damping and separate spring preload adjuster

 

150 mm

152 mm

 

27.0°

106 mm

34°/34°

 

120/70ZR17M/C (58 W)

180/55ZR17M/C (73 W)

 

Brakes

 

 

Front

 

Caliper

 

Rear

 

Caliper

 

 

Semi-floating mounted 310 mm Petal double brake disc

 

Radially mounted four-piston monobloc calipers

 

250 mm Petal single brake disc

 

Single-piston floating saddle

 
KAWASAKI TECHNOLOGY

1: Versys 1000 SE only