Compressor Naked Bike
with extra boost for buyers
Payment premium or 0.0 percent financing for Kawasaki Z H2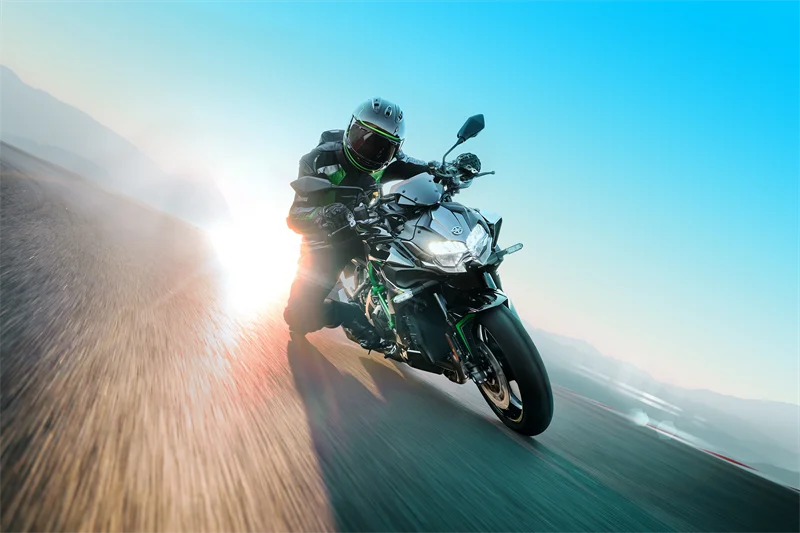 Photo: KAWASAKI
Kawasaki Germany will provide its Supernaked Bike Z H2 with an additional purchase incentive in addition to the current VAT savings until 31 October 2020: the customer can choose between a payment premium* in the amount of 1,000 euros or a 0.0% financing**. So if you have postponed the purchase decision so far, you will get an additional reason to bring your Z H2 home this late summer.
If the customer chooses the payment premium, he will receive a whopping €1,000 above the DAT/Schwacke estimate from the participating Kawasaki contractor for his used motorcycle. This guarantees a very attractive purchase price and saves the customer from having to sell his old bike for private use.
If you do not want or cannot pay for a vehicle, you have the alternative chance to finance your Z H2 at an effective annual interest rate of 0.0%. This special financing*, offered through Kawasaki Finance – powered by Consors Finanz, allows you to finance a new Z H2 on highly flexible terms with maturities of up to 72 months, which allow for very small monthly instalments. At the same time, the customer remains financially flexible, as his own capital is not tied up by a motorcycle purchase.
No matter which option is available, anyone who wants to take advantage of one of these offers should check with the participating Kawasaki contractor as soon as possible. This is because the action will only apply as long as the stock lasts and ends on 31 October 2020.
* Promotional period until 31 October 2020: Payment premium of €1,000 (gross) via DAT/Schwacke estimate when purchasing a new Z H2, model year 2020. Only as long as the stock lasts and only for participating Kawasaki contractors. No cumulation of actions possible. The payment vehicle must be registered on the promotional participant for at least the last 6 months prior to the purchase.
** Promotional period until 31 October 2020. Example: Non-binding retail price recommendation for Z H2 (basic model) incl. transfer, plus additional costs: 17,053.95 €, down payment: 1,000 €, term: 72 months, effective annual interest rate: 0.0%, fixed borrowing rate p.a.: 0.0%, monthly instalment: 245.28 € incl. residual debt insurance. Financing offers of Kawasaki Finance – powered by Consors Finanz, lender is BNP Paribas S.A., branch Germany, Schwanthalerstr. 31, 80336 Munich. creditworthiness. Representative example: The above information also represents the 2/3 example in accordance with Section 6a (4) PAngV.