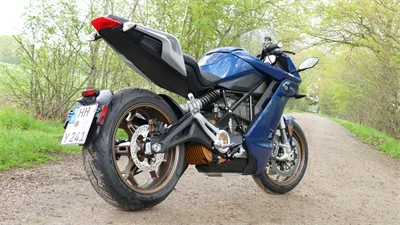 Simply stunning
What immediately stands out: Apart from its drive, the Zero surprise! - a quite conventional bike. Like a diesel-powered Enterprise spaceship, just the other way around. The display is modern, but not spacy. The ads are necessarily different in parts, but it is not constantly blown into the eye "I AM THE FUTURE!" The already mentioned design as a sports tourer completes the classic picture.
The seating position is gathered, unlike in the adventure bike, but not super sporty.
Your bike has 15 valves per camshaft and hyperpneumatic interior lighting? Then have fun warming up, we're already jetting off. We also avoid problems in short-haul traffic and a large part of the maintenance costs: we save ourselves completely oil changes on the engine, expensive replacement of the clutch or transmission. And forever.
The driving performance is in line with expectations, given the psyatage figure of 110. The Zero is fast, of course. It can be rushed to 100 km/h, in three-point seconds, but not faster than other superbikes. Apparently, more power cannot be transferred from a rear tyre. But what it can do like no gasoline: Like any electric machine, it immediately pushes off with the full torque, here it is 190 Newton meters, from every speed. And that's what takes your breath away – because it results in a record-breaking acceleration from 60 to 100 km/h in just over a second. By comparison, the 147 hp Ducati Monster 1200, a power-naked bike, takes 3.1 seconds. Even with the Duc you have the feeling of rushing forward murderously, the Zero knocks you off the bench.
Apart from this mountain of torque, the Zero drives itself quite mature, it is by no means a craft stall. The driving comfort is good, the windscreen for a sports tourer also. After the first sample, however, the bench looks quite hard. A low set-up torque when braking in corners creates confidence, the brakes themselves are first-class. Curve ABS and traction control drive along. So far so good, but also not spectacular.
Of course, the sound is unfamiliar, in this case on very german the driving noise. The usual tram wandering accompanies you, it's not annoying. In fact, the noise poverty is unfamiliar and dangerous at first. The speed is simply there thanks to monster torque and in case of doubt too high, like far too high. The regulating or warning noise is eliminated. You have to drive more carefully, the absolute speed is also classified by the conventional driver by the noise.
The wind noises of course also depend on the own helmet, the Zero SR/S itself produces little of it. The relative silence is unfamiliar. Those who stand on V2-Bollers will not like this. Better: He will be missing something.