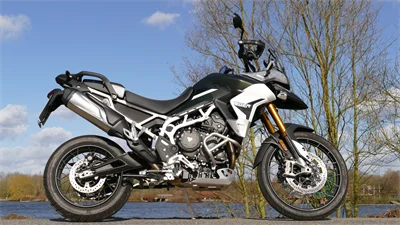 Agile and agile
Before driving off, we need to clarify the operation briefly. At first glance, there are many buttons that are pressed, switches the tilted and joysticks that can be pulled. But at second glance the rage clears up, joy comes up on the third. The display as such is brilliant, not even hard backlight tarnishes the readability. But also the settings of the different driving modes are quickly understood, even a connection for the control of a GoPro action cam is available. Not found at first glance, but certainly as standard, is the speed dial button for connecting with Lieutenant Uhura from the enterprise spaceship.
So all there, let's go. Small disillusionment: For short-legged people like the author, even the lowering of the seat height from 870 to 850 millimeters only helps to a limited extent, for really smaller people this is rather nothing – as almost all adventure bikes then fall out of the grid. For this, all the people who hire themselves as a sociable or socia have drawn the main prize: the comfort in the second row is not only because of the separate seat heating 1a, there is plenty of space.
The Triumph Tiger 900 is not a further development of the 800s, but actually an almost complete new construction. This is assured because the nominal power remained the same at 95 hp. But the three-cylinder – not weak beforehand – plays out its higher power in the low and medium speed range, without appearing somehow laced up at the top. It proceeds extremely powerfully in every situation of life.
Sure, the 1200s has more steam in every situation. But there is a significant difference that can turn the tide to the 900s. Although the 900 has very long spring travel and therefore has a very good driving comfort. Whether cobblestones, short cross joints, the tigers level the light on. Compared to the "big" triumph, the front wheel is just as big at 21 inches. Which is why it's surprising how agile the 900 is. It is felt to be two classes more manoeuvrable, without buying this with ostensibly sporty hardness or a bad straight line.
The windscreen is ok with its small disc, but not much more. Of course, the ideal protection depends on the size of the rider, the helmet shape and 1001 other things. The small flaps on the side of the transparent and adjustable shield may help, but there are slight turbulences.
The ears are not neglected either. The three-cylinder sounds like the golden middle of craggy V2 and silky four-cylinder. The Quickshifter, which works up and down perfectly: A small jerk is clearly noticeable when switching, but compared to the German competition, this is smooth.