Triumph Speed Triple 1200 RR reviewed
(Baujahr 2022)
What can the new hybrid of café racer and super athlete do?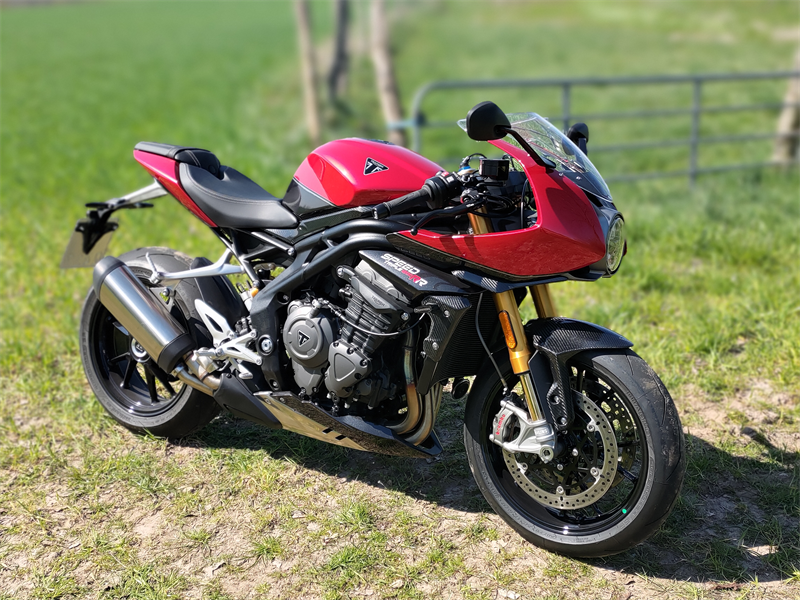 Photos: motorradtest.de
There are days when we thank God that we can test motorcycles. On April 26, 2022 was another such day, because we were allowed to shoo the new Triumph Speed Triple 1200 RR across the highway. I still have weak knees ...
Demigod in white - better still in red
There it is, cleaned and refuelled by our favourite Triumph dealer
Q-Bike in Hamburg: the fire-red
1200 RR. At first glance, not much reminds of a Speed Triple. No underseat exhaust, no two eyes in front, no alien, organic frame. But this is also the RR and not the RS. The RR is virtually a 1200 RS with lamp mask, higher and rear-set footrests, stump core and an electronic chassis from Öhlins. Sounds like little difference, but makes the RR a completely different motorcycle than the
Speed Triple 1200 RS we already tested
. Fortunately, the incredible engine remained, but we'll get to that later. First of all, we dedicate ourselves to the seating position on the RR - and it really has it all.
You sit super sporty bent forward, Volker would say: "Bückeisen!". We older gentlemen find this a bit exhausting, at least on longer distances, but the racetrack driver will want it that way. In terms of seat ergonomics, the RR is definitely a super sports car, even if other testers here talk about a moderate SuperSport position - that's complete nonsense! We don't even need to talk about pillion comfort, it's best to buy the pillion cover right away and the topic of passenger is off the table. Who wants to drive the Nordschleife in pairs?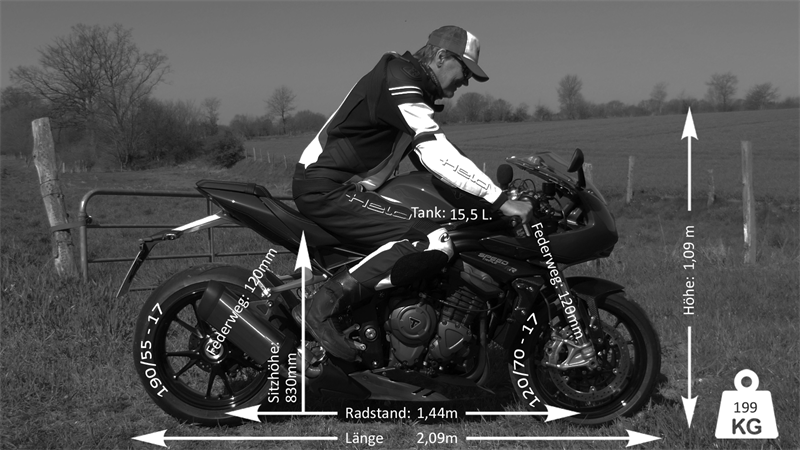 Virtual 360 degree tour around the Triumph Speed Triple 1200 RR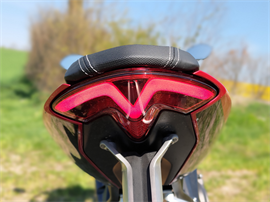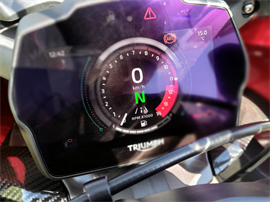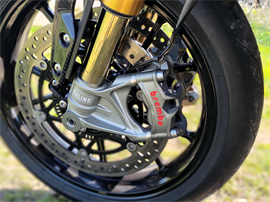 What she should be able to do
Unfortunately, there is not enough space here to name all the features of the RR. Therefore only in keywords: QuickShifter, electr. Öhlins suspension semiactive, 4 ready-made riding modes and a self-configurable rider mode, ride by wire, cruise control, wheelie control, GoPro control, smartphone connectivity with navigation option, full LED light front and rear incl. indicators, TFT color display with several themes, lean angle sensors, cornering ABS, lean-dependent multi-stage traction control, Keyless Go ... Did I forget something? Certain. Remarkable: All these features are standard equipment on the RR!!! Except for the handle heating, for which you have to pay 220 euros extra. Anyone who wants to understand that.
With so many bells and whistles, one or the other will worry about usability. But thanks to a joystick and intuitive menu navigation, we can give the all-clear: Almost everything can actually be used without operating instructions. Nevertheless, it is of course worthwhile to try out all the functions and setting options in peace (and when stationary!). This is fun even for us at the RR!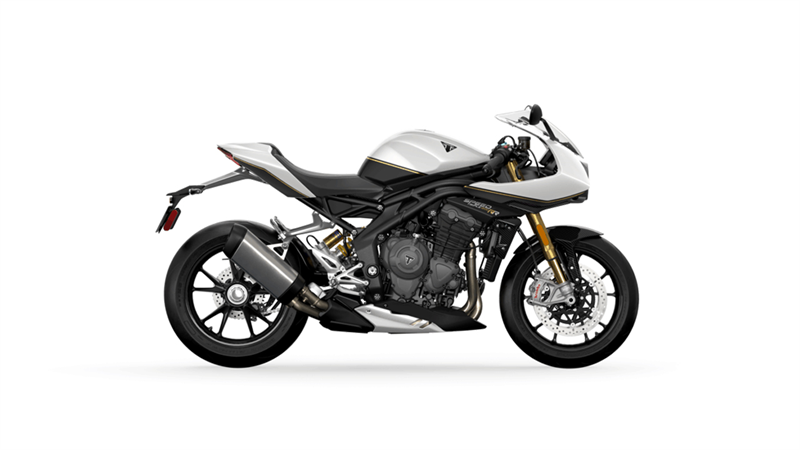 Photo: Triumph (work)
This is how it drives itself
Then up the cart and ignition. It's wonderful how lovingly Triumph receives the owner in the TFT display. The cockpit is really an eye-catcher and is also easy to read. Then engine on and a little reven. And there it is, the triple sound made by Triumph! Sounds similar to the RS, poisonous, aggressively hissing, like a big cat just before the jump. You can already guess what is about to happen on the motorway!
And that's exactly what happens: all hell breaks loose! How this machine goes forward is simply awesome. That doesn't feel like 180 hp, but 250. The motor turns out to be elastic and revving. There is hardly a speed at which he does not seem to feel comfortable. Especially the sprint from 100 to 200 km/h on the motorway is brutal (see test video chapter 7). Fortunately, the numerous assistance systems tame the machine and ensure that both wheels remain on the road. Otherwise, 50 percent of the drivers would probably get stuck on the tree during the test drive. That's really not an exaggeration: With hardly any other motorcycle we were as pleased about the technical helpers as here - and that as experienced bikers. The 1200 RR is neither an entry-level motorcycle nor a bike for medium-experienced riders: only experienced riders should sit here. So super athletes after all!
 
The semi-active chassis does a very good job and intervenes noticeably in the action. If you let it crash, the machine becomes taut and remains controllable. If you go around in the area, the chassis adjusts accordingly - first class! The Stylemas of Brembo also deserve praise. Anchoring has never been so easy! The combination of radial pump, 4-piston brake calipers and 320 double discs at the front also exude SuperSportler feeling. However, Volker was not quite so impressed by the braking effect of the rear-wheel brake, especially since the ABS control intervals are once again very long.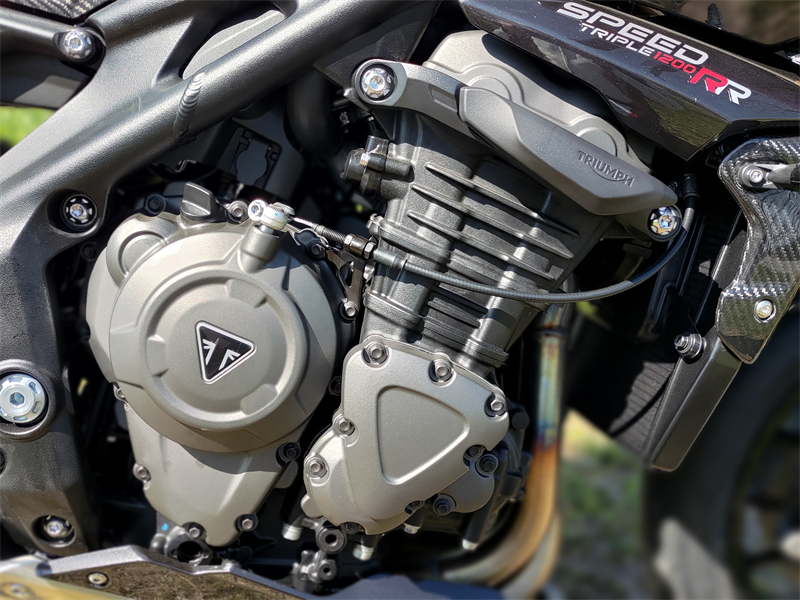 QuickShifter also works really well. You don't even have to pay attention to the QA rule upshift>up and slide-down>downshift. It works great in both directions, almost no matter at which speed. And now again briefly on the subject of sound: It is especially addictive when driving. When revving up from 5,000 to 10,000 UMins, not only does it go forward quickly, the whole Chose is also acoustically accompanied so impressively that you are actually only accelerating and braking - and again accelerating, braking, again! A glance at the vehicle registration document confirms this impression: 98db stationary noise. Tyrol died with it, but who wants to go to Tyrol with this bike?
 
Conclusion - what sticks
What a dream bike, the Speed Triple 1200RR! Above all, the engine and the chassis will remain in our memories. The sitting position, however, also: As I said, this is not for intervertebral disc victims or those who want to become one. Otherwise, the concept of the RR is relatively unique. Only the MV Agusta Superveloce pursues a similar approach: Optik café-racer, everything else racer-racer. In any case, we had a lot of fun with the Triumph Speed Triple 1200 RR. 
The test bike was provided by
Triumph-Hamburg
. If you fancy a test drive: There she stands as a demonstrator and looks forward to a lot of test drives, after all, that's what she's there for.
Price/availability/colours/years of construction
Price: from 20.400€
Availability: from 04/2022
Colours: red, white