Triumph Bonneville Speedmaster in the test
(Baujahr 2022)
The casual British cruiser from Triumph in the test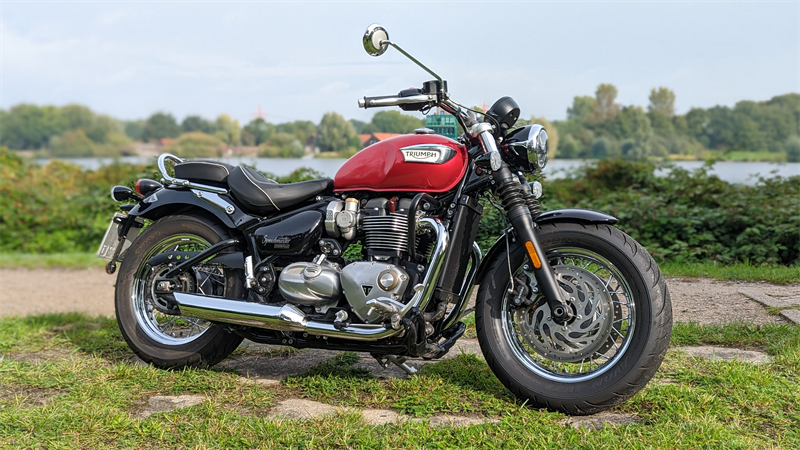 Photos: Motorradtest.de
If you only think of Harley, Indian and recently BMW (R18) when you think of cruisers, you have clearly forgotten one manufacturer: With the Speedmaster, Triumph also has a classic cruiser in its program, which drives in style and with a British touch. Jan and Dietmar took a seat and cruised extremely casually through the area. Here is our chilled driving report.
Chic steamer
The Speedmaster looks beguiling even when stationary, as it looks so casual at
Triumph Hamburg
. Before we forget: Exactly this bike above you can buy there as a
demonstrator for 13,280 euros,
if you hurry. It has 16 inch rims front and rear, footpegs moved far forward, a handlebar tilted very far towards the rider and a very low seating position of only 705 mm. Just the right bike for pleasurable scrubbering without stress. The everyday worries or other negative ideas are already brushed off when sitting up. The knee angle is relaxed, the arms are relaxed, the driver is relaxed.

The Speedmaster costs 14,395 euros and comes in three colors: red, black, and black and white. The look is really gorgeous, which is also due to the thick stainless steel bags and the frame look. In truth, of course, a modern mono strut with deflection springs at the rear, which can be adjusted in the spring preload. Very nice and typical Triumph is also the carburetor optics behind the cylinder. The Speedmaster is neither particularly large nor particularly small for a cruiser and weighs an acceptable 263 kg. In contrast to Harley & Co., the machine is maneuverable and controllable even for normal mortals, which also applies to driving.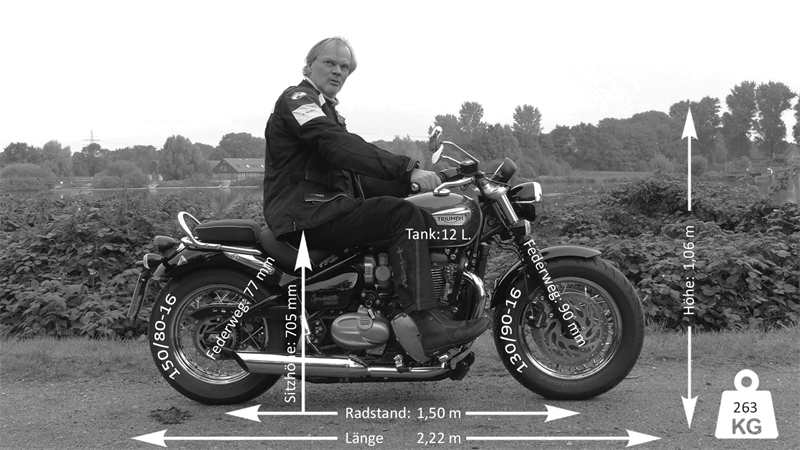 That's how casually you sit on a 2022 Triumph Speedmaster.
360 degree tour around the Triumph Bonneville Speedmaster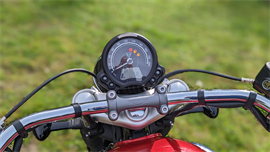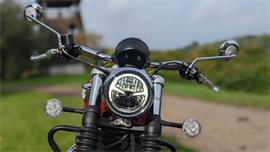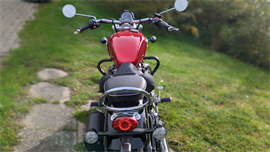 Technically well equipped
The Triumph Speedmaster comes with full LED lights, switchable traction control, cruise control, Rain and Road driving modes and an electr. Immobilizer. The cockpit shows the speed analogously and digitally via an LC display the gear, the consumption, the remaining range and even the engine speed. An on-board computer is also included and operation of these things succeeds without looking at the manual.
Very nice we find the headlight, which looks classic despite LED. There is an extra switch for switching from low beam to daytime running lights and the turn signals are also designed in LED technology. Even the license plate lighting is LED here, what more could you want!
On our test bike there are the optionally available heated grips as well as an engine protection bar and a side pocket, which, however, makes it difficult for the co-driver to stand securely on the footrests. Well, you can dismantle if necessary.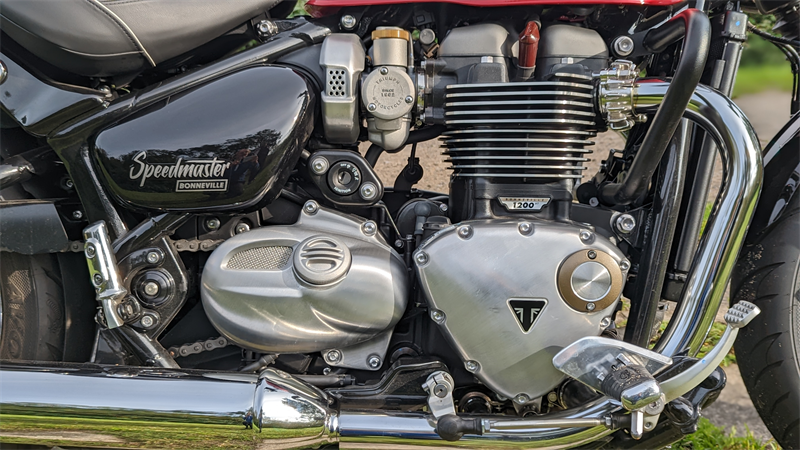 This is how it drives itself
Before we start, we do a sound check as always (see top right). The 1200 row twin with 270 degree lifting pin offset rumbles along wonderfully bassy. The stationary noise is acceptable at 94 dbA, but the bike still sounds powerful. Anything else would have surprised us with regard to the two massive tailpipes.
The engine pushes hard, already at 4,000 rpm it reaches its maximum torque of 106 Nm. This is not scary compared to other cruisers, but still more than enough for powerful thrust and casual overtaking manoeuvres. By the way, we already know the engine from the Speed Twin and the Bonneville T120. It gives the bike a sporty ride that we wouldn't have expected the Speedmaster to achieve. However, the freedom from lean angles is limited, which is one of the reasons why and because of its weight, the Speedmaster is ultimately a bit more sedate than its two motor competitors.
The chassis, brakes, comfort, operation, etc. are inconspicuous on the Speedmaster - which is usually a good sign. The low spring travel makes you feel one or the other pothole, but who drives the Bonneville through potholes? The seating comfort is pleasant and a casual driving style with the legs far forward make every trip seem like a short holiday. Of course, the Speedmaster is neither a sports nor a touring motorcycle (the tank would be much too small for that). So not an all-rounder, but which cruiser can come up with it. It has other qualities and among all the cruisers we've driven recently, the Speedmaster is certainly one of the most accessible.
Conclusion - what sticks
The Triumph Speedmaster is visually a feast for the eyes and delights its owner with many loving details. It is super processed, you would like to put it in the living room. But she doesn't belong there, because she also drives great. For a cruiser almost feather-light, it is also suitable for people under 100 kg. Sound, engine and handling make every ride a little experience - that's how it should be! 
Our test bike was provided by
Q-Bike Triumph Hamburg
. There it is for sale as a
demonstrator with about 4,000 km for 13,280 euros
. This includes engine protection bar, bag, heated grips and a residual warranty until 1/2026.
Price/availability/colours/years of construction
Price: 14.395 €
Used (3 years old): 12.000€
Availability: since 2002
Colors: red, black, black and white