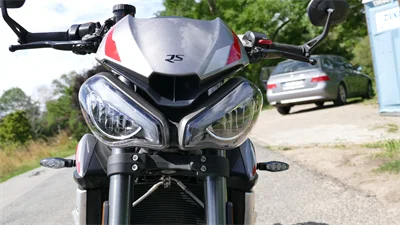 What an engine
Oha. After a short turn on the gas handle, "then let's go" becomes a felt jump to the best time for zero hundred. But before that, a quick look at the display in the booth. As clear as it is, as many designs can be selected, it remains the same criticism as with the Tiger 900: The menu navigation is not thought through to the end. But since you rarely need this, it is to be tolerated.
Then we start through. And do it again. And again. And could actually do it again and again all day: enjoy the powerful, powerful and at the same time clean running engine. The new sound fits perfectly with the racer style without annoying in the long run (by the way, the neighbors don't either. Powerful does not necessarily mean loud, here first-class implemented).
With the sporty, well integrated sitting posture, the bike is also well under control for acceleration. But one thing must be clear about one thing: if the back pressure is missing from the driving wind, one bases oneanother in the city on the handballs. In the long run, this can hurt.
So get back up the runway, enjoying pure and pure physics. In addition to the fantastic engine and the clean gearbox, the Triumph Street Triple uses two physical laws to its advantage. First: The Triumph Street Triple RS is a real lightweight with only 187 kilos. Every pilot notices this in every curve, when manoeuvring or accelerating: lightweight construction cannot be replaced by sophisticated electronics or simple extra power. In this respect, the triumph is one of the most honest sporting motorcycles on the market.
The second reason is the standard Pirelli Diablo Supercorsa SP V3 tyres. The Ducati Panigale proudly wears something like this on the track, it is a semislick with a low profile and comparatively sticky running surface. It fits perfectly with the Street Triple RS, allows jagged steering, high inclinations and best grip. However: Only when the weather is good. He doesn't like rain or low temperatures at all. In adverse conditions, it is best not to put on a dedicated 125 scooter. The abrasion is also relatively high, so that these tyres are the reference for sports motorcycles, but are an expensive pleasure.