Test test of Honda CBR 1000 RR-R Fireblade SP
(Baujahr 2021)
Razor blade with 218 hp on the country road - does that make sense?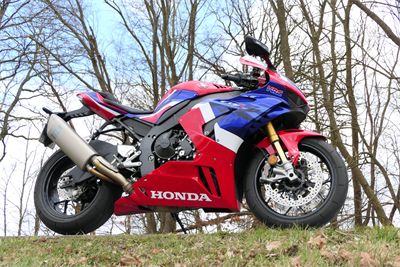 Photos: Motorradtest.de
The Honda CBR 1000 RR-R Fireblade SP is a motorcycle designed for speed. We have thus goned on the country road through the area. Does that make sense? Our test probant Dietmar has since recovered and sums up his experiences.
Sexy she stands there
There she is in front, the Fireblade SP in Grand Prix Red. Looks small, I can hop over in the final jump. But if I don't do it, it's a testing machine, not mine. Honda dealer Nico from Kaltenkirchen has never talked to me so long that for God's sake I should drive carefully and start slowly for 30 minutes. "Albern," I think to myself. Later I know: That I was allowed to ride this thing at all was a real proof of trust!
The Honda CBR 1000 RR-R Fireblade SP is nothing more than a weapon. Even those who - like me - have already driven various 200 hp machines should be aware that this device actually has nothing to look for on public roads. Honda itself says of the Fireblade:"The CBR1000RR-R SP is not specifically tailored to the road. THE RACE TRACK IS YOUR PLAYGROUND!". True, I sign immediately.
Who actually came up with this scary name with four R's? No matter, somehow the child has to be called yes and the name addition Fireblade hits it very well. Before I go, however, first of all, the seat rehearsal. And that's where it starts. Am I too big, too fat, too heavy? How can we get up there??? The footrests are felt at eye level and so far behind that you can't briefly try out the sitting position in the stand - you would immediately fall over. Every traffic light stop becomes an experience!
Now I also understand why the GP drivers are all at most 1.50 m tall and weigh a maximum of 50 kilos: Because racing machines of this kind for people like me (1.84m / 80 kg) only fit in terms of ergonomics if you stretch extremely flat over the tank. And even then it looks rather silly to me (see video). But no matter, I don't want to look good, but have fun, and I had tons of that later - incl. massive release of adrenaline, endorphin and other chemicals in my body that i had not known until then.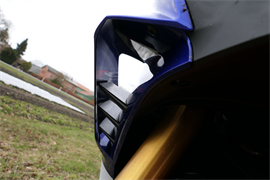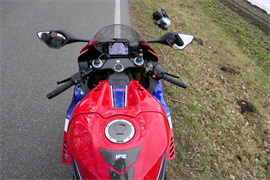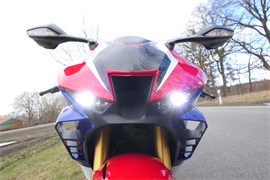 This is what she should be able to do
But before we start, we look around a little on the bike. There is Keyless Go with a somewhat strangely far forward ignition. The 5 inch TFT cockpit is surprisingly easy to operate with a control cross on the left. There are three configurable driving modes and all sorts of technical assistance systems: Wheelie Control (fortunately!), Launch Control, Traction Control, Curve ABS, 6-Axis IMU etc.
In contrast to the standard Fireblade, our SP variant has an Akrapovic system as well as a semi-active, electronically controllable chassis from Öhlins. Now I am not a racing driver full-time and can not say anything competent about the various setup possibilities, but in any case the chassis feels extremely stable. Rarely have I been on a motorcycle with so much confidence, although I have not changed anything in the setup.
The Fireblade 2020 is also far ahead from light technology. The indicators integrated into the mirrors include the daytime running light and of course all luminaires are in LED. At the front of the cladding, the winglets are visually very attractive, which should provide a lot of contact pressure when driving around the bend with 200.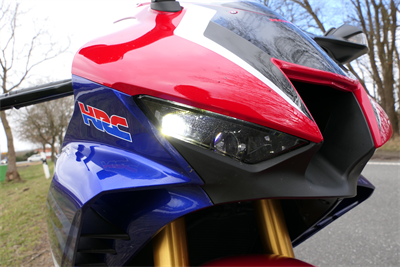 This is how she drives herself
Okay, then let's roll off the yard. The sound is already somehow toxic even at low speeds. When you turn up, you're literally shouted at. Cool. But first I drive slowly through Kaltenkirchen as recommended. Do I imagine this or do people look more than other machines? It later turns out that this was not a fantasy. I've been approached four times by different people on the Triple-R, even by a grandma. Well, the CBR not only drives 300 km/h, it also looks like this. And also in the booth.
The sitting position is adventurous for me at first, but somehow I get used to it. You're kind of lying on the road with your bike and you feel like a unit. I haven't experienced that before and it's really fun. However: Already at the idea of going to Munich I get back. But it is not made for that either.


I'm in power mode and then just throttle on the country road, as I always do. Then I brake immediately and descend. I've gotten sick of the acceleration and I need a short break. What was that??? At first very little happens (okay, that's relative), but then from 6,000 revolutions the Fireblade literally explodes. Why didn't I get up with the front wheel? The wheelie control must have regulated this for me, otherwise I would probably have gone immediately capeister.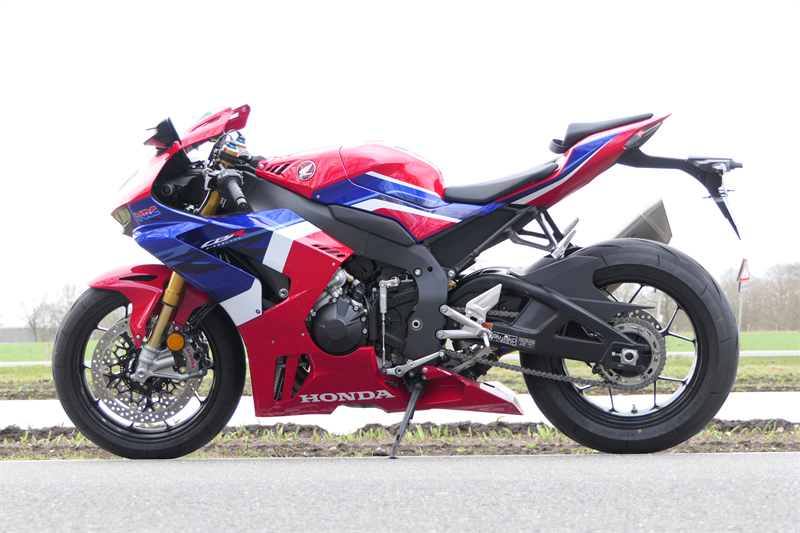 Photo: Motorradtest.de
Well, my pulse slowly levels back to 165, then it can go on. Second acceleration attempt and again the same. My brain doesn't come after me, am I already here or is my mind still somewhere behind? You just can't describe it, the machine is moving forward as brutally as I've NEVER seen. 
Also not on the Streetfighter V4, Z H2, S1000 RR, SuperDuke 1290 or any other machine. This has to have something to do with the sitting position or the sound or both, I can't explain it otherwise. Because de facto the other bikes are fast, but here it all feels completely different. Since I did not drive a motorway or a race track in our test video, I will show you a video of Mark Mérquez, who shot a lap on the race track with the CBR 1000 RR-R.
Conclusion - what gets stuck
Well, impressive, right? My country road performance isn't quite as dolle, but I still had a lot of fun. I wonder, however, how long a Fireblade can be steered without a driver's license being revoked. I would certainly be off my rag after a few days. In any case, driving slowly is not possible on the CBR, and with that we get to the point: Honda has designed everything for race track at the Fireblade and that it has done so well that there is little left for normal motorcycling. 
With this machine only on country roads would be pearls in front of the sows. Although - still crazy fun! However, 95% of buyers will still be racers who regularly take your treasure to the racetrack. That's where she feels comfortable, that's where she belongs. 
Test bike from
Motofun Kaltenkirchen
- thank you very much!
Price/Availability/Colours/Years of Construction
Price: 26.330€ for the SP version, 22,300 € without SP
Used (1 year old): 20.000€
Years built: 2020-2021
Colours: Grand Prix Red (red-blue-white), Pearl Morion Black (black)