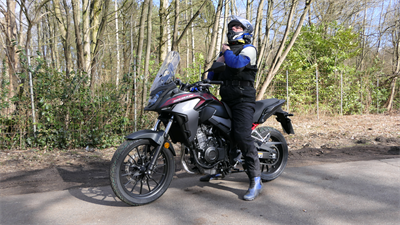 Photo: Motorradtest.de
For 28 years we have known the Honda CB 500 as an absolutely reliable companion in the world of motorized two-wheelers. Now the Japanese have revised their CB-500 series and made it suitable for Euro 5. Thus, it remains as an interesting A2 motorcycle for all beginners and returners, but also all those for whom 48 hp are simply enough and who simply have no desire for stress. What distinguishes the CB500X?
A touch of Africa Twin
That's how you read it in Honda's press release. For the 2021 model year, the CB 500 X appears in the three new colors: Grand Prix Red, Matt Gunpowder Black Metallic, Pearl Metalloid White. In fact, the design with a new paint finish is reminiscent of the Africa Twin due to its clear, aggressive contours and offers a pleasant comfort due to the large windscreen. However, further visual changes are sought in vain in this facelift. But there was already a comprehensive optical and technical update of the CB 500 X in 2019. The cockpit is still a monochrome LCD display, which now also includes gear indicator and upshift display. From the factory, the switching indicator is set to 8,750 rpm, but it can be set in steps of 250 rpm between 5,000 and 8,750 rpm.