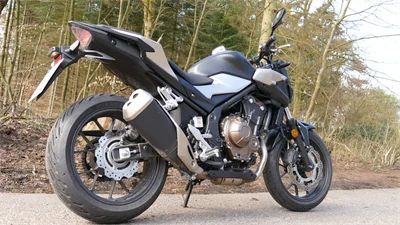 Everything works as expected
A motorcycle, which is also ridden by newcomers or beginners, must not be one thing: complicated. Their operation, as the Honda makes immediately clear, is immediately understandable even by tech amateurs. Not that there is much to use, but what is there is easy and with clearly defined functions. Thus, the hands fall as if by themselves on the wide handlebar, which ensures a pleasantly upright sitting position. We had mentioned the low seat height, the tank shape guarantees a good knee closure. The seating comfort in row two was comparatively good. There are some bikes, bigger, much more uncomfortable.
The clutch operation also succeeds with two fingers, the anti-hopping clutch itself is fine like the gearbox gradation. Nothing to complain about here.
The driving behaviour is very positive: she is of almost playful talent, enormous as she lays down in curves without being unstable. The feedback from the substructure is transparent – you always know exactly what the Honda will do. The basic tuning is rather comfortable. If you take them very hard, there is a slight restlessness in the chassis, but then you move in slanted positions, which beginners are not likely to visit. For this, there is no setting-up torque when braking in inclined positions.
The engine is a pleasant companion. Of course, the brutal use of force is not enough, whoever needs it must look elsewhere. But the 48 hp are quite lively, even a certain joy of turning can not be denied to the Twin. On the other hand, it tolerates low speeds without grumbling or even chain-slapping. Switching remains without consequences.
The biggest surprise, however, is the brakes. Despite the single disc, the pure braking performance as well as the dosing ability are very satisfactory. However, in an emergency, the operating forces are high until the full braking force is reached. But what is already all about criticism, what the stoppers have to put in.