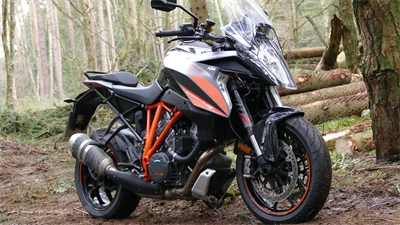 Photos: Motorradtest.de
The KTM 1290 Super Duke in the naked R version had impressed our test team. Over 170 hp and at every speed a torque of over 100 Newton meters – there are truly worse test mopeds. But it is not only for this reason that we are now testing the GT version, the touring version, after the R.
Paper is patient
What makes a tourer? Exactly, a long-distance comfort, plenty of space to drive as hard as possible, you want to see, feel and experience something from nature. From this point of view, the KTM 1290 Super Duke is already the worst tourer imaginable in paper form. On the one hand. On the other hand, the GT could be described as the best reason to leave the local areas at all.
Here's a look at the R we tested: it turned out to be a real sweeper, a power-naked bike constantly brushed on Radau, which carried us with its stunning V2. The KTM is an athlete of pure hearts, nothing sensible ever crossed their path. Although – this is not entirely true with reason. A normal Naked Bike always seems to be the best excuse for engineers to develop a very bad passenger comfort. Have they always wanted to do it. That's just the way it is? No, it's not: The Super Duke as R is certainly nackig, but it's one of the very few of these bikes that treats the passenger well.

Of course, this also benefits the GT - it takes over the positive things of the R, but complements them. She gains her ability to convert the untamed power into sinful tracks (and eventful hours).