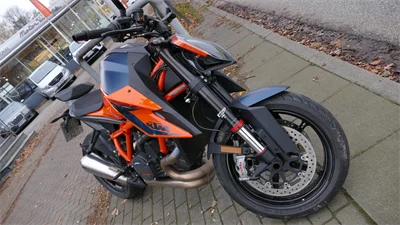 Photos: Motorradtest.de
PS Monster on tour
You don't have to like V2 engines, of course. But the vast majority of them cannot deny one thing: character. The 1,301 cc engine of the Super Duke has absorbed it with breast milk, snorkeled in excess. Already with 3,000 tours 110 Newton meters are available, so the passage is enormous. A maximum of 140 Newtons at 8,000 rpm, another 1,500 tours later, the maximum power of 180 hp is reached.
And yet it is not what surprises the most. It is not the constant power that can hardly be used legally off the race track, the fascination, but the way the KTM delivers. The engineers have reduced the flywheel mass of the engine, which leads to an almost digital gas acceptance: at full throttle it pulls the hands out of the gloves, with jerky gas removal the power abruptly collapses.
A racing engine, but a suitable for everyday use: jerking or stuttering, chain-beating or other rumblings the V2 pinches itself. From 2,500 tours onwards, things are progressing enormously.
We forgot the test start because of the engine description. Then just delivered here in a quick run: Display as I said high-contrast and easy to use. Menu navigation extensive, but logical. You can also get on with the KTM, but you should not be very small. Once on, you sit inside and well integrated. The hands fall on the handles as if by themselves, the sitting position is relaxed-sporty. All the best, as long as you don't have to sit on the tiny seat bun at the back. "As with almost every Naked Bike", the knowledgeable say what is true, "totally superfluous" we say of Motorradtest.de, which is even more coherent.
The KTM would now have an opportunity to prove to be a beast, because now we come to the chassis and the brakes. But even though the KTM isn't a juice, it doesn't bang the bench in the best of its values at every opportunity. It does not want to be a comfort-oriented motorcycle and it should not be: with this performance, the chassis must be beyond doubt in terms of precision and stability, and that is it. According to KTM, the new truss of the frame should be three times more torsion-stiff than before. The low weight of only 200 kilos helps her with the curve hatz, because she is also handy. And the brakes of Brembo, what do they do? Brakes. So that it's a force.