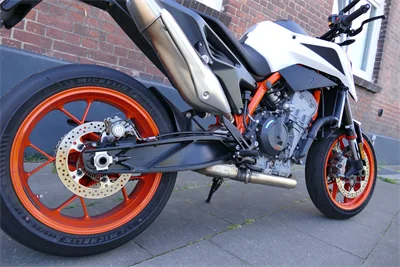 Thoroughly sporty
Yes, it is a stair joke: in fact, the Austrian with 96 db is so loud that she is not allowed to be driven in all parts of Austria, but falls under the driving ban under the new rules of our southern neighbours. In doing so, it is by no means subjectively particularly eager to communication. When starting nicely bassy, discreet in the middle, but audible, it only becomes more aggressive in tone and volume at the top.
Now we are not in Austria, but in northern Germany, and here the world is (still) fine. A glance at the clearly drawn and clear display clarifies the question of the selected driving mode (you can choose from Sport, Street, Rain and optional Track), the ABS also works in curves, and if you want, you can adjust the traction control in no less than eight levels.
Such a fine gradation may seem exaggerated, but there is no doubt about the usefulness of traction control itself after the first gas blast. My goodness, the KTM storms ahead without delay, powerful from below, from 6,000 tours it burns off a real fireworks. The forward-facing seat position ensures that a lot of weight comes on to the front wheel – nevertheless, the KTM still lifts the front wheel in the third gear when you put it on it. A (switchable) wheelie control is also on board, this should not be concealed.
The 890 Duke R is also ideally equipped for the opposite case: the high-quality Brembo Stylema system provides excellent deceleration values, good dosing capability (and together with all other high-quality components for the price of no less than 11,693 euros).
If the engine is animating, this is especially true for the tight chassis. Anyway, if you don't want to drive stubbornly straight, but turn from short to bend. The immediate, best-dosed curve willingness of the KTM is its most outstanding character trait. It is fitting that the (surcharge-based) lightning-fast-reacting Quickshifter always provides the right gear, the driver just has to want.