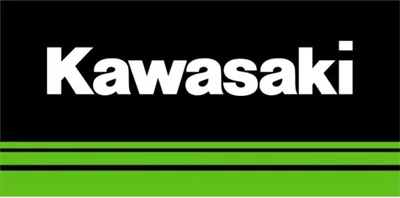 We write the year 1878 when, at the tender age of 27, Kawasaki founded the "Kawasaki Tsukiji Shipyard" in Tokyo. We have seen it so much for him that today there are these beautiful, two-wheeled, green frogs.
But not only that, it was at that time no less than the foundation stone for the future business empire, whose scope of action today includes not only the high-performance motorcycles but also the areas of transportation equipment, aerospace, industrial equipment and consumer products (in short: ships, railways, airplanes, automobiles, industrial plants and, thankfully, also motorcycles). But let's start at the front.
In the beginning, ships
After its beginnings with ships, Kawasaki designed the first steam locomotive in Japan as early as 1901, and in 1906 rail vehicles for goods and people rolled off the production line. In 1918, the Kawasaki company began to produce the first aircraft, even after the death of its founder, Kawasaki Shozo, and made a decisive contribution to the expansion of the fleet before World War II, which later caused great difficulties with aircraft such as the Ki-61 Hien of the American Navy. But passenger cars and trucks were also part of the company's repertoire. Between 1932 and 1942, the Kawasaki Rolling Stock Manufacturing Company produced more than 4,000 trucks. In addition, from 1932 to about 1935, ten passenger cars with an eight-cylinder engine with a displacement of 4738 cm3 were built, which were marketed as Rokko.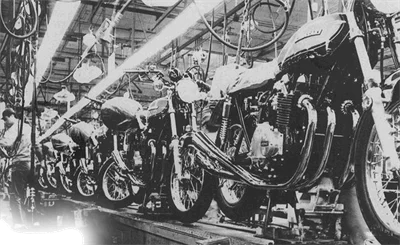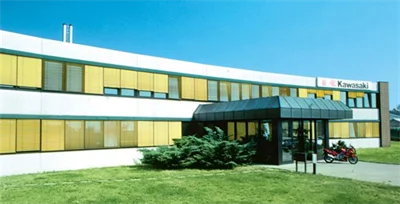 Photos: Kawasaki
First motorcycles after the war
Fortunately, when the war finally ended, the arms industry was also dismantled. From then on, Kawasaki devoted himself to more important things, re-enacting its production and producing single-cylinder four-stroke engines with a displacement of 148–150 cm3. The first motorcycle (attention now is on) was the 125 B7 and it left the hallowed halls in January 1961. Kawasaki built his motorcycles from 1960 first exclusively in Akashi and only later also abroad. From 1969 to 1975, when Kawasaki Motoren GmbH was founded in Düsseldorf, there was a general importer of Kawasaki motorcycles for Germany, which is not entirely unknown today. Right it is no less than Detlev Louis, whose name is probably known to most of you today mainly by the Detlev Louis Motorradvertriebs GmbH. In 1981, Kawasaki Motoren GmbH moved into the new company building in Friedrichsdorf in Düsseldorf. A detailed history of the company history of Kawasaki Germany can be found at the Manufacturer's page.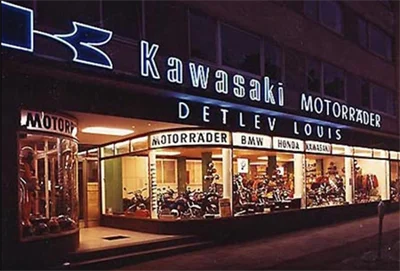 From day one, mobility by sea, land and air determines the history of Kawasaki. Container ships, oil tankers, high-speed trains such as the famous Shinkansen, helicopters and jets. But the company also has a variety of industrial plants – including power plants, bridges, tunnel boring machines, gas turbines and waste incineration plants. In 2007, for example, the Japanese public limited company, with its approximately 30,000 employees, generated sales of around 20.8 billion euros.