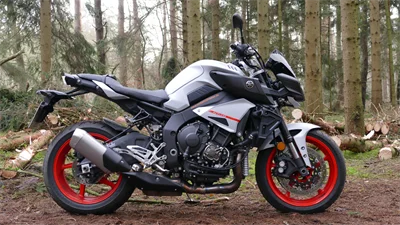 Hyperactive bike
Yes, the Yamahistas got it really nice. The four-cylinder runs a little rough, anything else would be inappropriate for this bike. Of course, the rich sound comes not only from the one litre displacement, but also from the sports exhaust. This makes us want more and we just see no reason not to have fun now besides the creepy road conditions.
When driving off, the Yamaha is a Japanese bike through and through. Will say: The MT-10 is unproblematic and makes every effort not to get in the way of our fun through macken. In the further course of our test drives we will find that the MT-10 is the ideal not-for-bike. Hm? It is not too hard-springed, the engine is not too rough, the sitting position is not too extreme, and it is not prone to surprises overall.
What then is it? She is the mother of all curve robbers. The best part is the way it encourages the pilot to scratch the curves, because it inspires a lot of confidence. Yamaha has managed to maintain the benefits of the ultra-short wheelbase without satiering stability in fast corners or on the highway. The MT-10 always goes like the proverbial sow. Already downstairs it doesn't let anything burn, the torque pushes strongly from 4,000, and when the rev counter leaves the 6,000 mark behind you is one with the holy Madonna of acceleration.
Thanks to the unusual ignition sequence, the engine always sounds appropriately inappropriate without falling into the barrel. That alone is reason enough to keep turning on the tap.
But a little caution is required. Keeping on the bend and braking hard is okay, as there is practically no set-up moment. Thanks to its only 210 kilos, it lays jaggedly in curvy, ground waves can not distract her from a clean track. It is also okay to give full throttle at the curve exit – but please don't get too early: The MT-10 does not have the angle sensor of the R1. The driver has to decide whether the bend is really over, otherwise he could soon be at the end of his road (or lying) despite traction control.