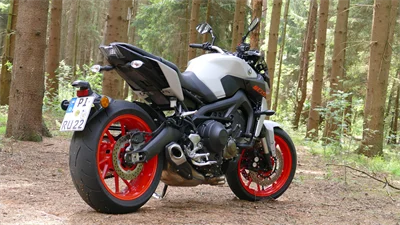 Joyful to spin, powerful: the motor
The three-cylinder engine is supposed to produce 115 hp, so anticipation comes up. The front wheel, by the way, if you want to know right at the start where the frog has the curls. If you switch off the traction control, you have no problems getting the front wheel in gear 1 or 2 at eye level at lightning speed. Why the Yamaha is so popular is largely due to this fabulous three-cylinder. It feels stronger than the 115 horsepower, above all the torque convinces: The Yamaha packs that it is a pleasure and makes only 87.5 Newton meters from the data sheet forget.
That is a force. The Yamaha is evenly lower in the power output from just above idle speed and is trailing around the top. Especially between 6,000 revolutions and the limiter on 11,250 tours, the post office leaves. The gas acceptance is rough in the best sense, commands are implemented almost digitally. As supple as a row four, the three-cylinder does not run naturally, but is quiet enough to match the essence of the Yamaha.
Engine great, well. The verdict on the chassis is somewhat more ambivalent. On the positive side, the only 193 kilos can be felt at any time. Curve-willingness, handiness, all great. However, the basic tuning of the Yamaha MT-09 is still soft after the 2017 facelift and the new chassis. Poor road, fully loaded and high speed - there comes unrest. This is a pity given the successful overall concept and, above all, the powerful engine. The SP with Öhlins chassis (not yet driven by us) should perform much better, but then the price advantage is gone.
Full score slows down the stoppers. At any time vigorously biting and well dosed - there is nothing to improve.
Surprisingly good is the tiny accessory windshield. Naked bikes with retrofitted windshield always look weird. This eliminates the alienation: in fact, it is not conspicuous, it somewhat keeps the pressure off the driver without turning the MT-09 into a tourer.