TEST: YAMAHA MT-07 (2021)
(Baujahr 2021)
Bestsellers in the Hyper Naked class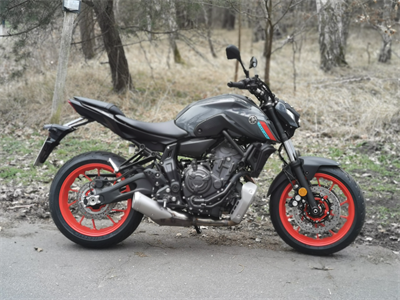 When Yamaha's design team was commissioned about a decade ago to develop a dynamic, novel motorcycle that would stand out from all its predecessors, no one had any idea what resounding success it would achieve. Today, however, it is clear that Yamaha's MT-07 holds the number one position in the Hyper Naked class with more than 125,000 units sold since its launch. Visually refreshed, the bestseller now starts the 2021 season.
Introduction
The changes that the MT-07 has received for the start of the new season are manageable. Why change such a successful concept fundamentally? But there are some updates that we think make the motorcycle a bit better than it already was. For example, the brake discs at the front were enlarged to 298 mm in size. The display is now easier to read with white numbers on a black background and the lighting is completely designed in LED technology. Also, the buttons for the operation of the on-board computer, which were previously integrated into the display, have disappeared. This is now operated via a switch to the left of the handlebars. By the way, the handlebars were widened by 1.5 cm on each side.
 
The first tyre is also new: the Michelin Pilot Road 5 represents a real improvement. Due to the changeover to Euro 5, the popular CP-2 unit has to accept a power loss of 1.4 hp, but the MT-07 has not lost noticeable rotationor or power as a result. The slight weight gain of 2 kg does not change this. The machine is still a light, very easy-to-use bike. Otherwise, it is mainly optical innovations that are noticeable to us.
 
Some people may have to get used to the new front mask, but overall we like the visual refresher quite well. The black controls, the black frame-motor unit and the optimized finishing make the MT-07 look even more modern. We are still arguing about the three new colours (Storm Fluo, Tech Black, Yamaha Blue). While Dietmar shoots himself on mouse grey with bright red rims, Markus tends to be sleek blue. However, if you don't want to take a risk in terms of colour, you probably take the black version anyway, but we don't want to get lost in taste issues at this point.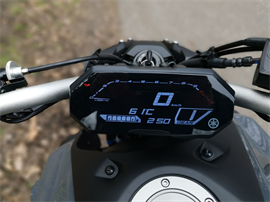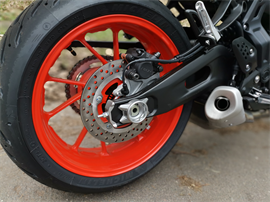 This is what she should be able to do
With its high-torque 690 cc CP2 engine and compact and agile chassis, it is one of the best-selling Yamaha models and enjoys great popularity. Above all, the machine should shine due to its outstanding versatility. And in fact, there is no denying a fair amount of driving pleasure in any situation. The MT-07 is pleasingly easy to get a grip on in any situation. Even when manoeuvring or even in case the machine falls over (who hasn't it happened before?) you don't need superpowers or a crane to get the vehicle back into the desired position.
Once seated on the machine, we also feel at home quite quickly. But although Yamaha promises improved ergonomics for big riders with the new edition of the MT-07, the 1.84m Dietmar wants an improvement in knee angles. No problem, because in the accessories there are for 392 € reset footrests,with which the position can then be changed. Markus finds it wonderfully refreshing how purist the machine comes from. No one really gets lost in any submenus here and you can concentrate fully on the essentials: FIRST! And that's exactly what we want to do now...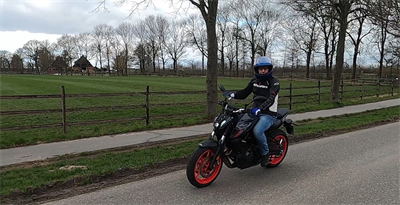 This is how she drives herself
We were very much looking forward to finally being able to drive the new MT-07, but we were honestly not really euphoric before we started driving. Why? Well, maybe because the MT-07 is neither the fastest, nor the most powerful, expensive or otherwise unusual test machine for us. But you shouldn't underestimate them, this kind of motorcycle.

Because hardly driven over a lot of fun to drive with such a light and manageable, but in relation nevertheless powerful motorcycle. Because it is not only the performance that makes for an exciting driving experience. Rather, it is an interplay of the weight, power and agility of a machine. And in this context, the Yamaha can absolutely score points. She accelerates fast without overburdening her driver in any way. On the contrary, the MT feels refreshingly light and agile. This will certainly make good progress in urban transport as well.
But your true strength is probably on the highway. There she quickly advances her driver and gives him a lively driving feeling. Apart from a naturally existing, non-deactivable ABS (after all, the legislator stipulates this), the machine does not have any electronic auxiliary systems. Ride-by-wire, driving modes, traction control or curve ABS are in vain here. However, this does not reduce the driving pleasure in the slightest and at the same time ensures that the machine remains affordable.
Conclusion - what gets stuck
What's stuck is quickly said: Yamaha has achieved a really versatile motorcycle with the MT-07. It is characterized by plenty of driving pleasure and its extremely puristic concept, which can be enjoyed by all those who do not lack attitude and equipment features. If you enjoy configuring your bike before the exit at the breakfast table via APP, you will surely opt for another vehicle.  
The MT-07 is also well suited for beginners and newcomers, because the machine can be throttled to A2-compatible 48 hp for new drivers. Thus, you have a motorcycle that you can still enjoy after the A2 phase without having to invest directly in a stronger bike. And Yamaha is putting another high on top with the
€500 Young Star driving licence grant:
Those who decide on a new MT-07 by 30 June 2021 and prove that they have obtained their a driving licence in class A2 or A from 01.01.2020 will receive a grant of 500 €! This makes the already reasonable price a little more attractive.
The test machine was provided to us by
Motorrad Ruser
.
Price/Availability/Colours/Years of Construction