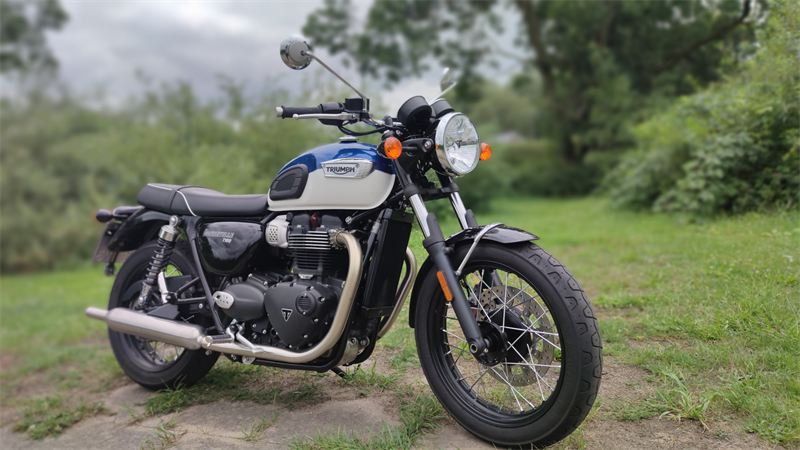 Photos: motorradtest.de

Since the year of construction 2021, the T100 drives with 65 hp and has become slightly lighter than its predecessor with 228 kg. In addition, Triumph has screwed something in the equipment. It all sounds good, but has the Bonneville T100 really gotten better? We have made a test ride and tell you here what you can expect from the new T100.
That's how she stands.
So she's already beautiful, the new little Bonnie. However, this is nothing new, because that was already the case with the older models. Wire-spoke wheels, classic line, two polished end pots, orange turn signals, stereo struts and a full-length seat. That's how retro has to be. However, Triumph has forgotten the bellows - funny. Anyway: Nobody, really no one will not find the T100 beautiful. No matter where you show up with this machine, every viewer smiles and probably thinks: "Great, such an old machine in such good condition!". Hardly any other manufacturer manages it as well as Triumph to make a modern motorcycle look so classic.
The seat height of only 790 mm allows even smaller pilots a safe stand and easy ascent and descent. Manoeuvring is also easy despite the not so light 228 kg. Unfortunately, the pillion comfort is not much better than with many other retro bikes. On the one hand, this is due to the lack of grab handles, on the other hand, the machine as a whole is simply almost dainty. There's just not that much space, and the passenger feels that too. As always, it is enough to go to the dredging lake, but not for the Alpine tour.