MV Agusta F3 RR in the test
(Baujahr 2021)
The chic SuperSport rocket from Bella Italia in the test.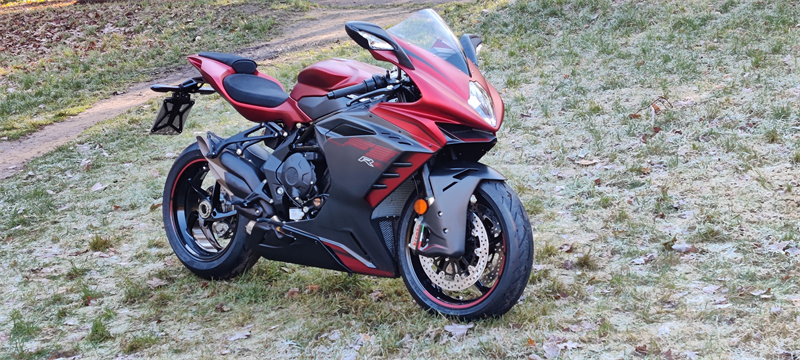 Photo: motorradtest.de
 
Beautiful motorcycles are built in Italy. Sounds a bit too general? Well, then take a look at the new MV Agusta F3 800 RR. Anyone who looks at SuperSportler will kneel down on the spot. We got up again afterwards and immediately tiled onto the motorway. Here is our driving report.


This is how it stands
The MV Agusta F3 800 RR is available in three colours: red, white and wine red. We think the bright red machine is the most beautiful, but for the test the almost equally beautiful wine-red bike is in front of us. From the front we find them the most beautiful. This lamp mask - maybe we should kneel down again before we start. Somewhat surprisingly: No LED in front! Anyway, with this bike other things count anyway. Let's sit on it first.



Well, and already we are reminded again that we are no longer 20. Volker needs two attempts to balance his almost frozen knuckles (2 degrees!) over the pillion seat. By the way, we are standing in the forest and around us all people and dogs stop and gawk at the machine. Don't surprise us - you don't see a motorcycle like that every day. We prefer to keep silent about pillion comfort, so nobody wants to drive for a long time in pairs - especially not the passenger. But also the driver should like to take one or the other rest after a certain time. You can clearly see that this bike was made for the racetrack. Presumably, there will also be many buyers who have another, more suitable machine in the stable and always get the MV out when the adrenaline level is to be brought back to 180.

 

The fairing is made of carbon and there are also many other carbon parts on the machine. By the way, it was developed in the wind tunnel and that's what it looks like. The winglets are designed to increase the downforce by 8 kg at a speed of 240 km/h. Volker actually drove 248 km/h on the A7 according to the speedometer and can confirm that the bike lies on the track like a board.

 

One last look at the beautifully free-standing rear wheel (aluminum single-sided swingarm!) and then it can almost start. Before that, however, we have to deal a little with the cockpit or the many setting options, because the MV Agusta F3 RR is technically equipped with all the bells and whistles that the motorcycle technology currently gives.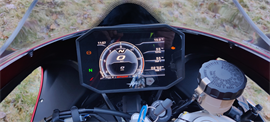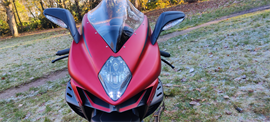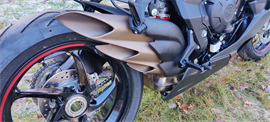 What she should be able to do
The cockpit houses a large 5.5" TFT color display, which is operated with only three buttons. The machine has the following technical aids: launch control, wheelie control, 2-way QuickShifter, driving modes, cruise control, 6-axis IMU, lean-dependent multi-stage traction control, cornering ABS etc.
If you are now wondering how to operate all this: By mobile phone! It is possible to connect the machine to the smartphone via the "MV Ride" app and make all possible settings there. In addition, journeys can be recorded and even an arrow navigation can be placed on the TFT display. These functions including cruise control are otherwise only available in travel enduros, now also in a SuperSportler - brave new technology world!
By the way, the operation also works without a mobile phone and is quite intuitive. So don't worry, you don't have to be techies to get along with the MV.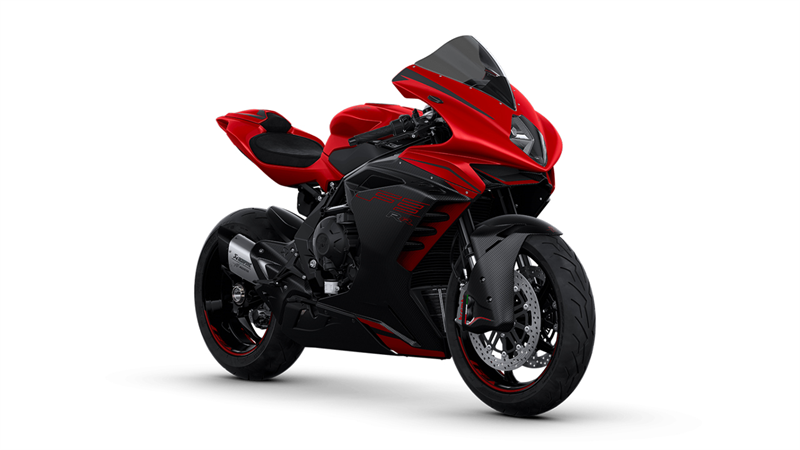 Photo: MV Agusta
This is how it drives itself
Then let's hear what F3 has to say. Short soundcheck in the forest - oh dear. All the dogs are suddenly gone and their masters don't find us so nice anymore. The thing roars like a deer! If you want to listen to this, click on "Sound" in the upper right corner. The sound suits the bike and especially during the ride at higher revs everything flies around your ears. So there is the racetrack feeling also on the country road.
We first drive a little through the city and can hardly wait to turn north onto the motorway. North of Hamburg then finally the longed-for traffic sign - fire free. The machine is over 200 km/h in no time and only at just under 250 km/h is then over. It lies safely on the track and due to the crouched seating position, even the wind pressure is still reasonably bearable. Clearly, this is a race bike and she prefers high revs to low ones.


The motor is very elastic for an 800 and the usable speed range extends from 3,000 to 13,000 revolutions - so no less than 10,000 UMins (!). Of course, there is not so much power available at the bottom, but the engine does not complain. From 7,000 it really starts and at 10,000 there is another blow in the back. This machine with its 147 hp and 173 kg curb weight is nothing more than a weapon. If you need it even more brutal, grab the "Race Kit" - then there is even 155 hp and even more steam thanks to Akra and other engine mapping. But honestly: We think that's unnecessary and, above all, we wouldn't want to do without the beautiful series three-piece end pot. By the way, from model year 2022 it will be square and no longer round.

The MV F3 RR is very, very sporty and the wonderfully functioning QuickShifter fits perfectly with this. The Brembo brakes are toxic and surprisingly we didn't find the suspension set-up as brutal as we would have expected. The combination of Marzocchi USD fork and Sachs strut (both fully adjustable, but not electronic) works splendidly. When braking, there is a set-up torque in curves, but all in all, the machine technically delivers what it promises visually and in terms of data sheet.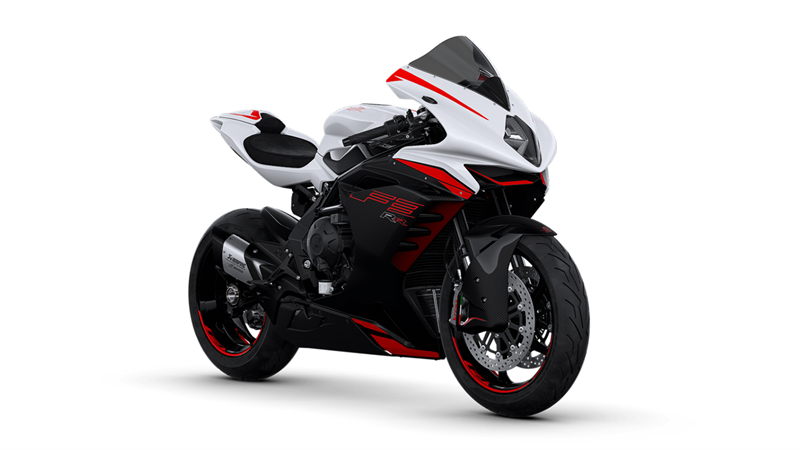 Conclusion - what sticks
Just while writing, I notice that I am not able to put the driving feeling of the test on paper. Sorry, but if you want to experience what MV feels like, you probably have to sit up yourself. In any case, the F3 RR is an extreme bike in every respect and not for everyone. If you are interested in exclusive super sports cars, you should definitely take a test drive and form your own opinion. 
We kindly received the test machine from
Bergmann & Söhne
in Hamburg. Here she stands as a demonstrator and who dares: TEST DRIVE!
Price/availability/colours/years of construction
Price: 21.900 €
Availability: from 11/2021
Colours: red, white, burgundy