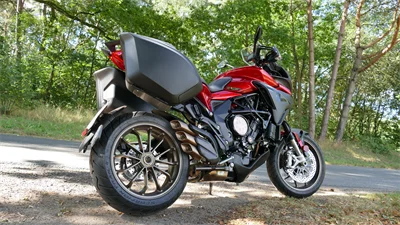 Excellent driving performance
MV Agusta wouldn't be the company of details if you hadn't come up with a goodie for the SCS, i.e. Smart Clutch System. So there is a sight glass on the right side of the machine, behind which the clutch disc rotates. With increasing speed always faster of course, nice to look at it is already in the stand.
In fact, it is at first an unfamiliar feeling, with the gand inserted, no longer having to pull the clutch. A small warning light informs the pilot that a gear is inserted. If you just wanted to listen to the excellent sound of the engine and throttle in the stand, shoot forward.
That didn't happen to us, but every test driver of the Motorradtest.de team also rides a scooter privately, so the feeling was known. The complete force closure should only be given at 2,800 tours, until then the clutch grinds a bit. On the one hand, this is comfortable, the start-up happens very automatically. Does this late force effect have an impact on driving performance? Surprisingly not. The Turismo roars to 100 in 3.1 seconds with a magnificent three-cylinder sound, which wouldn't be a bad thing for a superbike.
Nevertheless, the SCS is not free of quirks. The switching feeling is a bit cartilage. The clear locking of a gang is missing. In addition, idle is difficult to find, especially if you stop in a higher gear. However, it is also true that you no longer need it.
Since we are already meckering: The author of these lines used to mock when the main stand was missing from such expensive mopeds. In the meantime, I have changed my mind by 180 degrees. A main stand in this shape has two disadvantages for the Turismo: First, this stand, like most in the market, is shaped like a hook thanks to the crossbar. Should this in the off-road - it is officially an adventure bike - hook in at an edge, it goes unchecked over the handlebars to the front.
Secondly, committed driving, the Turismo is fast. And highly talented in curves, where, however, the main stand and not the footrests set up first. And again it only needs an edge in the asphalt, and the bike with its crew lifts out.
But that was it about criticisms, because the enormously handy machine is a source of pure joy. Even in driving mode sport, the comfort is not bad, in the more comfortable settings she does not lose her willingness to bend. The upright sitting position always gives the feeling that you have a safe grip on the vehicle. The windscreen is also without reproach thanks to the adjustable, large disc.