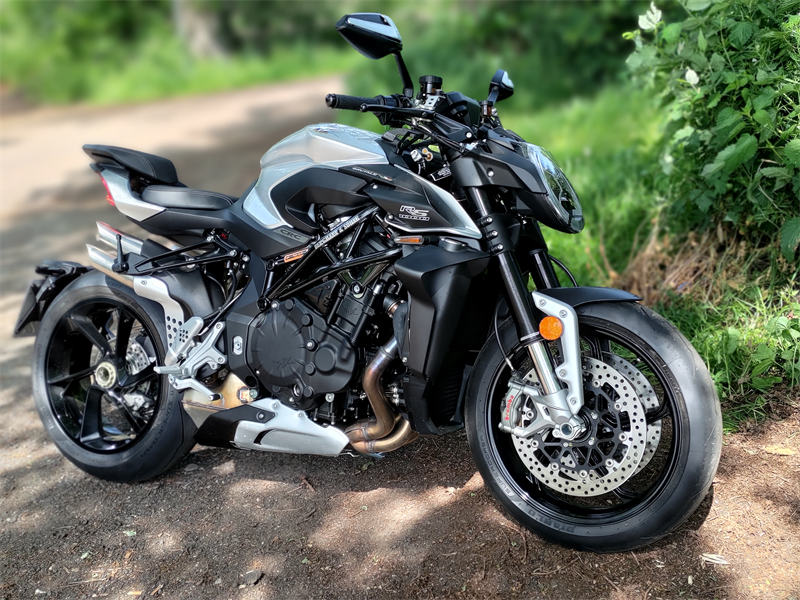 This is how it drives itself
This driving machine wants to be moved, and that's exactly what we're doing now. As soon as I start it, the first shiver runs down my spine - followed by a beetle that has fallen into my jacket, but that doesn't bother me now. I enjoy the sound of the row foursome, which sounds different and also drives differently than you are used to from typical row fours. The sound is rough & mangy, at the top right there is an audio sound check, have fun with your own goose bumps.
Already on the first meters the lightness of the bike is noticeable. Thanks to its short wheelbase, it is manoeuvrable without appearing wobbly. The engine is not as radical as we feared. At least you can also drive at low revs without the chain hitting or the engine clearing its throat ungratefully. When taking off the throttle, there are wonderful Sprotzer sounds with small bang effects - wonderful. The performance of the RS is - if you want it - but still
brutal:
The machine goes forward in such a way that your mouth becomes dry. It does not even try to describe this further: Only a test drive helps. For example, at
Bergmann & Söhne in Hamburg
, who lent us the test bike and where you should also audition for a test ride. 
The gearbox is a little polarizing. It is sometimes a bit tricky, the idle is not so easy to find at first and you need a moment to get used to the circuit. But it doesn't matter, because the bike has of course a well-functioning QuickShifter incl. Blipper. When typing down, the machine briefly double-declutches and also the upshifting without clutch succeeds perfectly and without much jerking. The chassis of our test bike was perfectly adjusted. The high-quality and fully adjustable Marzocchi USD fork gives plenty of feedback on the road surface and enables efficient gassing. Nevertheless, the RS is not uncomfortable to drive. For an Italian woman, we would almost speak of extremely comfortable. We expected this differently and are happy to have fun with the RS even at speeds below 300 km/h. By the way, MV boasts that the RS is the fastest production naked bike at over 300 km/h. Fine, but who wants to go so fast on a motorcycle without windbreak? No matter, in the quartet the RS easily outperforms all other power nakeds.