Harley Davidson Pan America Special tested
(Baujahr 2021)
Harley's first adventure bike in the test - what can the "Pan Am" do?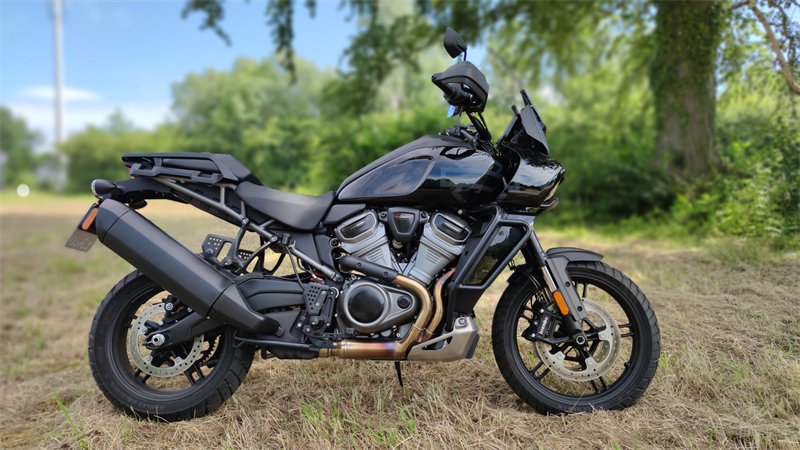 Photos: motorradtest.de
The first adventure bike from Harley Davidson is fully aimed at GS & Co. With about 18,000 €, the "Pan America Special" is priced very interesting because it is technically fully equipped. Even an electronic, semi-active chassis is included. How the Pan America drives and performs in our test, you can find out here.
This is how she stands
Respect, respect, that's a motorcycle. The dimensions alone: 2.27m length, 1.59m wheelbase and 1.51m height! This makes the Pan Am one of the largest travel enduros. The weight of 258 kg ready to ride only sounds like a lot at first. If you were to equip a competitor bike with all the technical features that are already in series production at the Special, you would get a similar weight.
The special version of pan America is priced at €17,995. If you book spoke wheels, the automatic height adjustment and a chic two-color paint, you get just under 20,000 €. Not exactly little money, but compared to the competition completely fine. The bike is available in black, grey, green and orange. There should be something for everyone.

Then we sit down on the machine. The seat height can be adjusted from 850 mm to 875 mm. You sit nicely integrated in the machine, whereby the handlebars were attached extraordinarily high. The gap between the driver's seat and the front part of the machine is also quite long, so you have to stretch your arms properly to get to the handlebars.
This seat ergonomics gives the feeling of an extremely large amount of space and a very relaxed sitting posture, especially when driving standing. This is matched by the ample space for the passenger and the fact that you can simply remove the rubber footpegs and adjust the brake lever to high or low just as easily - off-road can come! Really cool is also the so-called Adaptive Ride Height", which lowers the machine e.B. when starting to the traffic lights and 50 mm. This means that even smaller pilots can feel safe with a seat height of only 800 mm. Why did Harley have to come first to deal with this problem?!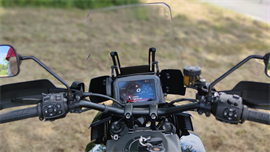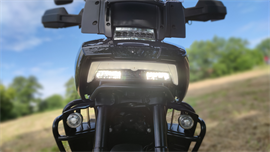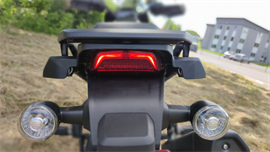 What it should be able to do
As already indicated, the Pan Am is technically extremely well equipped. Except for a QuickShifter, everything is on board: Large TFT touch display, 7 driving modes (4 finished and 3 user setups), full LED incl. adaptive cornering light (!), 6-axis IMU, lean angle sensors with intervention on traction control and ABS, Handy-Connect with map navigation in the cockpit (particularly well done!), Ride by Wire, cruise control, music control and the electronic, semi-active chassis. I've certainly forgotten something, but no matter: This bike is a TEC monster!
Unfortunately, this abundance of technical helpers requires a little training. The operation is complex and sometimes the diverse representations in the cockpit are a bit too small. But that's the way it is with modern bikes: A lot of technology, a lot of displays, a lot of training necessary.
But once you get used to the functions of the Pan Am, you will be rewarded with a very versatile machine and corresponding assistance systems.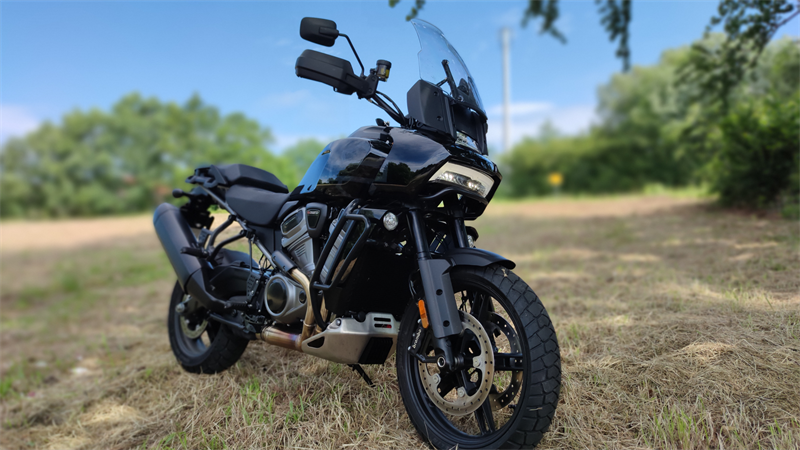 Photo: motorradtest.de
This is how she drives herself
Then get up on the buck and engine. Wonderful, how the V2 bolts in front of it. Not too loud and not too quiet. The engine block emits some malmish noises, feels like a lot of iron and mechanics. Once it gets going, however, the Pan Am turns out to be a quite manoeuvrable iron. Of course, it is not as much of a curve robber as a 700 naked bike, but it is not a tank either, although the optics suggest this.
The engine with its 153 hp and 128 Nm of torque pulls cleanly from the basement to high speeds. Punch is plentiful on board, with a 1250 GS or Multistrada V4 offering a little more power. But please don't misunderstand: The Pan Am does not lack performance and lard - that's really fun to challenge it. And in our opinion, it has almost too much power for a travel enduro.
 
We also found the driving behavior great. Volker criticized a bit of feedback from the fork, but still felt comfortable and safe, even in fast corners. The braking torque is low, the machine brakes well and is generally more on the good-natured side. Of course, the Pan Am is not a beginner bike, but nevertheless it is a very accessible motorcycle. The windshield, which can also be adjusted while driving, does a good job and the gearbox and clutch also work inconspicuously. Strange that Harley does not offer a QuickShifter for the Pan America, but we like to switch gears and so it bothers us less.
 
Conclusion - what sticks
I really like the new Pan America. Above all, the optics have done it to me. The machine looks like a V8 MuscleCar or like a locomotive, which then became a motorcycle. Of course, this bike polarizes and especially the front will not appeal to everyone. But rather so than uniform porridge. The Harley has character and is immediately recognizable on 10 km. 
With the Pan Am, Harley has not only shown courage, but also put together an amazingly good adventure bike in the 1st throw. It will certainly not overtake the GS, but we are sure: This bike will already find its buyers. Maybe even the travel enduro faction, which would like to ride something different, something special. Well done, Harley! 
The test bike was provided to us by
MTK, the Harley-Davidson dealer in Kiel.
Price/Availability/Colours/Years of construction
Price: from 17.995 €
Availability: from 06/2021
Colours: black, grey, green, orange