Royal Enfield Meteor 350 reviewed
(Baujahr 2021)
RE Meteor 350: Easy-Cruiser for 3,999 euros to slow down and have fun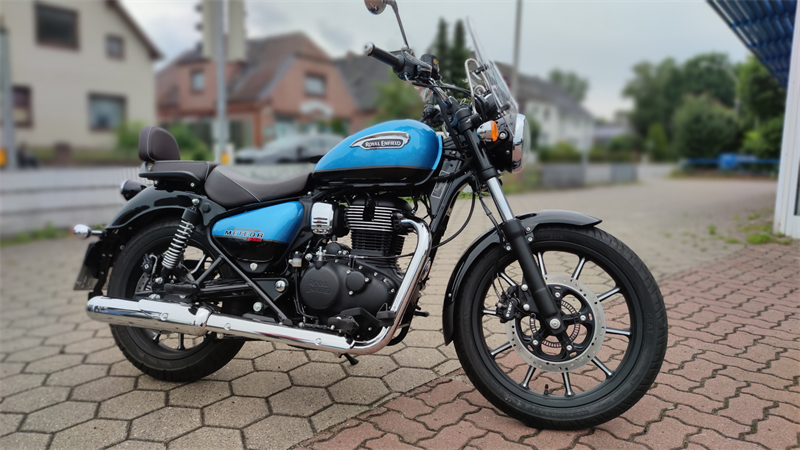 Photos: motorradtest.de
The Royal Enfield Meteor 350 looks like a motorcycle from the 70s, but is actually a completely newly developed machine. It costs from 3,999 € and is one of the cheapest bikes ever. What the Meteor 350 can and cannot do you can find out in this review.
You just have to like them
There it is, the new Meteor 350. In a way, it is the successor to the previous 1-cylinder 500 from Royal Enfield. However, RE has trimmed them to "Easy cruising". Markus' first association at the test was his Suzuki GS 40 X from the seventies. The Meteor comes in three variants and seven colors. "Fireball" is the name of the basic equipment, which is available in yellow and red. With the "Stellar" there is a sissibar and a chrome-plated exhaust on top and in the version "Supernova" there is still a windshield. The latter is still quite cheap at 4,399 €, but we would opt for the bright yellow Fireball without accessories. Renunciation is the credo of the Royal Enfield Meteor 350...


So it's beautiful, the Meteor, but how does it sit on it? The seat height is a casual 765 mm, so this is suitable for everyone and every woman. The footpexes are slightly offset forward, which results in a smooth knee angle even for taller pilots. With a wheelbase of 1.40 m, the machine is one of the smaller bikes, but the seating position for the pillion is no worse than on many naked bikes. There are even grab handles, so it can easily be used for two - especially good of course with the Sissibar.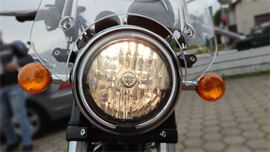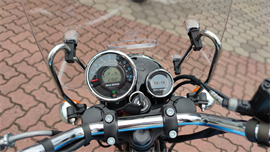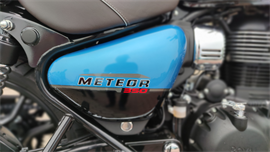 What it should be able to do
The view of the cockpit warms the heart once again. Looks like a VW Beetle with the analog speedometer. There is a small on-board computer with daily odometer, a gear indicator, a fuel level indicator and the usual indicator lights. Tachometer: What for? Traction control or driving modes: Nothing. Inclination sensors and QuickShifter: Haha!
But: There is actually a separate instrument for the integrated Turn by Turn Navigation - and it works really well. Simply install the RE app on your smartphone, pair your bike via Bluetooth and enter your destination. Schwuppdiwupp is indicated by a different colored arrow when I have to turn where. Who expects such a feature at such a price?! In any case, we do not and are pleasantly surprised.
The few controls are just like the fuel cap made of somewhat cheap-looking plastic, but that will hold. The operation of the Meteor 350 is super easy due to missing features. Nothing distracts from riding a motorcycle and not much can break here.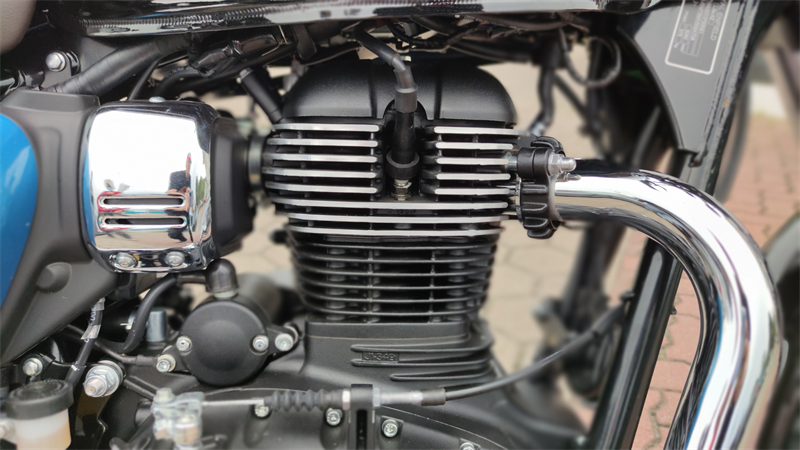 Photo: motorradtest.de
This is how she drives herself
Then let's take a spin. Starter to the left and the single-cylinder purrs to itself. The sound is nice single-pot and not too loud. You can already tell when standing still: This engine has good manners. Nothing shakes or shakes and also the throttle response fits. Everyone can handle that right away, bet?
A second feeling sets in immediately and by itself: the decelerated, unagitated gliding along. "Easy Cruise" says Royal Enfield and that fits like a fist to the eye: You relax and enjoy a very problem-free handling. The machine looks stable, manoeuvrable and the chassis (tubular steel frame with double beams) gives confidence. Only the countering takes a lot of getting used to, at least for Dietmar at first. There is a shift paddle where you have to push your heel backwards to shift up and press forward to downshift. As many YouTube comments let us know, this is not uncommon in Asia, because there are many people with normal shoes (!) Ride a motorcycle and then do not wear it out. aha.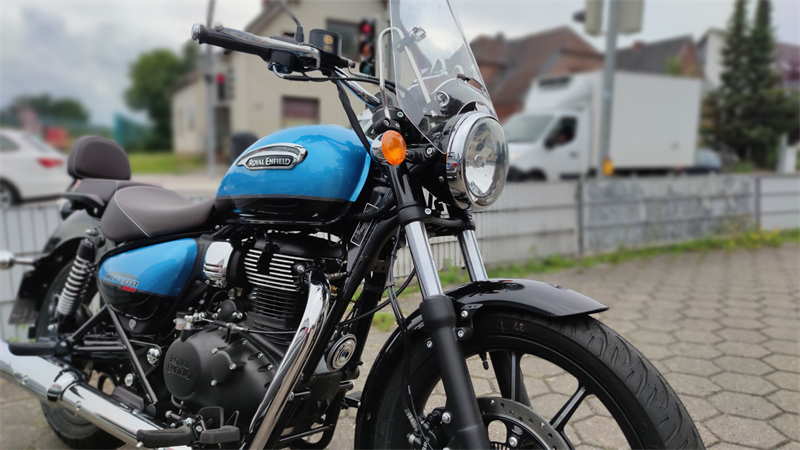 Photo: motorradtest.de
 
And what about the performance of the Meteor 350? Well, with 20 hp and 27 Nm you don't set any records, but nevertheless we are surprised how willingly and quickly the small engine revs up. So it goes fast forward, but this bike will not overwhelm anyone. From 100 km/h it becomes exhausting with the acceleration, at about 120 km/h the propulsion is finally over. You are already thinking about whether the 80 km/h truck really needs to be overtaken in front of you. And if a passenger or a pillion rides along, he will already pat you on the back and signal a clear "NO!".
 
Technically, everything works supi on the Meteor: 5-speed transmission, single disc front and rear, hardly any load changes, no vibrations, everything okay. The chassis has no problem with the machine, which weighs 191 kg. It is rather softly tuned and can not be adjusted up to the spring base. The set-up fits the concept of the bike, you are very comfortable on the road, without which it would be spongy.


Conclusion - what sticks
As I said at the beginning, you just have to like this motorcycle, even if there is already a 1290 SuperDuke in the garage. The Meteor 350 is simply a likeable bike that you don't have any special expectations of. It is cheap, solidly made, easy to drive, casual and safe. And somehow you have the feeling that this bike will never break. What should also break, there is nothing to it! 
We think that the Meteor is an excellent bike - e.B. also for older people who no longer want to drag a 300 kg vehicle through the area and are no longer quite as articulated when sitting up and down. But please do not misunderstand: It is not a senior vehicle, the Meteor will also find many young friends. Maybe and especially because of the price. Which bike over 125 cc can you get today for less than 4,000 euros? Our
database
says: Exactly three.
Test bike by
2Radstadie/Pinneberg
. There are all the current Royal Enfields as projectionists. Well worth a visit.
Price/Availability/Colours/Years of construction
Price: from 4.000€
Availability: from 07/2021
Colors: light red, dark red, yellow, light blue, black, dark blue, brown