Royal Enfield Classic 350 reviewed
(Baujahr 2022)
What can the new retro bike from India do?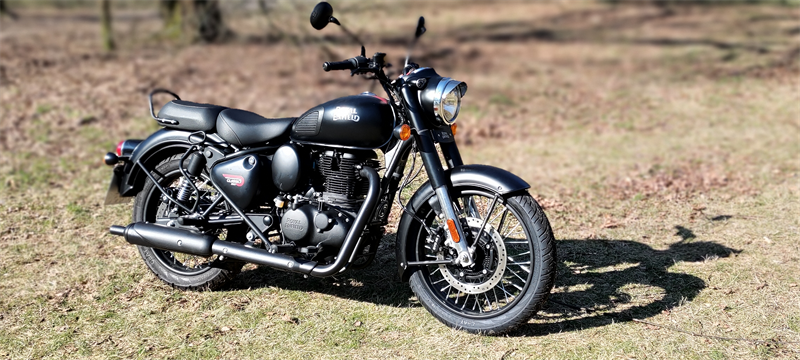 Photos: motorradtest.de
 
The new Royal Enfield Classic 350 inherits the Classic 500 with a Euro 5 compliant engine and plenty of retro feel. We ran the Classic 350 with its 20 hp and were relaxed, chilled and decelerated within seconds - wonderful!
This is how it stands
There it is, the new Classic 350 in front of the entrance of the Hamburg RE dealer
Legendary Cycles
, who lent us this beautiful machine for this test. You have to look for the optical differences to its predecessor with a magnifying glass, it actually looks exactly like the Classic 500. Fortunately, the cannon barrel exhaust has been preserved as well as the round metal mudguards and the magnificent headlight with the hood cover. This is retro in its purest form, although you have to be a bit careful with the term retro at Royal Enfield. RE has always built motorcycles like this, they just never stopped!
When sitting up, immediate poodle-feel-good adjustment: Upright sitting position, handlebars not too far away, comfortable seat cushion, everything fits right away. Although the seat height is quite low at about 80 cm, people with 1.85 m and taller do not feel uncomfortable. The safe stand with both feet can also be done by smaller people without any problems, whereby manoeuvring is a bit more difficult than we would have expected because of the 195 kg weight (ready to drive). Even the passenger has enough space in our test model with extra pillion seat and the somewhat unorthodox grab handles bring safety. For a rather smaller machine, both the driver and the front passenger feel in good hands, even for the longer journey.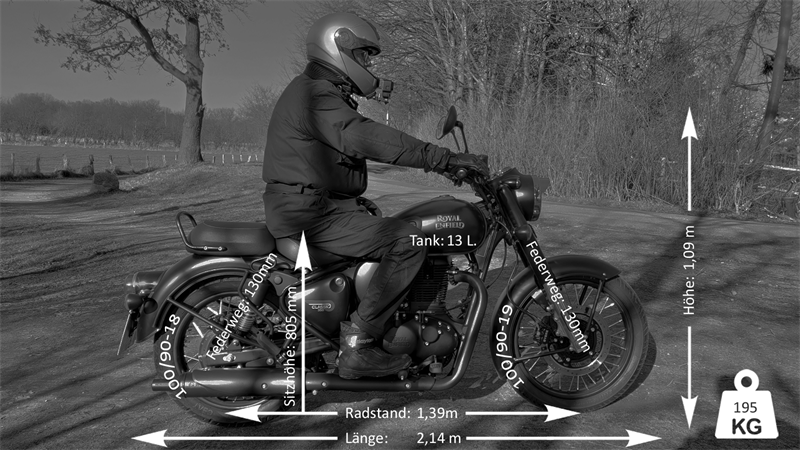 Virtual 360 Tour around the Royal Enfield Classic 350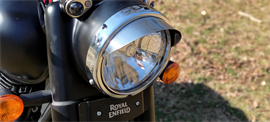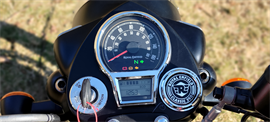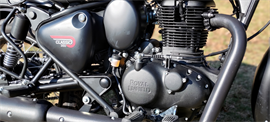 What she should be able to do
At this point we usually describe the technical equipment, the operation and the cockpit as well as the switches and e.g. the connectivity to the smartphone. Haha! Of course, there is no such thing here. We already see the hazard warning lights as an absolute luxury feature of the Classic 350.
Seriously: Apart from ABS, this machine really has nothing of technology on board. There is an analog speed indicator, a tank gauge (hooray!) and a minimal on-board computer. No driving modes, no wheelie or traction control, no lean angle sensors and no LED technology.
We remember: This bike has 20 hp and does not need the technical achievements of other motorcycles with 200 hp. Man, is that relaxing!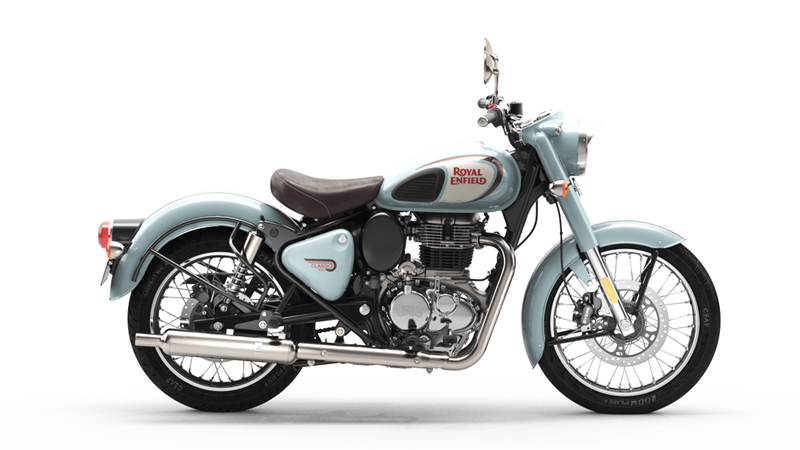 Photo: Royal Enfield
This is how it drives itself
Before we drive off, we listen briefly to what comes out of the beautiful exhaust. This is actually worth it, because the single-cylinder booms wonderfully sonorously (soundcheck top right). Not too loud, not too quiet, just right. And compared to many modern 500cc twins, they even have a strong character with a high recognition value.
Then we drive off and are spontaneously enthusiastic. The Classic 350 goes straight to the heart. We are firmly convinced that this is not only the case for us, but probably for pretty much everyone who dares to test drive. This bike is so heartwarming that we simply run out of words here. The following versions for power delivery, torque, suspension, acceleration and torque etc. are replaced at this point with a short statement: The RE Classic 350 drives great, brakes well and who wants can even move it (somewhat) sporty. That the 20 hp of course do not pull your arms long is clear, but who wants that on this machine?!
Instead, you leave your worries behind, enjoy nature and the surroundings and ride a motorcycle completely decelerated. In our opinion, hardly any other manufacturer can do this as well as Royal Enfield and the Classic is even a bit better than its stablemates compared to the Himalayan, Interceptor and Meteor in this respect.
In this respect, the Classic 350 is not only a beautiful first motorcycle, but also a wonderful second motorcycle. If you already have an adventure or sports bike in your garage and now also the Classic, you will ALWAYS prefer this bike for a trip to the quarry lake or the café. We don't know exactly how Royal Enfield did it, but that's exactly how it is. 100% guaranteed!
Conclusion - what sticks
Motorcycling can be so beautiful! If you just have 5.100€ over and want to buy a motorcycle: Please take a test drive with the Classic 350! No matter what other bike you had in your sights, chances are you'll choose the RE in the end. 
The test bike was kindly provided by
Legendary Cycles / Hamburg
. Here the Classic 350 is ready for test drive, as well as all other models from Royal Enfield and many other motorcycles from Benelli, Mash, Mondial, Fantic, Moto Morini and Indian.
Price/availability/colours/years of construction
Price: 5.090 €
Availability: from 01/2022
7 colors: Halcyon Black, Halcyon Green, Halcyon Grey, Dark Stealth Black, Dark Gunmetal Grey, Chrome Red, Chrome Bronze