Royal Enfield Super Meteor 650 Review
(Baujahr 2023)
Relaxed A2 Cruiser for less than €8,000 from India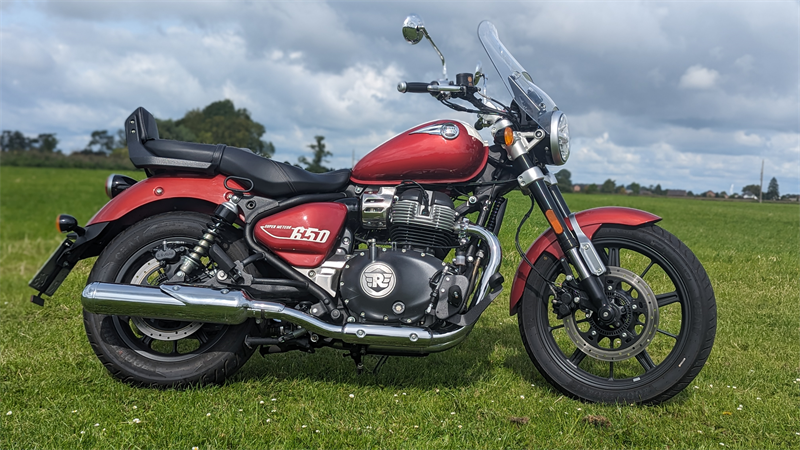 Photos: Motorradtest.de
With the Super Meteor 650, Royal Enfield fills a gap in the German motorcycle market: A2 Cruiser with max. 48 hp. It's actually funny that hardly any other manufacturer has come up with this idea so far, after all, the Honda CMX 500 Rebel has been a real bestseller for years. Markus and Dietmar took the new A2 Cruiser from India for a spin.


Really casual.
Visually, the new Meteor 650 has already been really successful. Above all, we find the simple versions in dark green and black without a shield with the separate bench seat really chic. For the test, however, we got the red and white version with a touring package, whose paintwork reminds us very much of a Triumph T120 "Bud Ekins".

 

By the way, Royal Enfield calls the new Meteor a premium bike. We wouldn't go that far, but it's true: Compared to the small Meteor 350 for only 4.390 euros, the large Meteor is clearly the more valuable and adult motorcycle, if only because of the 650 two-cylinder.

The touring package of our test machine complements the machine with a windshield, which unfortunately cannot be adjusted, as well as a touring seat with a sissy bar. Without the package, the black version costs 7,890 euros, the green one costs 8,090 euros and our test bike with the package costs 8,390 euros. To be honest, I would take the black one and save myself the extra charge, because a) I rarely ride in pairs and b) I tend to ride around chilled out on such a bike and therefore don't need wind protection.
Dimensions Royal Enfield Super Meteor 650
And what is it like to sit on this motorcycle? Pretty comfortable, as you can see below. With a length of 2.30m, the Super Meteor is a rather large motorcycle, hence the generous space for driver and passenger.
The seat height of 740mm is rather high for a cruiser, but every pilot really gets his feet on the ground here. That's a good thing, because after all, the Super Meteor weighs over 240 kg. This may sound ridiculous to Harley riders, but for cruiser switchers, the machine is not exactly a lightweight. The footrests are then mounted far forward again, as is typical for cruisers, so you always have a comfortable knee angle and otherwise sit upright and comfortable. This is also suitable for longer distances.
The front passenger has it easy on our test machine anyway because of the sissy bar, but the driver, on the other hand, finds his seating position automatically because the deep seat recess makes it impossible to slide back and forth. All in all: A very comfortable and just okay to maneuver cruiser, suitable for all kinds of driving situations.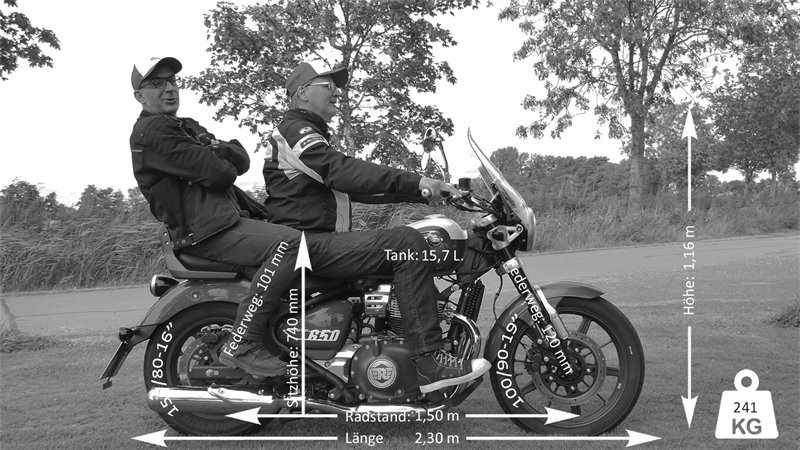 That's how comfortably the driver and front passenger sit on the Royal Enfield Super Meteor 650.
360 degree tour around the Royal Enfield Super Meteor 650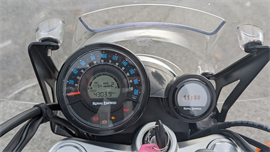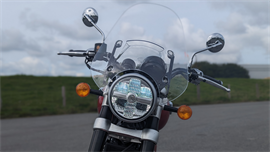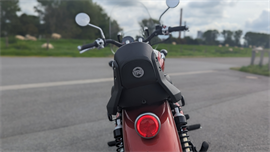 Technology of the Super Meteor 650
The Super Meteor is simply equipped. Apart from the ABS, there are no technical assistance systems. The cockpit has the well-known VW Beetle look, the small LC additional display shows gear, fuel level and speed. There is also a small on-board computer, but that's about it.
Oh nonsense, that's not it! As standard, this machine also comes with the small extra instrument for arrow navigation. And it works really well: download the app, create an account, enter your destination and you're ready to go. Of course, such arrow navigation systems do not replace "real" navigation systems from Garmin, TomTom & Co., but in our tests the free arrow navigation system worked perfectly.
The front and rear lights are LED, the turn signals are not. There is no automatic turn signal reset, nor are there any driving modes, traction control or other bells and whistles. Sit on it, turn the key, drive off and praise life - that's how it should be with a cruiser, isn't it?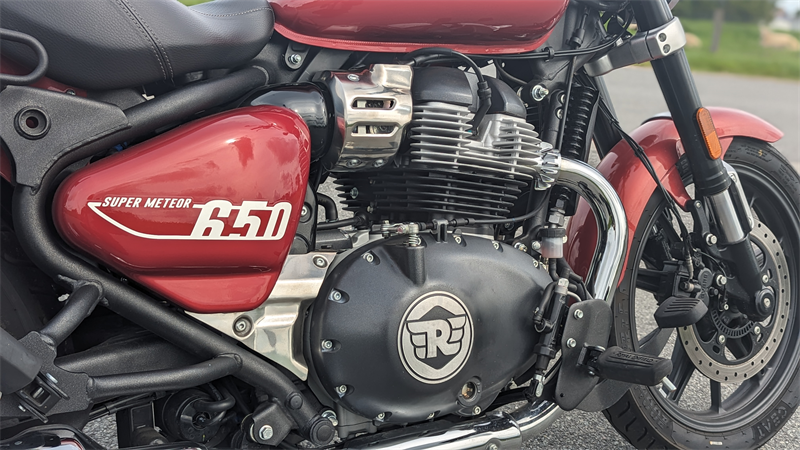 That's how it drives
The sound of the Royal Enfield Super Meteor 650 is very convincing because it matches the bike (sound check top right). The machine has two bags, which also stand out visually in a wonderfully chrome-plated finish. The machine is neither particularly loud nor particularly quiet. You always hear the approximate speed and never have the stupid feeling of getting on someone's nerves.
Already on the first few meters it becomes clear during the test drive: This is not a sedate, but an active cruiser. The fork is not too flat, the wheelbase is not excessively long at 1.50 m and the whole chassis tuning is very successful. Unlike heavy cruisers, riding the Super Meteor is no problem at all, even for novice drivers. You feel comfortable right away and quickly build up the necessary confidence for e.g. sportier cornering.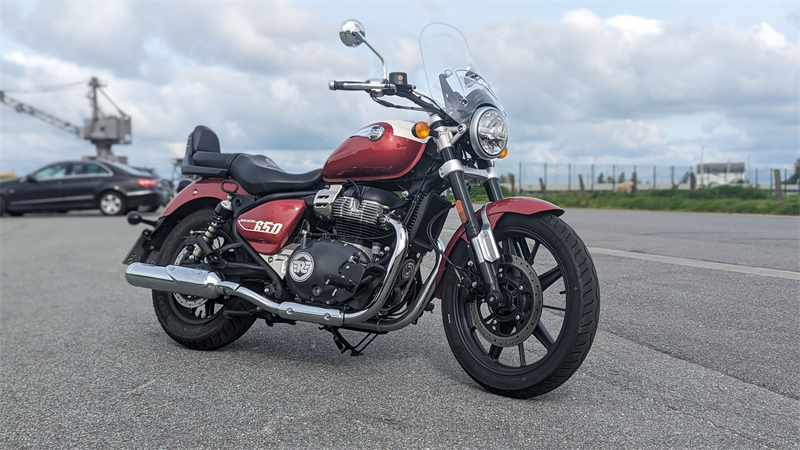 If you didn't sit like on a cruiser, you might think you're on a naked bike. The engine babbles happily and never feels tormented or annoying with chain strikes or reluctant steps out of the basement. Of course, 47 hp is not the world, but it just fits this bike like an ar... on buckets.
However, Royal Enfield has to put up with one point of criticism: The front brake is undersized with a single disc and a 2-piston floating caliper. Sure, this is not a problem during normal braking, but if you have to apply emergency braking at a speed of 140 km/h with a passenger and luggage, you have to be prepared for a long braking distance. Well, of course, the low price has to come from somewhere, but with an over 240kg motorcycle we would have wished for a double disc.
Otherwise, the Royal Enfield Super Meteor 650 is a really nice, balanced motorcycle for everyday use. It is totally unproblematic, makes a very solid impression and can surprise sogat with a few nice details, such as the aluminum switch surround. The warranty is three years and, as already indicated, competition is rather rare. The following cruiser bikes with manageable performance come to mind:
>>> Comparison RE Super Meteor 650 / Honda CMX 500 Rebel / Kawasaki Vulcan / Benelli 502C <<<
Conclusion - what sticks
The Royal Enfield Super Meteor 650 is a real fun grenade. Even motorcyclists who are not really into cruisers (such as the author) will be pleasantly surprised at how relaxed you can cruise around with this motorcycle. It doesn't get much more relaxed than this.
 
We still find the price of the Super Meteor to be reasonable, even though Royal Enfield actually stands for even cheaper motorcycles. The competitors from Honda and Benelli are even more attractive in terms of price, but in our opinion the Royal Enfield has more to offer - above all charm, appearance and driving pleasure!
Price/Availability/Colours/Years of Construction
Price: 7.890 €
Availability: since 05/2023
Colors: Black, Green, Red-White