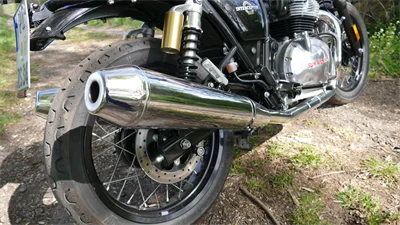 Lawn? But why?
Key turned around (thank you, Royal Enfield, you will be the very last company in the world to introduce the theft-prone and otherwise completely useless keyless go), button pressed and satisfied bollering the Twin jumps on. Interceptor is called her, that is, translates interceptor. In front of whose eyes the legendary Spitfire of the British from the Second World War now appears, should sit quietly in the corner again: 47 hp. With 7,100 tours. Torque is also there, 52 Newton meters at 5,250 tours. We don't want to intercept anything today, and the next few years don't look like that either. That's why: stay cool.
But we want to drive, and we do. It is moving forward resolutely and nothing is distracting. You don't do lawns not just because you don't have enough power to do it, but because it would be completely unnecessary. The thin tires, the comfortable but stable chassis – none of this screams in your ear that you should somehow let the sow out now. Your greatest happiness is to mill a scrape into the asphalt in every bend with your footrest? Wrong bike.
You wouldn't call her a Café Racer, but actually it is: you're never, in any situation, wrongly dressed. It's as if the Royal Enfield enjoys puppy protection: anyone who recognizes it will let you go in peace. If you're always waiting for the next challenger on a Ducati, there's no rival waiting for the Royal Enfield.
In a nutshell: comfort good, sportiness rather not, driving behaviour stable, engine drives you forward. Stylish and honest to the last screw. What to forget? Possible, but something exciting was certainly not there.