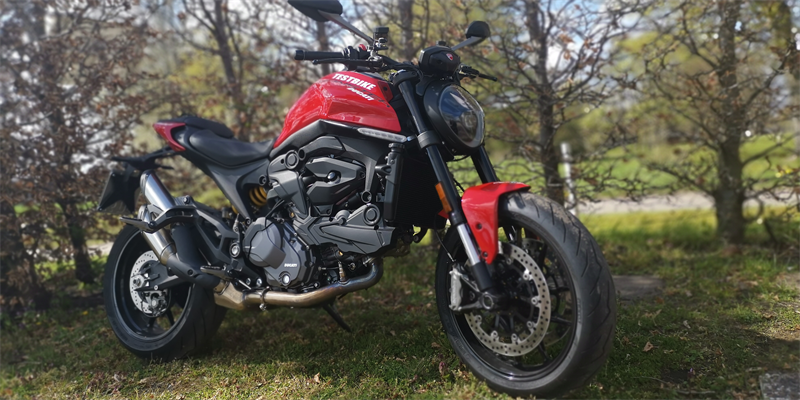 Photos: motorradtest.de
 
Built since 1993, and more than 350,000 times, Ducati is by no means shying away from radical changes with the 2021 version of its monsters. The distinctive feature of a lattice tube frame is in vain for the new monster. Instead, the Italians are now relying on a lightweight, elegant aluminium frame and there are other innovations in this successful Naked bike.
Who is afraid of the new monster? ... nobody!...
But if it comes,... then of course we don't run away from it, but drive them sample! With the elimination of the popular lattice tube frame, the new monster also gains some pleasant advantages. Above all, the weight reduced by 18 kilograms is mentioned here. Only 188 kilograms ready to drive (166 kg dry!) paired with the extremely powerful Testastretta two-cylinder engine with 937 cubic centimeters displacement, 111 hp at 9250 revolutions and 93 newton meters at 6500 rpm result in a monster-like whimper.
So here the name is still a program – maybe even a little more than the previous version, the Monster 821. Overall, however, the monster becomes a little tamer, the engine smoother and more doseable, which ensures an overall lighter, less brewing driveability. Ducati is likely to reach a wider audience with this reboot, and the bill is likely to pay. Because both experienced drivers as well as less experienced newcomers and newcomers (there is also an A2 variant with 35 kW) as well as more dainty drivers should no longer have to be afraid of the monster. A certain respect for the existing power may still be appropriate, but this is recommended for motorcycling anyway.
In addition, the new monster comes standard with a lot of electronic helpers such as inclined ABS, traction control, shift assistant for clutchless gear changes, multiple driving modes as well as launch and wheelie control on board, making it a little easier for your driver to stay in control.