Harley Davidson LiveWire in review
(Baujahr 2021)
Harley Davidson's first electric motorcycle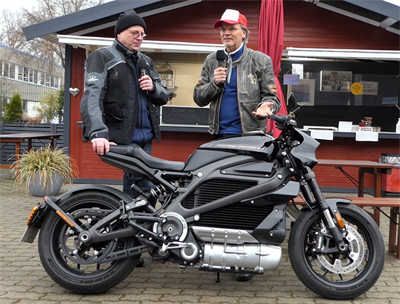 The Harley Davidson LiveWire is not only harley's first electric motorcycle, but also the first electric motorcycle from a mass-produced manufacturer. Volker and Dietmar learned how it rides and what distinguishes an electric motorcycle from normal combustion engines during their test drive.
This is how she stands
That's supposed to be a Harley? Where is the V2? Where is the fat double exhaust? Long-established Harley fans are likely to find the LiveWire a real imposition. In this respect, it is astonishing that Harley-Davidson in particular is the first established manufacturer to venture into the venture of electric motorcycles. Sure, Zeros and Energicas have been around for a long time, but these are new companies that have jumped into this adventure from the beginning. Honda, Yamaha, KTM, BMW & Co.? So far, no indication.
Of course, there is a reason for this: electric motorcycles are expensive to develop and this is also reflected in the purchase price. The LiveWire costs just under 33,000 euros. Whew. The second problem is the limited range compared to combustion engines. Harley states this at the LiveWire with 150 km to 235 km. This is not bad for the 15.5 kWh battery, but compared to classic motorcycles just very little. And what do I do if the battery is all? Load. Okay, but that takes at least 40 minutes even at a fast charging station. Although this is actually not a bad value, but compared to refueling a really long coffee break. Nevertheless, it is commendable that the CCS charger is included as standard on the LiveWire. With the Schuco plug (also located below the bench), charging at a normal socket takes a whole night.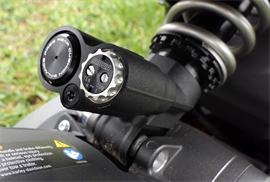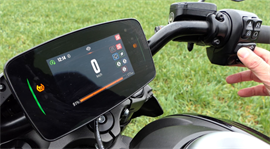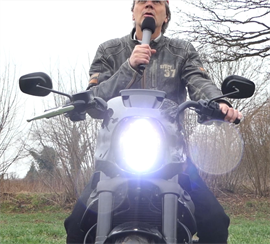 What it should be able to do
The equipment of the LiveWire leaves nothing to be desired. There is a 6-axis IMU from Bosch that monitors the motorcycle in all possible positions. This technology enables cornering ABS, lean-angle traction control, lift control of the front wheel, etc. "RDRS" harley calls all systems that should get slip and everything else under control. This is also sorely needed, but we'll get to that later...
 
Also all other components of the machine such as Showa chassis (fully adjustable) and brakes are 1a. The machine has a low-maintenance belt drive, a beautifully made two-arm swingarm made of light metal and a side stand. Since we are talking about a naked roadster here, a main stand is forbidden.
You sit on the LiveWire upright and slightly tilted forward. The footpets are strikingly high and a little offset backwards, so that a quite sporty sitting position automatically results. Of course, you can also connect the Harley to your smartphone and then do a lot via app, for example playing music, answering phone calls and navigating. Harley has even thought of voice control. Here, the engineers probably had less of an eye on the old Harley bunnies, but rather younger people who no longer dare to leave the house without a smartphone.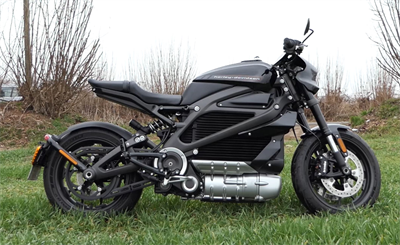 This is how she drives herself
Before we leave, a short sentence about the operation. This is okay, but it takes a certain amount of time to understand the functions of the many switches. Surprise: The controls hardly differ from those of a Road Glide. Okay, then we leave the engine on - oh no, we drive the system up - that probably fits better.
The colored 4.3 inch color TFT shows "0 km/h", which means nothing else than: Now it's ready to go. We prefer to start in rain mode on wet roads. The LiveWire has a total of seven driving modes, four of which are preconfigured and three are freely adjustable. The rain mode is reduced in power and the traction control and the wheelie control works extremely sensitively - just the right thing for the first few meters.

Later, fortunately, it gets dry and we go into sport mode - and Volker experiences his blue miracle. The acceleration from 0 to 100 km/h is done by the machine in 3 seconds - physically more is hardly possible and powerful combustion engines can do that too. But when passing from 60 to 100 km/h, the wheat separates from the chaff and the LiveWire drives away from everyone. In no less than a good second, she completes our pull-through test. The brain always lags a little behind and only sorts itself back into its usual place when you come to a standstill. This is madness!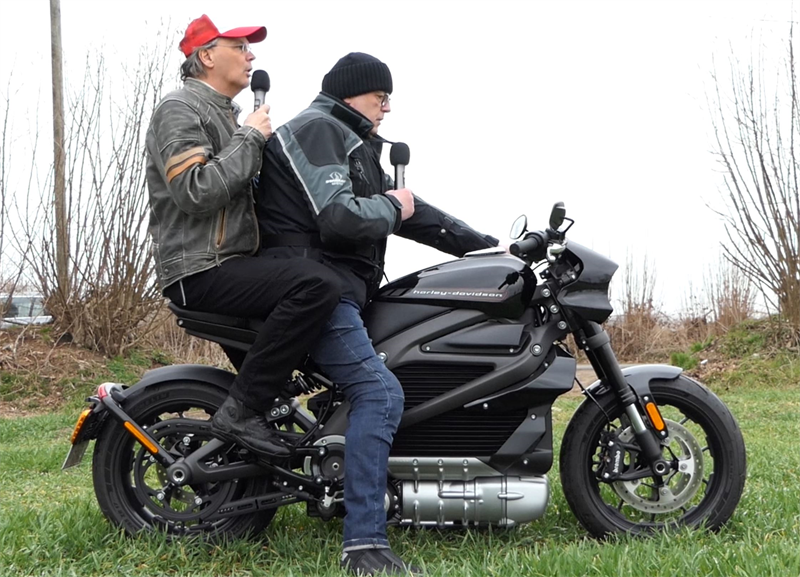 Again! And again, and again. It's addictive and really fun. However, we have to keep reminding ourselves that there is unfortunately a speed limit on most roads. You are constantly driving at the limit with the LiveWire and this has two reasons: A) the monkey-like acceleration just described and B) the (non-existent) sound! The sound of the LiveWire is described by the opponents of electric motorcycles, of which there are still many, either as a vacuum cleaner, tram or spaceship. Electric proponents, of whom there are hardly any so far, emphasize the "performance" of these motorcycles. In any case, Tyrolean residents should be happy if more of these bikes jet through the area in the future - you can hardly hear them, which should not be harmless for other road users. Funny point: The Harley pumps barely perceptibly when standing like a heartbeat. This should probably remind you that the bike starts when you turn the throttle.

Otherwise, the LiveWire drives similarly to other roadsters. The Brembo brakes pack properly and the Showa suspension does a very good job. Our test machine was a little tight at the back, but you can easily change that with a screwdriver and a few clicks to the left. Surprising actually, that the chassis is not electronically adjustable. Well, the LiveWire is not exactly a bargain.


Conclusion - what sticks
Riding an electric motorcycle is a bit like riding a car scooter. Put on it and "gas" against. No transmission, no clutch, no switch, no engine jerks, no sound, no stench, no heat dissipation, no exhaust, no nothing at all. It's hard to describe how it feels live. On the one hand, we were fascinated by it, on the other hand, it is actually a cultural break for long-established bikers. You have to get used to it.
Nevertheless, we are sure that there will be more electric motorcycles in the future. But there will probably also be combustion engines for a long time. Why shouldn't both technologies be able to exist in parallel? In any case, we are always surprised by the force with which the opponents of electric vehicles smash their opinions about such machines into the keys. See comments on our
review on YouTube.
Guys, stay relaxed, no one forces you to buy such bikes.
The test machine was kindly provided by
Harley-Davidson Hamburg.
Price/Availability/Colours/Years of construction
Price: 33.000€
Used (1 year old): 30.000€
Availability: since 2019
Colors: black, yellow, orange