Test: Harley Davidson Electra Glide Ultra Classic
(Baujahr 2009)
Dickschiff, Dampfhammer, Reisedampfer, Full-Dresser, Schlachtschiff etc.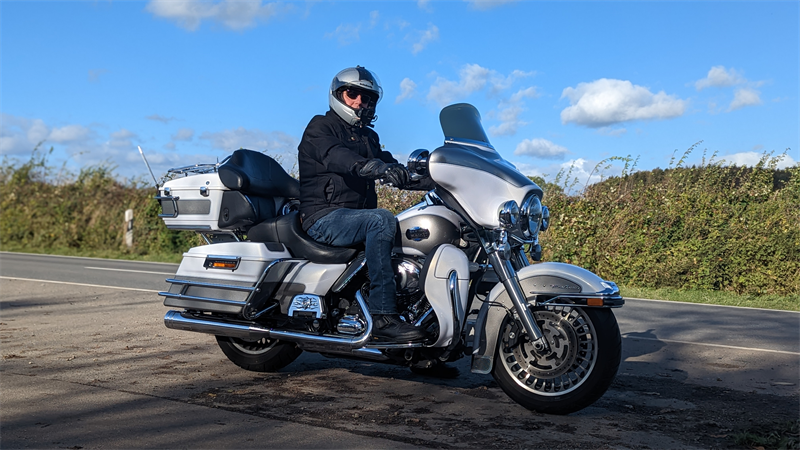 Photos: Motorradtest.de
Man, man, man, what a device. The Harley Davidson Electra Glide Ultra Classic (FLHTCU) is not just a motorcycle, it's a statement. A statement against reason, thrift, modesty and hustle and bustle. Anyone who has ever sailed such a ship knows about it. Volker and Dietmar, who sent the Electra Glide Ultra Classic onto the country road in Kiel, felt the same way.
A mountain of a motorcycle
Gross vehicle weight: 617 kg. Does anyone else have questions? This is what it looks like, the used Electra Glide Ultra Classic from 2009, which is for sale at
Harley Davidson Kiel
for 16,500 euros. Two previous owners, checkbook maintained and with almost 54,000 km on the clock. This is almost nothing for a Harley of this type. Take a look at the endurance test protocols of our print colleagues, where Harleys regularly stand out with a good long-term quality.
Our test bike comes in silver-white and looks really chic. It has a suitcase system on board, a hi-fi system from Harmon-Kardon with fat speakers for driver and front passenger as well as cruise control. Also included are luggage inside bags, an intercom system and an exhaust system from Jekill & Hyde. And as it looks, so it sits: Rarely sat so comfortably in pairs on a motorcycle! Above all, the front passenger is happy about backrests and siderests and has space like in a car.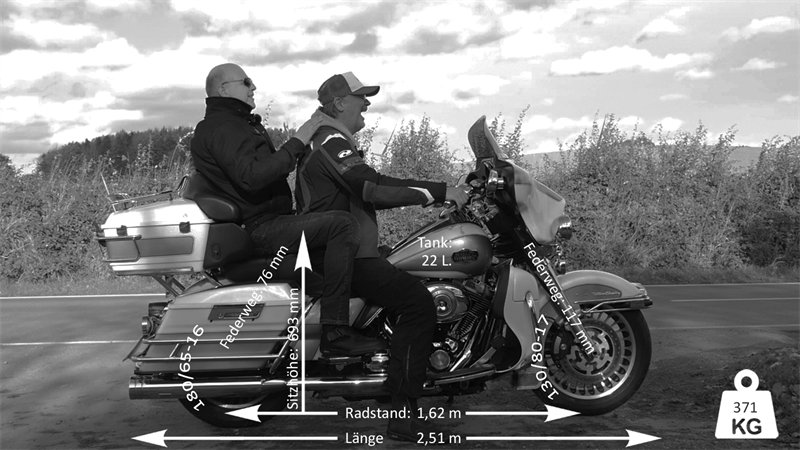 Space almost like in a car...
360° tour around the Harley Davidson Electra Glide Ultra Classic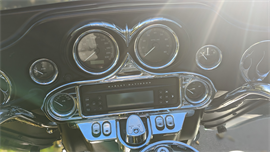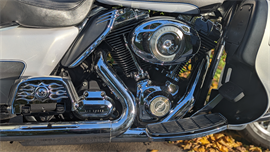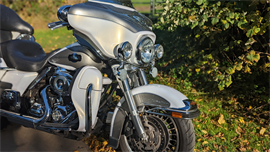 Technology
From a technical point of view, the machine is still more of the old iron. There are no driving modes and apart from ABS and cruise control, no technical helpers. But there are still real and partially chrome-plated switches, which you like to operate. Oh yes, and even automatically resetting turn signals are also included. The lighting system including the additional lights in police style use halos.
Instead of an LED cockpit, the driver looks at a whole armada of analogue instruments. Battery charge level, oil pressure, temperatures, fuel level, etc. - all with beautiful hands in chrome-rimmed watches. And of course two large speakers left and right. Looks like in the seventies, to fall in love with.
Amazing: The passenger can not only adjust the volume of the Harman-Gimbal system, but also change the radio stations. Both front and rear there are plugs for the intercom. Music and entertainment between the passengers on the way is therefore provided.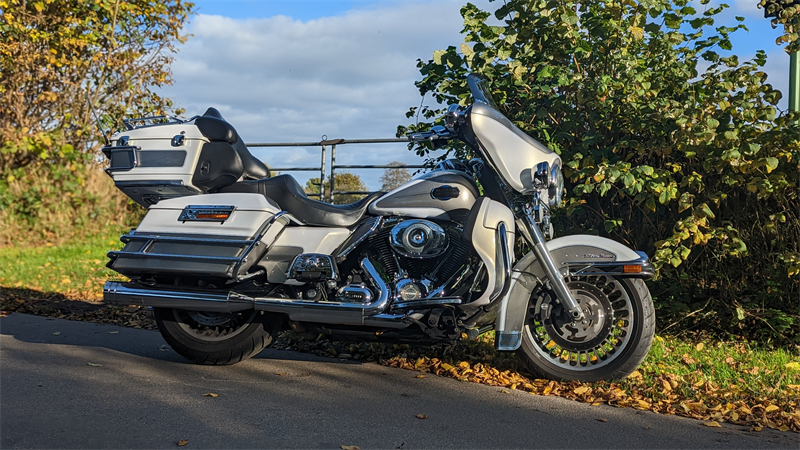 This is how it drives itself
The V2 roars casually. When stationary, the whole machine shakes, of course especially the engine and everything that is attached to it. Feet on the running boards, let the clutch come slowly and off you go for the wild ride. Although wild does not fit here, the "relaxed ride" should actually be called. Because one thing is clear: You don't really want to drive fast with 400+ kg of moving masses.
The Electra Glide Ultra Classic irons everything that stands in its way on the road. When driving over the level crossing, Dietmar feels almost nothing. Where you are shaken vigorously with other bikes or even almost lifted out of the saddle, the Harley simply drives straight ahead as if nothing had happened. Insanity!
It is astonishing that as a driver you do not feel insecure or overwhelmed. Of course, this machine is not for beginners, but the initially considerable respect evaporates after a few curves as if by itself. The Harley rides casually, the clutch power we would have imagined much heavier and also the transmission floods - albeit partly with considerable acoustic background.
How much horsepower or torque the machine has according to the data sheet is of interest and not the bean in this test. The Electra Glide drives forward quickly and especially in the rev cellar there is a lot of lard, but whether that is 82 hp or 200 hp, we are completely snuffed. You don't want to race with this steamer anyway. Instead, you glide along and enjoy the sun and the freshly mown fields, which we probably wouldn't have noticed otherwise. Honest guys, such an old Harley is of course not for every biker, but we enjoyed every minute of the ride. You just have to experience that.
Conclusion - what sticks
A bit little technical info in this review, right? Exactly, but that's what the Electra Glide is all about: forget data sheets or performance data. Sit down, enjoy life, forget your worries and just go for a ride without thinking. This is possible on this machine as well as on probably no other bike. 
We got the test bike from
Harley Davidson Kiel
for this test. There are almost 100 used Harleys, so a visit to the "Harley dealer of the year 2021" is always worthwhile. And if you are interested in this Ultra Classic -
click here for the sales advertisement
. 
Price/availability/colours/years of construction
Price: 16.500 €
First registration: 05/2009
HU: 10/2024
Km: 53.639 km
Availability: immediately
Color: Silver-White ("White Gold / Pewter Silver")