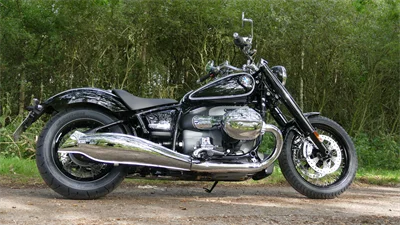 Queen of Torque
The view falls on a beautiful, classic analog instrument for speed. It integrates digital displays for tank, on-board computer and speed in 50 increments. The driving modes are called "Rain", "Rock" and "Roll", which some find funny, others overdone. Anyway, everything works perfectly.
Oh yes, it's a BMW. With boxer engine. Again and again I forget a special feature of these engines, because when started, the whole motorcycle shakes briefly to fall into the stable run. Yes, it's just two huge cylinders that are getting going in the opposite direction. If you want, you can experience this jerking while driving, as will be shown later. Previously, the BMW was owned, which is no problem because of the low seat height. Feeling you sit further back than it is reality, because the motorcycle seems to have pulled up after sitting on.
The wheelbase is 1.73 metres long. So it is clear: this can't be really great with the manoeuvring, because physics puts a stop to it. Surprise when starting: Of course, it proceeds with pressure, but above all surprisingly light-footed. Where did they go, all the kilos? Make it, do: These are all there, but here too physics is helpful: due to the low centre of gravity, the BMW looks much lighter than it is. This changes abruptly if you manually lower the focus manually. The then overturned bike can be set up again best for bodybuilders with a large circle of friends.
The unfamiliar ease of driving is not lost at higher speeds. Of course, there are limits that are reached at about 30 degrees inclination (first put on the footrests, not the voluminous exhaust). But hey, this is a cruiser. If you are looking for a curve arrow, you are wrong here.
Surprisingly good is the sitting position, better: the position of the feet. Let's be honest: The constant set-up and down of very far-forward feet is annoying and rarely really comfortable, especially in urban traffic.
A cruiser is rarely hounded. Having said that, the brakes could be better. The criticism is not the pure braking performance, but the indifferent feeling of the handbrake, combined with a comparatively high force, which is necessary for operation.
And now finally: the engine. Yes, PS he will have any. But it is completely superfluous. The R18 thrives on its torque. Between 2,000 and 4,000 revolutions, i.e. where you prefer to stay as a cruiser, it is always over 150 newton meters (maximum 158 for 3,000 tours). In practice, you can get so relaxed around the area that the R18 can almost pass as a prescription drug. Just ask your health insurance company.