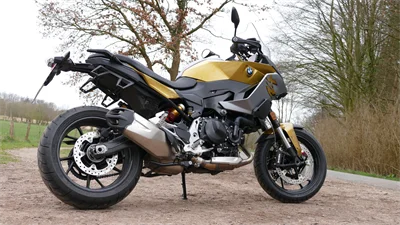 This is how she drives herself
Thanks to the adjustable seat height and the comfortable bench, the first contact is positive. Also the sitting position is pleasantly upright, a little sporty, but not too much, the knee angle also fits.
In principle, the operation is also very catchy and logical with the easy-to-understand switches. Only: If you have distributed many crosses in the surcharge list, you have to set a lot. A complete explanation would go beyond the scope here, but it should be assured that after a short period of acclimatization with the BMW system, one gets along well.
Button pressed, motor started and it's off. And how – of course, 105 hp used to have only purebred racing bikes, today we find this appropriate in the middle class. To sum it up, the BMW is making good progress. Up to the limiter at 9,000, it's a cheering and a demonstration of the joy of shooting. The revision has done the engine really well. Honestly? No one needs more steam.
At 220 kilos, the BMW F 900 XR is still light enough not to want to go through the curves. That's how it swings, you swing yourself at the same beat. Thanks to the suitcase set (chargeable), good wind protection and comfortable chassis, it is so suitable for travel that you actually want to get started right away.
By the way, the ESA electronic chassis, which is also subject to a surcharge (of course!), only affects the rear axle. Nothing is adjustable at the front, not even manually. But that doesn't matter: Since the setup is basically very good, the rear adjustment is sufficient for loading and ride modes.
It is no surprise that the Brembo stoppers also work perfectly. Normally easy to use and dose, they can be different in case of emergency and bite powerfully too. The road tyres contribute to their good performance, which are noticeably better on asphalt than stolly enduro tyres. Compliments to BMW that the XR doesn't fake anything in terms of "travel enduro" that it isn't: it doesn't see any country off-road.