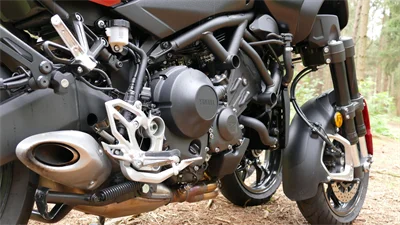 High comfort
The most important thing right from the start: Unlike the Piaggio scooter mentioned above, Yamaha does not use the three wheels to stand upright. If you don't know, the expensive Niken flips over without singing or sound. The ascent itself is trouble-free. The seat is comfortable, but the view to the front is unusual: The massive stem is wide and long and has a plastic look. In order to adjust the low-positioned mirrors, you have to stretch yourself quite nicely.
But: The driver does not see the wheels, the special technology only catches the attention of the passers-by. The start-up works completely undramatic despite the multikilos, by the way, the still extremely committed engine pushes the Niken to 100 in just 3.6 seconds. 3.4 seconds takes the MT-09, so there is hardly any difference here. At the Vmax already: For the Niken it is over at 190 km/h, the naked sister manages 225 km/h.
The Niken, with its unusual construction, is an endless material for gasoline talks. Great or not? We also do not agree within our tes team. The author of these lines finds the Niken rather strangely average. Although 57% of the weight is on the "front axle", it does not even drive above average front load – that is good. The whole technology is already an engineering achievement, no question. But why?
One thing to bear in mind here is that the better grip on the front wheels solves a problem that only exists in hints. Of course, there have already been accidents with motorcycles, because the front axle was smeared away. But how often does this happen? And secondly, the solution itself is part of the problem: the heavy technology in the front construction only reinforces or even creates the tendency to undo, i.e. pushing over the smashed wheels. The two front wheels solve a problem that would not have existed without them or would have existed to a very small extent. Finally, a fact that was felt in the test: on a slippery track, adhesion is improved. But only at the front, at the backhand, the niken becomes light and in tendency to drive more imprecisely.
Dietmar takes the opposite position. The psychological support provided by the double front wheels, which suggest safety, is understandable to him. Added to this is the positive side of the high weight: the driving comfort is extremely good. Overall, he sees the Niken as a highly talented tourer. However, one can immediately ask one another whether the engine is the right partner here. He has nothing to blame, but it's a sports engine that doesn't do anything wrong at the bottom, but shows its high talent only in the upper speed range.