Yamaha MT-03 reviewed
What can the "Dark Side of Japan" naked bike with 42 hp do?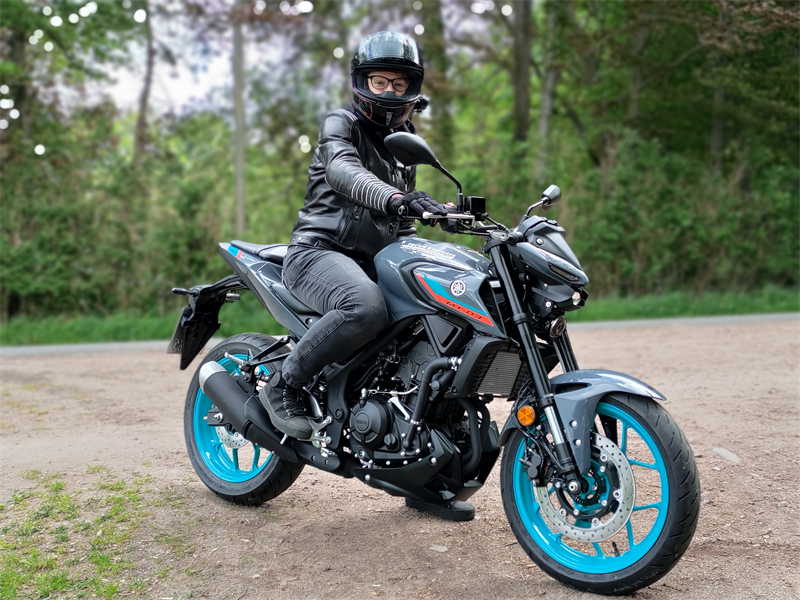 Tanja on the Yamaha MT-03 | Photos: motorradtest.de
The Yamaha MT-03 is the A2 machine in Yamaha's extensive MT range. It comes in the usual "Dark Side of Japan" style with a design that could come straight out of a Transformers movie. Guest moderator Tanja and Dietmar chased the MT-03 through Schleswig-Holstein and describe their test impressions here.
Why only 42 hp?
The Yamaha MT-03 is virtually the No. 2 in the MT segment of Yamaha. The following models are available: MT-125, MT-03, MT-07, MT-09 and MT-10 as well as additional SP variants. So there is really something for every taste and every driving license class. The MT 03 tested here is of course primarily intended for holders of the A2 driving licence. With the A2 you can drive machines up to 48 hp. "
Why doesn't the MT-03 take full advantage of this and don't I, as the owner, give away power unnecessarily
?" many A2 people will ask. Answer: No! In addition to the power limitation to a maximum of 48 hp, there is another restriction; this refers to the relationship between weight and power. In other words, the Yamaha MT-03 is so light that it can't have more than 42.2 hp. The 5.8 hp missing compared to machines with 48 hp makes up for it with its low weight of only 168 kg ready to drive. To put it even more bluntly. Don't worry, the other A2 bikers won't drive you away!

There is the MT-03 is three appealing colors: black, blue and cyan. Our test bike, which we got from the Yamaha headquarters in Hamburg (
Tecius & Reimers in Hamburg-Eidelstedt
) for this test, is the "Cyan Storm" variant and is a really adorned piece of motorcycle. It looks confusingly similar to the MT-07, which is mainly due to the design of the front. The lamp mask is styled in such a way that the bike seems to speak directly to you - including nasty raised eyebrows in the form of the position lights. Real Evil!
The seating position is typical for MT bikes from Yamaha: The medium-wide handlebar is quite high and slightly inclined to the rider. The seat height of 780 mm is on the low side and the footpegs are placed exactly where they belong. Tanja with 1.70 m "length overall" comes safely with her feet on the ground and tips that even small people from 1.50 m should have no problems with the safe stand. The machine does not look small, but it is: With a wheelbase of only 1.38 m and a weight of 168 kg ready to drive, it is hardly smaller than the MT-07, but much lighter.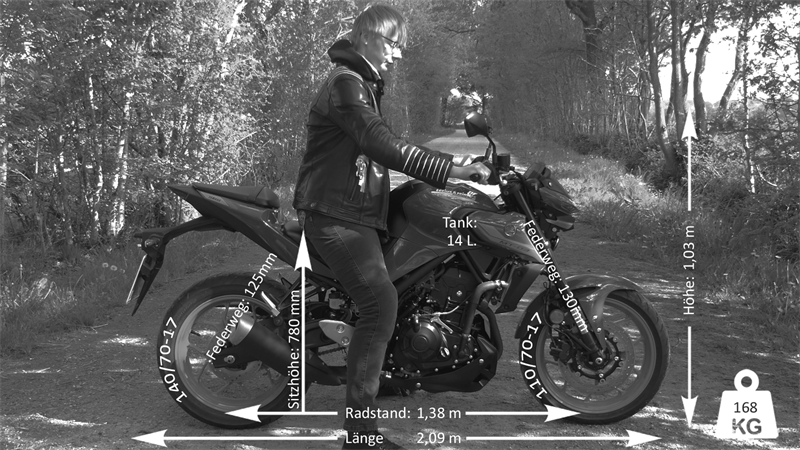 Everything under control: On the Yamaha MT-03, even beginners immediately feel comfortable due to the seating position.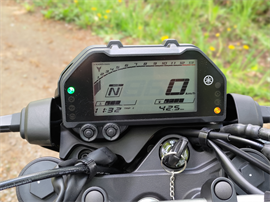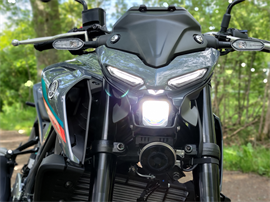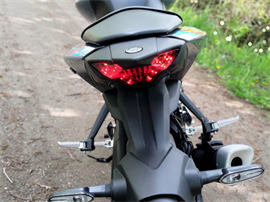 Technical equipment of the Yamaha MT-03
By the way, the MT-03 costs 6,249 euros. But you get a solid, adult motorcycle with all the trimmings, but not with technical gimmicks. There are neither driving modes nor other assistance systems. The MT-Rider also has to do without traction control here. But let's be honest: On an A2 machine, such things are not really important, are they? ABS and well-functioning brakes are of course mounted, don't worry.
The LCD cockpit provides information about speed, rpm, fuel level and gear. There is also an on-board computer that can be tilted over via two buttons on the cockpit. The full LED lighting equipment of the MT-03 is really good. Even the turn signals come with LED and there is also a hazard warning light. We have already experienced this differently with bikes that are twice as expensive.
The operation of the MT-03 is simple according to the meager equipment. You don't have to think or pay attention to anything, nothing distracts and you just drive off immediately. Let's do it now ...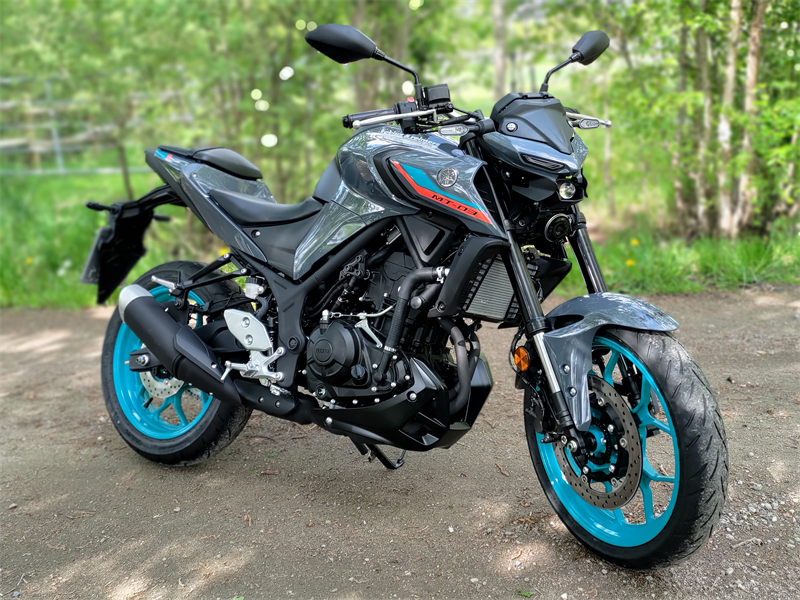 This is how it drives itself
Before short sound check (Live: see top right). Okay, that doesn't knock you off your pedestal, but that's almost always the case with A2 and A1 bikes. The MT-03 is even quite quiet in comparison, Tyrol can come. Already during the first few meters you notice: This is an extremely easy to ride and accessible bike. Thanks to its short wheelbase and low weight, it is ultra-manoeuvrable and can be easily pushed from A to B. Curve wrong? Never mind, just a short handlebar impulse and the direction is right again. This is just right for A2 riders and/or returners who want to ride the bike themselves and don't want to be ridden by the bike.
The performance of the MT-03 is of course manageable, but nevertheless it makes good progress. This is also typical A2, the engine wants to be turned a bit, below comes because of the torque of 30 Nm quite little. On top of that, however, the engine is nice and lively and it does not complain when you drive through the village with less speed. No chain beating, no constant jerking, hardly any load change reactions - wonderful confi!
The chassis is also comfortably tuned. The (non-adjustable) Kayaba USD fork does a balanced job and also the central strut does not hit you in the back. The 6-speed gearbox is typical Yamaha soft and easy to shift, the clutch requires hardly any manual power - good for city traffic.


.
Conclusion - what sticks
The Yamaha MT-03 met our expectations. Above all, it is a light machine with forgiving driving characteristics. You sit comfortably and can survive even longer tours painlessly. For two, the comfort is more like 1b, but we're also talking about a naked bike. In any case, we had a lot of fun with this beautiful Yamaha and Tanja - herself an A2 biker - was surprised how easy this machine is to drive over the course compared to her Kawa ER6N. 
Many thanks to
Tecius & Reimers
from the Yamaha headquarters Hamburg for the loan. There in Hamburg-Eidelstedt - easily accessible via the A7 and A23 - the MT-03 stands as a demonstrator and waits eagerly for test drivers. And of course there are also a lot of other bikes from Yamaha and Zero - so let's go to Hamburg! Joachim and the team are happy to serve a coffee if you are nice.
Price/availability/colours/years of construction
Price: 6.249€
Used (3 years old): 4.000€
Years of construction: 2016-2022
Colours: black, blue, cyan