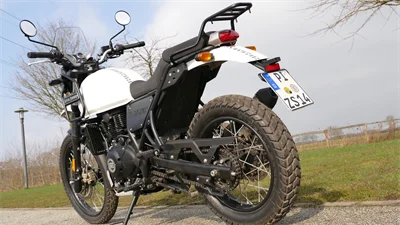 Photos: Motorradtest.de
It accelerates - a bit
The 411 cubic centimeters of the single cylinder produce the already mentioned 24.5 hp. They don't even do that badly. There is no denying that there is a certain lack of start-up, but progress is being made. Something that can be described as acceleration in good conscience develops from 2,000 tours, from 3,000 it goes strammer. So you push gear by gear, five are sufficient for the driving range up to 110 km/h. Royal Enfield gives the top speed at 127 km/h, but we lack some imagination where there should be a long enough distance all over Germany to give the Himalayan the necessary start.
We mention this with speed because of our high work ethic as a motorcycle tester, but this info is completely superfluous. If you want to chase this moped across the runway, you're kind of in the wrong movie. In the right strip there are gravel, hills, nasty slopes, what to conquer or at least discover. As Enterprise Captain James T. Kirk put it, bravely go where no man has ever been before.
The good driving comfort contributes its part to the fact that these countries, which are rather rare white spots in Germany, can sometimes only be normal country roads. You could, if you wanted. In any case, one should be able to look ahead, because the brakes with ABS, especially the front single disc, are not the biggest advantages of the Himalayans, to put it mildly.
It is very handy for that. On the highway it can be precisely aligned, and no one has to fear the city either. One thing you should know, however: In order to be good in the terrain, which it is with its standard motor protection, it needs appropriate soles. These dual-purpose pneus from Pirelli make their thing off the road decent, but they are not the ideal cast on tar. Despite subdued engine performance, the Himalayan can drift off the right path on a wet or slightly slippery road.
The windscreen is not quite as great despite the standard disc, but the sociable comfort is good.