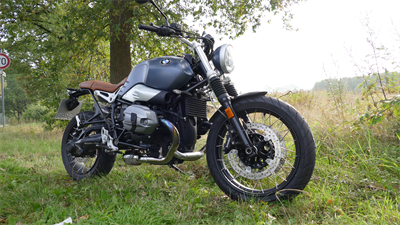 Actually, Scrambler are cool in two ways: they come not only as retro bikes on the road, but in the hottest form at the moment. The Scramblers were something like the forerunners of the enduros in the 50s and 60s. When these were still pure competitive devices, the French (exactly, sometimes not the Americans) wondered how they could make their mopeds suitable for off-road. We tested the BMW version of a Scrambler.
The way to the Scrambler
The self-construction formula for the trendy Scrambler was quickly found: Longer spring distances, high seating position, stud tyres, wide handlebars and of course the raised exhaust system let a road machine pass as scrambler. The fact that Mr. Cool, the US actor Steve McQueen, was casually on a scrambler with a tip, added to this design.
BMW has been involved in this trend following Ducati and Triumph since 2016, the starting model being the R nineT, which has become a whole series. Pimped up with the usual Scrambler ingredients, she has a unique selling point with her boxer engine. In keeping with the retro shaft, it is not the latest expansion stage of the two-cylinder engine, no, BMW is relying on the older, air-cooled version. It fits well into the stylish surroundings, whose harmonious details include, for example, the fork bridge or the rubber bellows on the fork.