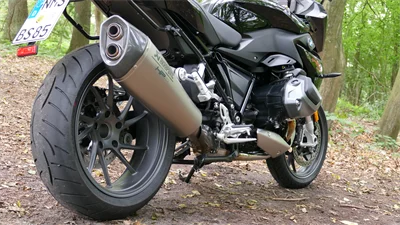 Feels lighter
The BMW is currently standing, so we don't have to resort to the mountain start aid (no joke, there really is). BMW thought this was probably necessary because of its stately dimensions and high weight. I am overweight and stately, but there is a big difference between me and the RS: Once started, you don't notice the BMW's weight anymore, but I stay as I am. Big compliment to the BMWler: It's really a great achievement how handy this big chunk is once it's in motion. I noticed this at the GS, but there I pushed it to the upright sitting position. The RS shows that this is also possible with the sport tourer.
What can the BMW do as a "sport tourer" if you disassemble the word?
Part 1, Sport: Dieter Bohlen would probably call what the new boxer delivers. Nominally 136 hp strong (and 143 newton meters at 6,250 revolutions powerful), it always feels stronger. That hasn't changed since the GS test - respect for how it runs from below and doesn't subside at the top. Along with the astonishing handiness of the RS, serpentines lose their terror. Following the RS is a task for powerful motorcycles to overtake them in the area on this side of the super sportscars almost impossible.
Part 2, Tourer: With really good driving comfort of the electronically adjustable chassis, part of this exercise has already been completed. The aerodynamically shaped suitcase set does not bring the BMW out of its composure even fully loaded at higher speeds. Low-switching driving is also possible, as in the range between 2,000 and 8,000 there are always at least 110 Nm, which more than compensates for the high weight. And the windscreen of the windshield, which can be adjusted in two stages? Also good, unfortunately it produces noises. Not annoying, but audible.