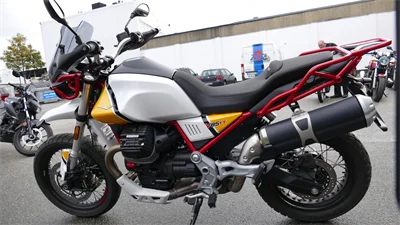 Handy without end
Sitting is a good thing. Whether big or small, somehow it fits well with the different benches that are offered. The knee angle is very relaxed, and the sociable will not complain either.
Where does our test drive go? This has to be answered, because there are three different driving modes to choose from: rain, road and off-road. The whole thing is connected to the ABS, which does not allow any slipin in rain, at off-road a whole lot. There is also a cruise control.
The motor pushes powerfully, from 3,000 revolutions it goes well. But soon it's over again, because at 8,000 the red area begins. And even that is theory, because the normally very cultivated V2 forgets its manners from about 7,000 revolutions, and the perceived performance does not increase. Unfortunately, this makes it appear slower and more laced than the real driving performances make it seem.
What immediately pleases is the enormous handiness of the Guzzi. She punishes her ready-to-drive 229 kilos of lies, measures every kind of bend very quickly and can be guided precisely – and this with these tires! top also the driving comfort, which is partly due to the 170 millimeter travel.
On- and off-road, the brakes convince with the ABS in the appropriate position on each surface. On the street, they show commitment, but not in such a way that they would tend to block on sand. At the back, there is the same rating: that's how it has to be.