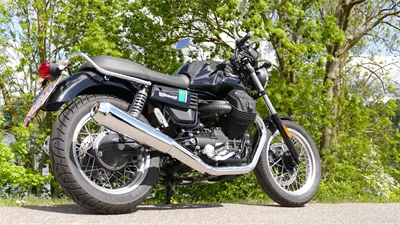 Long live the mechanics
The casual swing on the bike immediately promotes it: the Guzzi is a small bike. A total of 2.18 meters is only long, and the seat height is low at 770 millimeters. This may please smaller people, long-legged people will have to contend with the tight knee angle. Great pleasure when looking at the cockpit: two analog, chrome-framed round instruments illuminate the driver, and he automatically beams back. That is how it must be.
But what is it? In the speedometer on the left there is a small field. The key rotation brings it to light: a small on-board computer shows things like the filling levels, mileage and more, which is rather unimportant for driving.
The side stand up, the first gear in and can go. Two things stand out: Guzzi does not offer a main stand for the V7. This is common with Naked Bikes, but with the Guzzi necessary, because this would further limit the already scarce slant freedom. The clear "Klong" when inserting the first makes it clear, secondly, that the V7 is a thoroughly mechanical bike. Here the biker is ignited, puffed, klongted, the biker becomes part of the machine.
Gnarled, but sufficiently precise, it continues in the gearbox. It can be switched well, only the idling, which likes to hide. Surprisingly strong is the engine: its red range starts already at 6,500 rpm, it has felt more than 52 hp (at 6,200) and 60 Nm of torque at 4,900 rpm. Also great is the sound from the two chrome-plated tailpipes of the V2, dull lymerating and never too loud, it accompanies the driver.
The sitting position is sporty, but not uncomfortable. The bench is comfortable, but too short for passenger operation. The Guzzi is, as already mentioned, a small motorcycle. At 213 kilos, it's also a relatively light one, which makes her good-natured and easy to steer in curves. The work of the stereo rear suspension was not quite as convincing in the test: the Guzzi resonates on long ground waves, while short shocks mean a dry thrust into the butt. Not to be misunderstood, this is never uncertain.