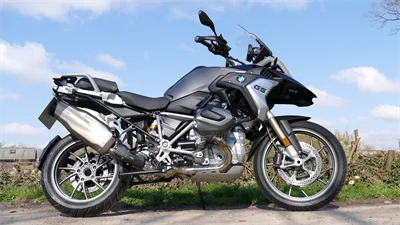 This is a problem: if you have the absolute bestseller for Germany in the program, you can't win much anymore. It just can't be better than no.1. What have the BMW engineers improved on the R 1250 GS compared to their predecessor 1200 GS, and where have they retained the tried and tested? Ring free for testing the new BMW flagship.
Thicker than she looks
If you want to turn a lap around the new BMW, you don't have to walk far in absolute terms, but you still have to go further than other motorcycles. It's a real trum of what BMW has put in place. A compliment to the designers, because of their abundance is not only little recognizable in photos, but also when one stands physically in front of her. It is only at second glance that you can see the tricks BMW has worked with. Example Tank: Various edges, materials and colors conceal extremely skilfully that this component is very voluminous, much larger even larger than the 20 liters of content suggest.
At the same time, one is intimidated by the importance of this krade. Tataaaaa! Germany's most popular motorcycle model from the most popular manufacturer (rated by sales figures) is ahead of us. Aren't we all a bit GS? This perfection in the detail of the motorcycle, this certainty that BMW would never be caught on things like peeling stickers, poor paint quality or other workmanship defects - that's what has been what has been the GS for years.
So, now long enough. Germany is more colourful than expected, and that is good, as always. To be clear: In Germany, a total of 108,300 motorcycles over 125 cc were sold in 2018, of which 7,304 were from the predecessor 1200 GS. This corresponds to a market share of the GS alone of 6.7 percent and with a large lead in first place.
Sun.
Congratulations.
On the other hand, however, the clarity of the figures could also mean that 93.3 percent of all Germans, and thus the absolute majority in the state, do not want or can buy BMW GS (our test bike costs more than 20,000 euros....). In this respect: stay relaxed.