Ninja ZX-10R and Ninja ZX-10RR
Model information for the model year 2021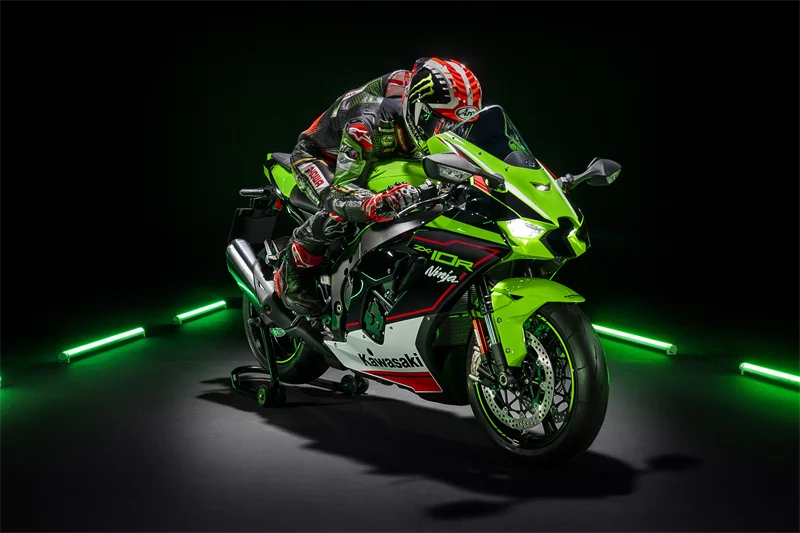 Photos: Kawasaki
CONTINUE TO ACHIEVE WSBK SUCCESS WITH PROVEN PERFORMANCE
Model variants
Ninja ZX-10R: The high-quality base model features an engine and chassis with plenty of racing potential, a brand new aerodynamic design with integrated winglets, high-performance suspension and powerful brake components.
Ninja ZX-10RR: This limited-edition racing-ready single-seater model (500 units worldwide) has even greater potential than the base model, thanks to further engine and chassis modifications, including higher rotational capability, Pankl titanium panels and lightweight Pankl pistons, as well as Marchesini forging wheels.
Features
BUILDING ON PROVEN PERFORMANCE
NEW Powerful, liquid-cooled four-stroke in-line four-cylinder with 998 cm3
The update of the ninja ZX-10R's powerful engine ensures less pollutant emissions with the same performance compared to the previous model. The ninja ZX-10RR has been able to increase the maximum speed, resulting in a wider power band and higher racing performance.
NEW Air-cooled oil cooler
Thanks to feedback from the Kawasaki Racing Team, the new air-cooled oil cooler has been equipped with a separate circuit. This is a common design feature of racing motorcycles.
NEW Pankl Performance Components (RR)
In addition to the high-quality Pankl-Titan panels, which were already used in the 2019 model, the ninja ZX-10RR's engine can now rotate more freely thanks to the lightweight Pankl pistons.
NEW translation ratios changed
On the gearbox, the gears were translated 2 to 6 longer. Nevertheless, the gears 1 to 3 in total (in combination with the final translation) are significantly shorter, because the sprocket has been enlarged from 39 to 41 teeth. This significantly improves the acceleration at the curve output.
NEW Chassis with agile handling
Revisions of the chassis geometry, which was more focused on stability in the 2019 model, further improve handling.
NEW High-quality chassis
The spring elements developed for the WSBK and geared towards race performance, such as BFF fork (Balance Free Front Fork) and BFRC-lite(Balance Free Rear Cushion) shock absorbers, have been changed once again in the tuning, thus favouring the weight distribution between the front and rear and ensuring easier handling.
High-performance Brembo brake system
Two high-quality Brembo M50 Monobloc calipers take large brake discs
(330 mm) into the pliers, while the specially tuned radial pump main brake cylinder and the race-compatible steel flex lines* ensure significantly higher braking performance.
*Steel flex line only for model Ninja ZX-10RR
Marchesini Forged Wheels (RR)
The 7-spoke wheels made of forged aluminium were developed together with Marchesini and contribute to easier handling, especially when cornering.
DESIGNED FOR AERODYNAMICS
NEW Ninja design of the latest generation
The latest ninja design of the Ninja ZX-10R features a front panel designed for racing, with LED headlights in the foreground. In addition, a new Ram-Air inlet and a higher windshield are used.
NEW Integrated Winglets
Winglets built into the upper cladding create additional downforce (downforce). This means that the front wheel retains ground contact even when accelerated.
NEW Aerodynamic seating position
The revamped handlebar and footrest positions provide a more aggressive, race-oriented seating position, while the new seat design helps reduce drag, as the driver can better duck behind the windshield on a straight track.
KAWASAKI'S DEVELOPMENT ELECTRONICS
Technology that supports especially in the border area
Ninja ZX-10R's advanced electronic management systems facilitate control. This allows the rider to move his powerful Superbike on the race track much more safely in the limit area.
> KCMF
> S-KTRC
> KLCM
> KIBS
> Kawasaki Engine Brake Control
> Power modes
> KQS
> Electronic Öhlins steering damper
NEW Integrated driving modes: Sport, Road, Rain, Driver (manual)
Thanks to the comprehensive modes for all driving situations, drivers can adjust the traction control and the power output exactly as they seem useful for the respective driving situation.
NEW Greater driving pleasure on the road
For those who like to ride on the road, the driving pleasure is enhanced by electronic cruise control, TFT color display and the possibility to connect to the motorcycle electronics via a smartphone.
> Electronic speed control
> TFT color display with smartphone connectivity
COLOR(N)
Ninja ZX-10R:
* Lime Green / Ebony / Pearl Blizzard White (Green / Black / White)
* Flat Ebony TYPE2 (Black)
Ninja ZX-10RR:
*Lime Green (green)
MODEL VARIANTS
Drivers can choose between the high-quality base model Ninja ZX-10R and the even more race-based Ninja ZX-10RR. We offer everyone the right Ninja ZX-10R.
Detail

Ninja
ZX-10R

Ninja
ZX-10RR

Powerful motor

203 hp†

204 hp†

Higher speed limit

 

✓

Engine prepared for tuning camshaft

✓

✓

Titanium connecting rods from Pankl

 

✓

Light pistons from Pankl

 

✓

Balance Free Front Fork/ BFRC-lite rear shock absorber

✓

✓

Marchesini Forged Wheels

 

✓

KCMF (IMU-supported electronic package)

✓

✓

S-KTRC

✓

✓

KLCM

✓

✓

KIBS/ABS

✓

✓

Kawasaki Engine Brake Control

✓

✓

Power modes

✓

✓

Integrated driving modes

✓

✓

KQS (Quickshifter for Power Up and Down)

✓

✓

Öhlins electronic steering damper

✓

✓

Electronic Cruise Control

✓

✓

TFT color display

✓

✓

Smartphone connectivity

✓

✓
(New in the 2021 model year)
† Value derived from the Australian version, measured under specified conditions. The technical data varies depending on the market.
The values may depend on the operating conditions. May not apply to every model.
TECHNICAL DATA (excerpt)
Official technical data are currently only available for
USA/CAN/S.E. Asia (B1)/IDN/MYS/THA/PHL/CHN/KOR.
Official figures for additional markets will be added as soon as available.
This information may therefore need to be changed.
Dimensions

Ninja ZX-10R and Ninja ZX-10RR

 

Length

Width

Total

Wheelbase

Ground clearance

Seat

Weight

Ninja ZX-10R & ZX-10RR

 

Tank contents

 

 

2,185 mm

750 mm

1,185 mm

1,450 mm

135 mm

835 mm

 

207 kg

 

17 litres

 

Performance

Ninja ZX-10R

 

Max Performance

 

 

 

 

Maximum performance with Ram-Air system

 

 

 

 

Max Torque

 

 

 

approx. 203 hp

 

 

 

 

n/a

 

 

 

 

 

approx. 114.9 Nm

 
Performance

Ninja ZX-10RR

 

Max Performance

 

 

 

 

 

Maximum performance with Ram-Air system

 

 

 

 

Max Torque

 

 

 

approx. 204 hp

 

 

 

 

 

n/a

 

 

 

 

 

approx. 115.7 Nm

Engine

Ninja ZX-10R and Ninja ZX-10RR

 

Type

Valve control

Bore x Stroke

Displacement

Compression ratio

Fuel supply

Qz

Starter

Ignition

 

 

Liquid-cooled four-stroke in-line four-cylinder

DOHC, 16 valves

76 x 55 mm

998 cm3

13:1

Fuel injection: 47 mm x 4 with double injection

Pressure circulation lubrication, wet sump with air-cooled oil cooler

Electric

Digital

 

Drive

 

 

Drive

Transmissions

Gear ratio: 1st gear

2nd gear

3rd gear

4th gear

5th gear

6th gear

Primary translation

Final translation

Coupling type (primary drive)

 

Chain

Six-speed gearbox

2,600 (39/15)

2,158 (41/19)

1,882 (32/17)

1,650 (33/20)

1,476 (31/21)

1,304 (30/23)

1,681 (79/47)

2,412 (41/17)

Multi-disc coupling in oil bath, manually operated
Frame

 

 

Type

 

Suspension: Front

 

 

Rear

 

 

 

 

Spring travel: Front

Rear

Steering head angle

Caster

Steering angle (left/right)

Tyres: Front

Rear

 

Brake: Front wheel

 

Caliper

 

 

Rear

 

Caliper

 

 

Box profile bridge frame, die-cast aluminium

 

43 mm upside-down fork (BFF) with external pressure chamber, adjustable pressure and pull step damping and spring preload as well as top-out springs

Horizontally arranged back-link gas pressure central spring leg, BFRC Lite gas pressure damper with Piggyback reservoir, adjustable pressure and tensile damping and spring preload as well as top-out spring

 

120 mm

115 mm

25.0°

105 mm

27°/27°

120/70ZR17M/C (58W)

190/55ZR17M/C (75W)

 

Semi-floating 330 mm Brembo double brake disc

Two radially mounted M50 four-piston monobloc calipers from Brembo

 

220 mm disc

 

Single-piston floating saddle