Blinkpieper
a short career
Motorcycle accessories: special feature of the 1980s still available today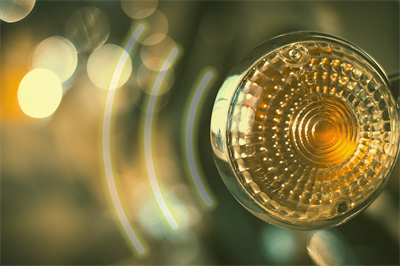 Photo: ifz
The Institute for Bicycle Safety (ifz) regularly ventures into history. It is repeatedly pointed out how much has been done over the years in the area of the safety of motorised two-wheelers. Today it is about the so-called "blinkpieper", which especially younger two-wheeled pilots are unlikely to know any more. But: It is still available in the accessories trade, the Blinkpiepser, the Blinker-Reminder, or the Blinker-Reminder, as the little döschen is called a little more sober-objective. Those who trust themselves to mount themselves can add an acoustic signal for a manageable euro amount to the optical flashing signal, which lights up when the turn signal switch is activated in the cockpit of the motorcycle.

One or the other will probably remember, in the 1980s the Pieper had their big appearance. Thanks to the eponymous sound signal, which sounds rhythmically at every flashing of the blinker, a forgetting of the blinker reset belongs to the past, it was said at the time.

The idea was and is right: No one should drive through the area after turning with a blinker, which continues to fire in front of him, because the driver has forgotten to exhibit. In the "favourable" case, this causes irritation among the other road users, but can also develop into a real risk of accidents if the flashing signs of the motorcyclist or scooter rider are misinterpreted with regard to the driveway.

As it turned out, the effectiveness was somewhat limited by the fact that some pilots were able to not only overlook the optical flashing signal from the cockpit, but also to overhear the acoustic signal until the wind carried the beeping with them anyway. In the end, however, the blinker was rather unable to prevail, because more and more drivers found it annoying to be exposed to the plumage – and also to the eyes of the supporters – for an eternity in front of red lights.

Unfortunately, with the end of the pieper, another unique selling point has also been lost, which has lifted motorists from the mass of road users. Motorcycle and scooter riders have drawn attention to themselves with the blinking, have pushed themselves into the consciousness of others via the ear canals, a psychological perceptual effect ("motorcycles are on the way around me"), which should not be underestimated.

In the meantime, it is possible by other ways to stop the danger of errant blinking. Some motorcycles already have an automatic flashing reset as standard, which detects when a blinker should go out by means of time and distance detection. The accessories retailer also offers such smart flashing monitors for subsequent installation. They are not as cheap as the conventional beepers. The assembly is also more complex and requires a certain amount of technical expertise. Whether pieper or automatic reset, it is always a sensible investment in safety.