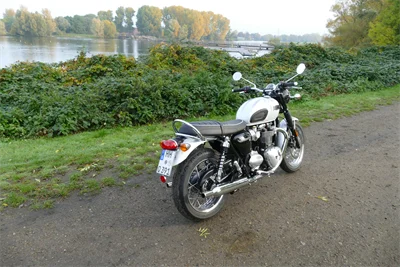 Surfing on the torque
The very sight of the instruments warms the heart of the driver. To get speed and speed displayed in analog form, that has something. The engineers integrated the necessary digital information such as the gear display or the filling level of the tank via a small display in the two round instruments.
Down from the main stand (as standard), in view of the single-digit outside temperatures, the equally standard heating handles are switched on and off we go.
What immediately stands out is that there are hardly any engines that sound better. No matter what speed, the triumph sounds pleasantly dull and bass-heavy without scaring the neighbors. The smooth-running anti-hopping clutch allows the first gear of the precise six-speed transmission to come and we drop off. In fact, the T120 pushes off enormously from below. Since it is not only cold for us, but also for the engine, we naturally drive it warm before it goes to higher speeds.
But even if the row twin is warm, little changes in the low-speed driving style. Although the engine is quite willing to turn, a significant increase in the line is hardly to be expected north of 5,000 tours – so one leaves such sparrows.
In addition, it becomes clear in the first corners that the Triumph is more on moderate curves, just as it educates its owner to a calm, balanced driving style. If you want to let it crash, you will be confronted with increased effort, the Bonnie has to be forced into a strong slant, which she acknowledges with quite early footrests. This is also better left, and the curve hatz does not correspond to the character of the machine.
Rather, she encourages the already mentioned, relaxed country road tour. The comfort is fine, the pressure from low speeds ensures a smooth but not low speed over land. The stoppers could do more than that, they can be well dosed and bite violently if necessary.